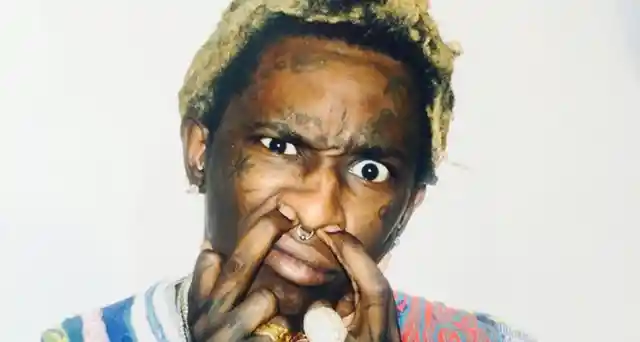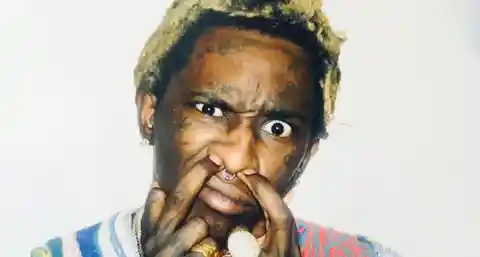 Atlanta-based rapper Young Thug (real name Jeffrey Williams) was arrested earlier today in Sandy Springs, Georgia for making terrorist remarks. The arrest took place around 6 a.m. and was made by U.S. Marshals who were carrying an outstanding warrant for his arrest. TMZ reports that the charges stem from an incident one week ago where Williams threatened to kill a mall cop working at Atlanta's Perimeter mall. He avoided the police for eight days, but then US marshalls arrested him helping the Dunwoody Police, and he was taking in without incident. He is currently being held in DeKalb County Jail.
The 22-year old rapper has been making notable impression on hip-hop this year. His latest mixtape, Barter 6, was released this past April to strong reviews, and he's subsequently announced that his debut album Hy!£UN35 (pronounce "Hi-Tunes") will be debuting August 28th. The rapper has received lofty comparisons to Lil' Wayne for his similar delivery, and arguably borrowed aesthetic. He's also been a topic of debate over which label he signed to, as in the last two years he's released material for 1017 Records, Freebandz, 300 Entertainment and Atlantic. He did recently break the confusion though, by revealing that he has officially signed with Atlantic. Fellow labelmate Birdman executive produced Barter 6.
The threat apparently arose when Willaims was being removed from the mall, and then told a Mr. Chris May that he was going to shoot him in the face. May is the director of security at the mall, and a warrant was made for his arrest shortly after the incident occurred. The reasons for why Young Thug was being escorted out of the mall are still unknown. Young Thug is no stranger to having problems with authority. Last year, he was arrested for possession of a controlled substance, driving without seat belt, reckless conduct, and reckless driving.
Young Thug isn't the only member of Birdman's Rich Gang to have an arrest this year. Back in March, Rich Homie Quan was arrested after punching a security guard that refused to let him into the back of a Miami club. Quan may still be facing a battery charge for that incident.