When a rabbit finds his cat friend trapped in a shed, behind a metal sheet, he doesn't waste a minute. This bunny has mad skill and he uses them to dig an escape hole for a white cat!
12. Another Day at the Farm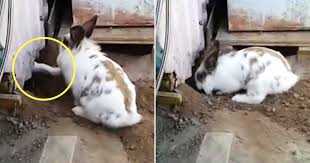 It was just another day on the farm for Chasky the white rabbit. He was probably thinking about all the other famous rabbits, from Thumper, friend to Bambi, to the White Rabbit who figures prominently in Alice In Wonderland. He was also probably thinking about his next meal, as rabbits do!