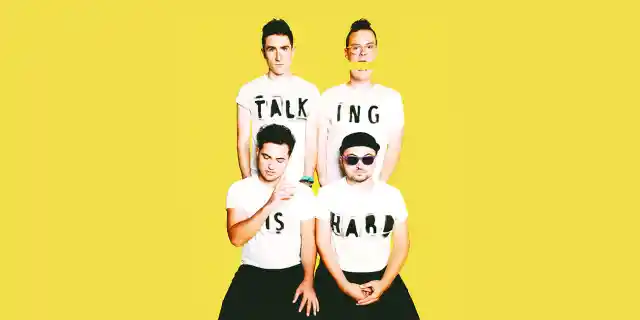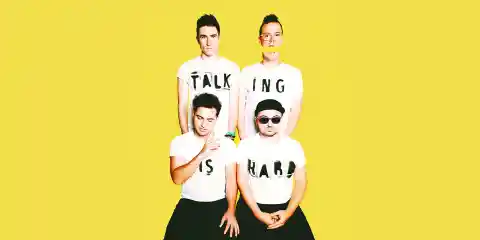 I can't believe songs like "Different Colors" are still kicking. Singer, Nick Petricca kicks off Walk the Moon's Talking is Hard by insisting on "crank[ing] that dial to the right" because "the kids are right." What are they right about, Nick? I get that talking's tough, but can we at least try to figure this out with the volume down? It all leads to one big "Kumbaya" for the Urban Outfitters though, as they carry their "different colors" of tank tops to the cashier. It's vague, mindlessly happy, and just catchy enough to take over alternative pop radio. And I guess I'm a major bummer by comparison.
Look, I'm not going to pretend harping on "Colors" isn't about a larger skepticism I'm having with indie pop. Hallowed bands of my younger years like Tegan & Sara and Tokyo Police Club have traded in their personalities for a more vanilla, synth pop sound in the last few years and my jaded heart just can't take any more choruses entirely made up of ooh's and group stomps. And yet, alternative radio has opened its arms wide in the last five years to every pop act with a trap beat that adds a slightly quirky/"verifiably indie" singer to the fold. Maybe I'm just a voice of many in an angered upheaval of this new, gentrified alternative music. Or maybe I'm getting too old and need to give up the pretentious gun.
But the twist here is that I enjoyed Walk the Moon's first LP because it didn't hold any pretenses: they were a poppy band with a serious fetish for Talking Heads and '80s teen movie anthems. Some songs didn't make too big of an impression, but most had me dancing in my kitchen for weeks. Their newest LP, Talking is Hard, doesn't change their chemistry too much either; in fact, Walk the Moon merely super-sized themselves. The pop choruses are swinging for the fences, while the David Byrne worship weaves deeper and deeper into every verse. Songs like "Colors", lead single "Shut Up and Dance", and the chirpy, piano-sampling "Work This Body" are the clear "key demographic pop radio singles" and aren't incredibly substantial as a result, but Talking's overall intent is giving you feel good pop rock from start to finish. And, for the most part, it succeeds.
"Sidekick" follows "Colors" and does damage control for anyone put off by the previous song. Far more reminiscent of Walk the Moon's quirkier moments from their self-titled debut, "Sidekick" intonates the title wildly through a maze of Phil Collins/Genesis-era synth work until it feels like the word "sidekick" is scanning across your brain without getting bashed in. Subtle catchiness is an area where Walk the Moon works best; album highlight "Portugal" completely ditches a clear chorus for an irresistibly building synth and percussion combo surrounding a story about a bygone love affair abroad. Songs like "Down In The Dumps" and "Spend Your $$$" allow David Byrne to fully possess the band, linking a slight hint of Talking Heads' percussiveness to a natural sense of groove that brings out Petricca's star-ready range. It's these songs where Walk the Moon sound most alive and genuine in their happiness (even when dropping a not-so-subtle Urban Outfitters sponsoring in "$$$") It's because this band is tied at the core to '80s redux pop and, when the album concludes with a bonafide slow jam like "Aquaman," it feels absolutely winning.
With the pop in indie-pop rising and contorting itself into mainstream culture though, there's as much to love about Talking Is Hard as there is to kind of feel apathetic about. Despite goofy lyric choices and a few missteps, Walk the Moon prove on round 2 that they're sticking around for catchiness and they can write a damn good anthem or two, sometimes head and shoulders above their contemporaries. And for that reason alone, I guess I'll tolerate how loud they want to turn up the volume.