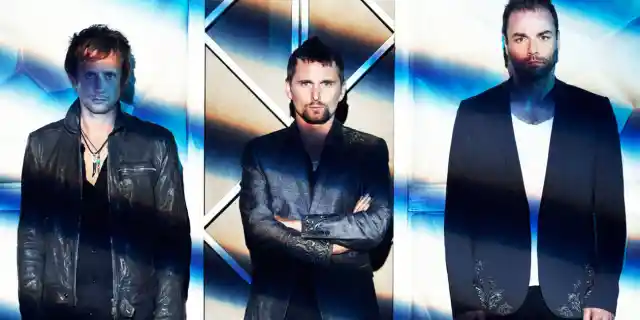 Earlier, we brought you the first part of our 15 interesting facts about Muse. Now, we bring you eight more facts about the British rock trio of Matt Bellamy, Christopher Wolstenholme and Dominic Howard, who have taken the world by storm with their "supermassive" sound.
Number Eight: One Member Holds a Guinness World Record. During the Muse's tour behind Absolution, Bellamy smashed 140 guitars. The feat left him with a record in the 2010 edition of the Guinness World Record book, one he still holds to this day.
Number Seven: The Band Sued Nestlé. No artist likes it when their music is used without their permission. This is why in 2003, Muse sued Nestlé for using their cover of Anthony Newley and Leslie Bricusse's "Feeling Good" in their commercial for Nescafé. The band won the suit and donated the money to charity.
Number Six: They Have Doctorates. The members of Muse may not have gone to university, but that didn't stop them from receiving honorary doctorates. In 2008, the University of Plymouth presented all three members of the band with Honorary Doctorates of Arts.
Number Five: Non-Muse Music. Bellamy has played songwriter on a couple of occasions outside of Muse. In 2009, he provided the song for the end credits of The International. Additionally, he wrote a song called "Soaked," which was recorded by Adam Lambert for inclusion on his debut album. He also contributed to Kimbra's sophomore album in 2014.
Number Four: Rock and Roll Family. It's no surprise that Bellamy got into music. His father George was also a musician and played guitar in the band The Tornados. Their big hit was a song called "Telestar," a favorite of prime minister Margaret Thatcher and the supposed inspiration for Muse's song "Knights of Cydonia."
Number Three: One Member Bought a Jet Pack. Once Muse began making money, Bellamy decided to spend some of his on a little bit of excess. One purchase he made was a working Paramotor jet pack.
Number Two: Drinking Nearly Broke up the Band. Wolstenholme had a problem with drinking in the past that got so bad that he would vomit up blood. Fearing that he would end up like his father, who passed away from complications from his alcohol addiction, he went into rehab in 2009.
Number One: An Interest in the Supernatural. Having written songs dealing with such topics as the evolution of technology, the apocalypse and catastrophic war, Bellamy is no stranger to the strange and supernatural. In fact, he has been interested in the subject his entire life. As a kid, he became obsessed with Ouija boards after seeing his family use one. Thank you for reading our 15 interesting facts about Muse. We hope you enjoyed it!