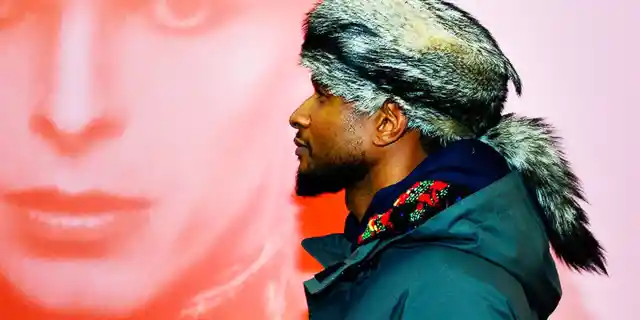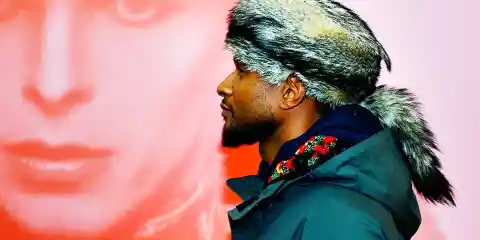 Usher Raymond can't stop, won't stop. With probably the most important studio album of his career on its way, the ultimate symbol of R&B music continues to give the world a taste of what to expect. And what is that? Quality music. Music that reaffirms Usher as the undisputed world-beater in his genre. "All Falls Down" features another R&B Einstein, Chris Brown. With no further details to this song, I am inclined to believe it might be a single off Usher's 2015 UR album.
The world is still crazily in love with their last collaboration "New Flame," which was on Chris Brown's X album, and here they are with a new one. Ever since Chris Brown broke out and dominated the R&B genre, fans have always compared him to Usher. Some said he was the younger, more energetic and much better version of Usher. This sparked several arguments over who was the better dancer, the better singer, and the better entertainer. This is an argument that has never been really clarified to the fans' satisfaction. All I can say is, "it is logically impossible to better than someone you might have drawn inspiration from."
In my opinion, they are both great musicians who appeal to the same audience but also individually have a following of their own. Usher is a legend. Chris Brown is steadily pacing towards there as well. They both produce such outstanding music, videos and when they perform, they undoubtedly bring the house down. As much as they belong to the same genre, their music is quite very different. This makes it possible to be a huge fan of both and not have a favorite of the two. Although depending on what music appeals more to your style, picking a favorite from these two great musicians is not a rare occurrence.
"All Falls Down" is a song that cannot be described with the right amount of words. Usher might be preparing us for a music album that will be a landmark in the history of his career and music in general. With the singles we already know from the upcoming album, one can't help but already feel the difference and the quality in what Usher is delivering.
"She built a bridge out of her own insecurities / no one was brave enough to cross except for me / here I am / she built a castle from the pieces she took from me / am going crazy i think she brought out the worst in me / here I am," those are the words of Usher's verse. When the song starts, the instrumental captures your attention almost immediately. It almost sounds like a melody that would make the perfect ringtone for a state of the art smartphone. Then Usher breathes a "yeah!" onto it and the verse sets off. The way those words are sung is intensely mind-blowing. This is an R&B verse with a flow. Usher artistically controls his vocals to give the lyrics the right emphasis to effectuate the intended emotional appeal.
He is gentle with the voice and the compelling effect of how he sings is apparent to anyone that recognizes art in music. On the chorus, the beat ups a little bit and gets more intense as more instruments are introduced to it. The bass gets louder and deeper, Usher smoothly and beautifully flows over the beat and they merge to produce one beautifully created chorus.
Chris Brown follows the lead with an exceptional performance. The vocals are tuned to the perfect notes, the delivery is effortlessly smooth and he flows like he owns the beat. Chris Brown on this song was unbelievable. It brings me back to the argument of who is a better singer of the two. After listening to this song, you will call it a draw and a draw that leaves you 100% contented. When he sings "You got to go I know time waits for no man / don't say your words unspoken girl I over stand / here I am / why do we meet? Some questions don't have an answer / two out of three made me a believer / here I am," it is completely without a doubt the best vocal control you have heard from Chris Brown in recent times. It is incomprehensible.
Chris Brown then sings the chorus and it is purely beautiful. The way this song was designed, it was as if to give both artists a platform to explore and reach their full potential on a song where they are equally contributing.
The final chorus where Usher and Chris Brown sing it together is glorious. You feel two powerful unique voices merge to faultlessly compose a sound that will be stuck to your brain for eternity. And this is said without exaggeration. It is simply amazing. Usher and Chris Brown were on top of their game for this collaboration. From the both of them, this is probably beyond what I have ever imagined they would sound like on the same song. "New Flame" gave us exactly what they are capable of delivering together. But with "All Falls Down," they demonstrate to us that the sky is no longer the limit, and beyond the sky there is still a target to aim for. This target is aimed for on "All Falls Down" and only God knows how they did it, but it's a bull's-eye.
After this, the anticipation for Usher's upcoming album UR could not be any higher. This goes to show us that Usher is bringing it and nothing can stop him. If you thought "Good kisser" was unambiguously exceptional, I hate to be the one to break it to you, but maybe you were wrong. "All Falls Down" seems to challenge that thought.