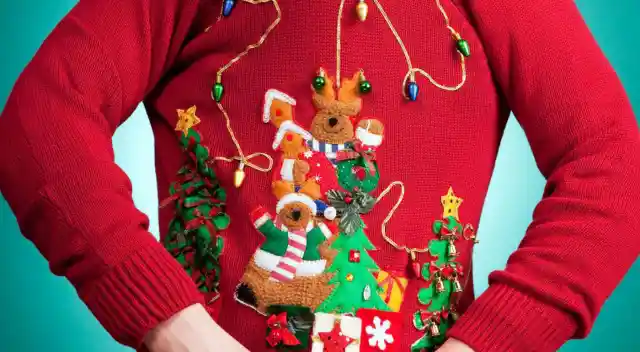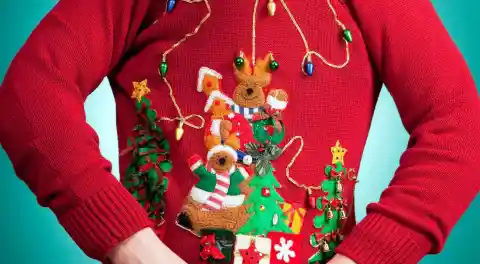 If you plan on attending a Christmas party this year, chances are the theme will be "Ugly Christmas Sweaters." Most likely you'll head to the local thrift store to hunt for one last minute, only to walk out empty-handed. Maybe if you're lucky enough, you'll already have a perfectly hideous one from years ago. One question that still remains: What is up with this atrocious holiday sweater craze? Today, I'm here in my bright red, gaudily beaded cardigan to give you some insight on what these sweaters are all about. Equipping yourself with this knowledge for upcoming Christmas parties is highly recommended as it will impress your other sweater-wearing, party-going friends.
Number Ten: Christmas Sweaters Once Went by a Different Name. Holiday sweaters were first manufactured on a grand scale sometime during the 1950s. Back then, they were actually produced under the name "Jingle Bell Sweaters" instead. I don't know about you, but I prefer the former name for the garment- it has a better ring to it if you ask me.
Number Nine: The First Ugly Christmas Sweater Party Was Held in Vancouver, Canada. That's right- The original party for unappealing Christmas sweaters traces back to Vancouver. In 2002, Commodore Ballroom hosted the party. A party with the atrocious holiday sweater theme has occurred annually at the ballroom ever since, which means the tradition turns 13 this year.
Number Eight: In Canada, the Words "Ugly Christmas Sweater Party" Are Trademarked. Staying on the topic of the Commodore's ugly sweater party, two men named Jordan Birch and Chris Boyd co-founded the annual event. Not many people know that in Canada, the phrases "ugly Christmas sweater" and "ugly Christmas sweater party" have been trademarked by Birch and Boyd. As of now, the words are free game everywhere else so no need to worry about trademark infringement if you live in the states!
Number Seven: Bears Are the Most Common Animal Found on These Jumpers. Sitting by the Christmas tree, riding on an open sleigh, or even just standing there holding presents, bears seem to be the animal of choice. They even beat out reindeer, which occupy the position of second place. Take that, Rudolph!
Number Six: High-End Designers Have Created Their Own, Beautifully Homely Festive Sweaters. Who said couture brands can't participate in campy Christmas traditions? I'm sure it wasn't Marc Jacobs, Burberry, or Stella McCartney, considering that all of these designers have given their own spin on the hideous, holiday garments. Using fabrics like cashmere coupled with beading or imagery like snowflakes, the sweaters come as close to beautiful as an ugly sweater can get.
Number Five: Even Politicians Joined in the Holiday Sweater Game. I wish this point was a joke but sadly, it's very true. Ted Cruz, Ben Carson, and Hillary Clinton all released ugly Christmas sweaters to promote their campaigns. For the designs of the jumpers, nordic patterns and wintery symbols accompany the candidate's + the year "2016". All of them are for sale on the politicians' sites and will probably lead to infuriating debates with extended family members.
Number Four: There Is a Day Dedicated to Christmas Sweaters. National Ugly Christmas Sweater Day takes place each year on the third Friday of December. The day encourages people to break out their hideous sweaters and proudly show them off. By encouraging participants to donate, the day helps fund a charity that advocates for children's rights and supports kids in developing countries called Save the Children.
Number Three: Recently, Several Xmas Sweaters Have Stirred Up Controversy. To some, Christmas sweaters from big retailers, Target and Nordstrom have given "ugly Christmas sweater" a whole new meaning. Both of these chains faced bad press for selling sweaters deemed insensitive by critics. Mental health advocates thought Target's sweater that said "OCD — Obsessive Christmas Disorder" made light of obsessive-compulsive disorder. On the other hand, some believed Nordstrom's "Chai Maintenance" portrayed Jewish women with an offensive stereotype. Yikes!
Number Two: A Business That Specializes in Goofy Christmas Sweaters Made an Appearance on the Show Shark Tank. San Diego-based duo Evan Mendelsohn and Nick Morton started the business Tipsy Elves in 2011. Their silly depictions on Christmas characters including Santa and the Bumble won over the heart and wallet of Shark Tank's investor, Robert Herjavec. He offered $100,000 for 10% of the company. Mendelsohn and Morton accepted the offer which turned into one of Herjavec's most profitable investments on the show.
Number One: Sales for These Sweaters Are Reaching an All-Time High. While the 1980s remain responsible for the most sales of mass-market ugly holiday jumpers, sales in the past few years are catching up with the 80s record. According to retailers, ugly Christmas sweaters are selling nearly as much as they did 30 years ago. The only difference now is that the trend is mostly based on irony but nonetheless, ugly Christmas sweaters will continue to dominate the holiday season.