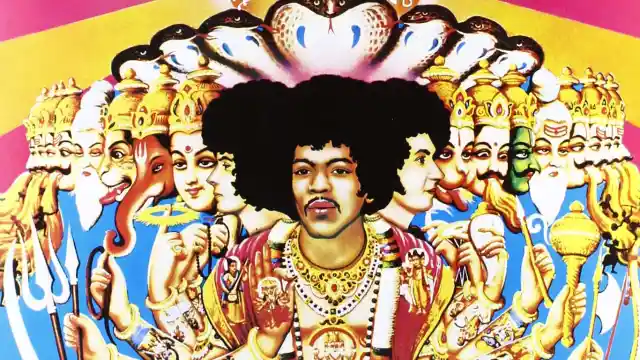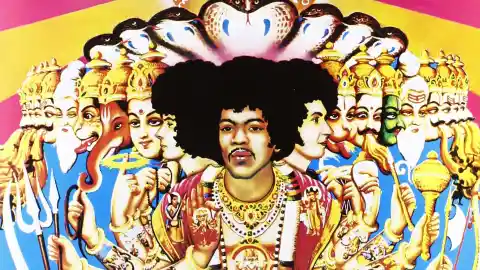 Albums encapsulate a body of work and give us a broad range of a band's music. In today's marketplace, we are able to download individual tracks, which negates the importance of an album. While singles used to be a way to sell a full album, times have changed. This was probably the upside of iTunes, Rhapsody, Spotify and Napster, as it forced artists to think about every track rather than giving us a couple of good songs and then a bunch of filler. My picks are based upon "perfect" albums on which every track was methodically thought out. Here are my picks for the top 10 albums of all time.
Number Ten: Robin Trower's Bridge of Sighs. After leaving the celebrated and ground breaking band, Procol Harum, Robin set out on his own and formed the Robin Trower Band with bassist/singer James Dewar and drummer Reg Isidore. The group released their debut, Twice Removed from Yesterday in 1973 to mixed reviews. However, the band's next release, Bridge of Sighs told a different story as the buying public were enamored with the sophomore recording. There truly isn't a bad track on the disc and it still stands as one of the most celebrated albums to date. And while it was considered a rock album, you can spot tinges of blues throughout the recording. Bridge of Sighs commences with the fast moving and rambunctious track "Day of the Eagle" and is followed up by the ominous title track. "In This Place" slows things down to a crawl as Trower showcases his impeccable master of the six string. "Too Rolling Stoned" begins with an up tempo, but ends as a slow blues. Bridge of Sighs is perfect in every way, musically, lyrically and vocally. While he never matched the success of this album, he is regarded as a guitar hero and has influenced many guitar players which came after him.
Number Nine: The Pretenders' Pretenders. Wildly regarded as one of the best debut albums ever recorded, Pretenders was chocked full of moxie and attitude. As a part of the second British Invasion, they joined artists such as Elvis Costello, The Clash and Joe Jackson in redefining music in the late '70s and early '80s. The band punches us in the stomach with the punk-inspired track "Precious," but that was just the beginning of the thrashing as "The Wait" and "Tattooed Love Boys" added fuel to the fire. They did go soft on us with the Kinks' "Stop Your Sobbing," "Lovers of Today" and "Kid." They even managed to get a pop song on the radio with "Brass in Pocket." Chrissie and company have churned out several albums since their debut and have had some hits, but this recording remains to be the band's best.
Number Eight: Nirvana's Nevermind. Music changed in the early '90s due to this record by Nirvana and would prove to spark the grunge scene as Kurt Cobain let us peak inside his mind. While it wasn't the band's first recording, it was their seminal album. From the get go, they plunged deep into teenage angst with "Smells Like Teen Spirit," which was quickly picked up by the MTV generation. We hadn't heard an album this dark since the Doors debut as Kurt delved deep into his soul. Besides the obvious hits, "Lithium," "Come as You Are" and "Smells Like…", the band offered up more rocking tracks like "Drain You" and "Breed." While their presentation was hard, Kurt's lyrics were dark, raw and introspective as he touched on subject matter that hadn't been dealt with for decades.
Number Seven: Led Zeppelin's Led Zeppelin IV. After confusing fans and critics with the release of their third record, Zeppelin emerged from the studio with a masterpiece. Although it was never officially titled, critics called it simply Led Zeppelin lV. The album was a mix of folk, blues and rock which was a sigh of relief to fans. The first two tracks, "Black Dog" and "Rock and Roll" were pure Zeppelin, but they adopted a quieter sound on a couple of tracks such as "The Battle of Evermore" and "Going to California." Little did the band know, they were writing what some would consider the best song ever written, "Stairway to Heaven." The album also gave them their trademark signs. Now, the biggest band in the world, they took their time to make sure they were giving fans what they had come to expect and every track did just that.
Number Six : U2's The Joshua Tree. At first, U2 was regarded as new wave, but they were far removed from that brand and had something to prove. They achieved this with the release of The Unforgettable Fire, but that proved to be just a teaser. The band brought Brian Eno back to co-produce The Joshua Tree. While it still had its predecessor's mood, the songwriting was much more introspective and Edge was clearly growing as a guitarist. Truly a band effort, every song on this record was masterful as Adam and Larry were breaking new ground as well. The intro to "Where the Streets Have No Name" may sound simple, but it was carefully crafted by Edge to build upon layers until a sonic boom of sound was unleashed. Same went for "I Still Haven't Found What I'm Looking For" as Edge used different effects to suit each song. No surprise, they got political on "Bullet the Blue Sky" and "Mothers of the Disappeared." It's no wonder the album took home a Grammy for Best Record in 1988. Upon its 25th anniversary, it was remastered and additional tracks were added, but purest enjoy the original.
Number Five: Pink Floyd's The Dark Side of the Moon. Pink Floyd was a rather obscure band who's work was progressive and non-commercial. Formed in 1968, the group would release seven albums and garnered critical success, but failed to chart in the US. It wasn't until 1972 when Pink Floyd entered Abbey Road studios to record their eighth studio album that they would find commercial success. The Dark Side of the Moon is arguably, a concept album, which Floyd crafted a narrative that connected with listeners as the band touched on such subjects as greed, conflict and mental illness. Unlike previous albums, they forwent the extended musical crescendos and opted for a tighter and more compact sound. From the infectious bass line on "Money" to the synth driven "On the Run," Floyd captured a sound that was still progressive, but at the same time, accessible. While they would go on to enjoy success with other albums such as Wish You Were Here and The Wall, The Dark Side of the Moon remains the group's swan song.
Number Four: David Bowie's The Rise and Fall of Ziggy Stardust and the Spiders from Mars. While David Bowie garnered positive press on The Man Who Sold the World and Hunky Dory, commercial success was still in question. Bowie has always danced on the fringes of music by reinventing himself, and he took his biggest leap of faith in 1972 with the release of Ziggy Stardust. Though Bowie was influenced heavily by fellow glam rocker Marc Bolan of T. Rex, he pushed the boundaries further than Bolan ever did. The concept was one of an androgynous alien rock star who falls into the excesses of rock and roll, self love and ultimately, destruction. Musically, the album bounced from hard rock such as "Moonage Daydream" to pop rock like "Star." The concept became partially autobiographical, and as Bowie got further into the persona, he, too, burned out. The album ends with the appropriately titled track, "Rock and Roll Suicide," and in 1973 Bowie retired Ziggy.
Number Three: Jimi Hendrix's Axis: Bold as Love. While his debut with the Experience broke new ground and established him as a rock star, Axis: Bold as Love found Jimi Hendrix experimenting even further in the studio. The album's contents were so experimental, that only two songs could be successfully performed live – "Spanish Castle Magic" and "Little Wing." It has been said that the album was less focused on Jimi's guitar playing, but more on his song writing abilities. However, "You Got Me Floatin'" opened with a backward guitar solo, and "Castles Made of Sand" used the same trick halfway through the song. "If 6 Was 9" was the longest track in the album, clocking in at a little over five minutes and featured Hendrix's eerie commentary about death. The song would find its way onto the Easy Rider soundtrack. While it would prove to be the second to last recording with the Experience, Axis cemented Jimi Hendrix as a master of the studio.
Number Two: The Rolling Stones' Sticky Fingers. Coming off the success of Let It Bleed, the Stones pieced together outtakes and demos to make the recording Sticky Fingers sound like a comprehensive album. The original vinyl pressing contained a real zipper on the cover, proving the Rolling Stones had complete artistic control. No longer relying on blues covers (except for the Mississippi Fred McDowell song "You Gotta Move"), Jagger and Richards had become prolific songwriters, and tracks such as "Wild Horses," "Sway" and "Moonlight Mile" were proof. Marianne Faithfull was dating Jagger when they collaborated on the bleak "Sister Morphine." The album was praised by critics and fans alike and spawned such memorable tracks such as the sexually charged "Brown Sugar" and the mean-spirited "Bitch." The band took a risk on "Can't You Hear Me Knocking" by including a 2 minute and 53-second instrumental jam to conclude the song. The Stones would go on to record a bevy of great albums during the '70s, but for my money, Sticky Fingers stands on its own.
Number One: The Beatles' The White Album. If you were expecting Sgt. Pepper to be my number one pick, sorry to disappoint. Released in 1968, The White Album followed the Beatles' experiments with psychedelic rock, and most of the songs were written in India during the band's excursion into transcendental meditation. At first listen, the recording lacked continuity unlike their earlier work, and reviews were mixed. But the Beatles were given a pass as it sat at the number one spot in both the US and UK for eight weeks. There was a lot of information on the double album as each member was preparing for the impending demise of the band. Paul wrote poppy songs such as "Rocky Raccoon" and "Martha My Dear" while John was writing more introspectively with "Sexy Sadie" and "I'm So Tired." Still, the Beatles hadn't lost their edge and gave us such bad ass tunes like "Helter Skelter" and "Yer Blues." Harrison was also well represented on the album with tracks like "Long, Long, Long" and "Piggies." George brought in Eric Clapton to record the infamous track, "While My Guitar Gently Weeps." While Paul desperately tried to keep the spoken word piece "Revolution 9" off the record, he was out-voted. The avant-garde piece was closer to Yoko's world than the Beatles. And yes, it's true, if you play it backwards, it says, "turn me on dead man." The White Album captured a moment in time as it was proof that the Fab Four wouldn't be together much longer.
Honorable Mentions: Pet Sounds, Welcome to the Fun House, London Calling, Blonde on Blonde, OK Computer, Blue, Parallel Lines, Toys in the Attic, Astral Weeks, Harvest, Doolittle, My Aim is True and Goodbye Yellow Brick Road.