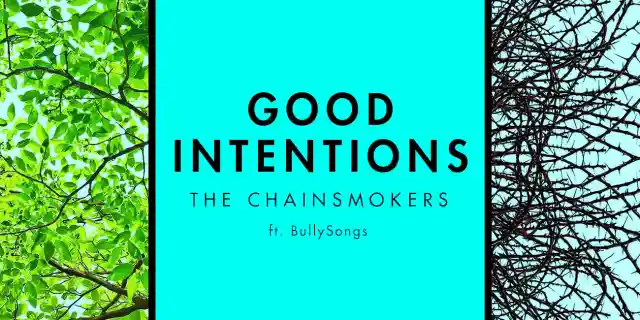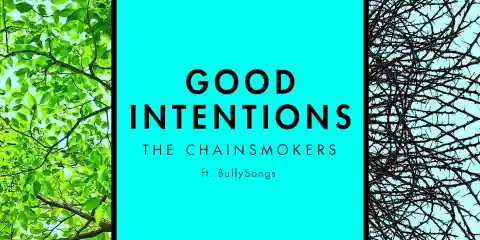 Comprised of talented producers Alex Pall and Andrew Taggart, The Chainsmokers took the world by a selfie-storm last year with the release of their playful single "#Selfie." With the danceable beat, outrageous lyrics, and killer bass the song provided a comical commentary on modern culture (I know you have all been that person to ask "will you guys help me pick a filter?") while also burning up the dance floors across the world. Now the powerhouse duo have teamed up with BullySongs for their single "Good Intentions," and they have maintained the energized production for their return to the scene.
The Chainsmokers have dedicated "Good Intentions" to all the "troublemakers with hearts of gold" like themselves, stating "the song is all about people who set out with the best intentions but end up with the short end of the stick." The guys stuck closely with the theme singing about going into things with the absolute best intentions but hitting the occasional roadblock. As The Chainsmokers point out on the chorus "the road to hell is paved with good intentions," and we all know that is the truth!
Production-wise, The Chainsmokers delivered a solid mid-tempo dance track, lush with elements of electronic production and dazzling synth. The guys sing along with the production as it moves into an extended instrumental break after the chorus, and they most definitely provide the best soundtrack imaginable to making mistakes. Although they aren't dialing up the heavy bass and crazy production of previous releases such as "#Selfie," the guys still know how to get you moving and keep things energetic and positive.
"Good Intentions" is an all around phenomenal offering from The Chainsmokers. The production is made for any event, whether you're chilling out in your front yard with a drink in hand (when you're supposed to be doing something else, obviously), taking that final shot (and making your next big mistake) at the bar, or simply driving off into the sunset and abandoning all responsibility for a couple hours this is the song for the occasion!
As a perpetual member of the Hot Mess Express and with all of my best intentions, the song truly resonates with me and brings a smile to my face as I listen along. We've all been that person who has messed up while trying to do the right thing, and now The Chainsmokers have provided us with a song for the situation. Take a listen to "Good Intentions," pick up a copy on iTunes, and let us know what you think about The Chainsmokers' infectious single!