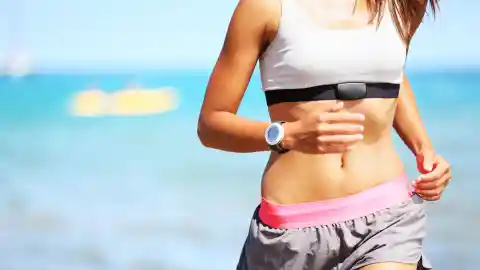 Whether you are running full speed ahead on the treadmill, climbing uphill on the elliptical, or sitting at one of the various free-standing machines scattered throughout the gym, it's best to work out with some great music by your side. During a workout, the perfect music is essential to help keep you motivated and on track to achieving your daily goals. Here are the top five songs that you should listen to during a workout at the gym.
Number Five: Demi Lovato – Neon Lights. Demi's EDM-inspired track from her fourth studio album, Demi, is an excellent song to listen to during a workout. The verses' emphasis on power chords on the piano and synthesized clapping drives this track forward and completely engages the listener. Following an incredible build-up, the record comes to a climax with its electric chorus fueled by Demi's outstanding vocals. The dance-pop beat that emanates throughout the record keeps the track consistently fun and makes it a great song to keep you inspired in the gym.
Number Four: Kanye West – Black Skinhead. While I am not typically a huge fan of Kanye West's music, I have to admit that this song is awesome. The electronic and percussion-driven is beat is incredible and is consistent throughout the entire track, making it a perfect workout song. In addition, Kanye proves himself as a great rapper in this record, as he continuously raps at a fast pace and fills the song's lyrics with passion and emotion. Therefore, this upbeat hip-hop track is a great song to listen to during a workout.
Number Three: Tiesto – Footprints. While this track's chorus may be quite repetitive, its infectiously catchy and fun electronic beat make it a great track to listen to at the gym. This record is quite unique because its stereotypical electronic beat is aided by a piano in many sections, giving it much more depth than in a traditional EDM song. Another great thing about this record is that it never loses its rhythmic and upbeat nature and constantly drives itself forward. With inspiring and uplifting lyrics such as "We live forever wherever we go," this track propels the listener forward in their workout and helps keep them on track.
Number Two: Alesso ft. Tove Lo – Heroes. This party track doubles as a great workout track as well. With lyrics such as "Everyday people do everyday things / But I can't be one of them," this song inspires listeners and keeps them motivated to achieve their goals in the gym. Tove Lo's incredible voice graces this electronic track and makes it that much more fun to listen to. This infectiously contagious EDM song constantly drives itself forward and this makes it the perfect song to help keep you motivated at the gym.
Number One: Conor Maynard – R U Crazy. Without a doubt, this is the perfect song to keep you on track and focused at the gym. Starting out with a 50s-style arrangement of the chorus, this track establishes its fun, uptempo beat. Conor then launches into the produced version of the record which features his sharp and powerful vocals in addition to his smooth falsetto. The record's consistent synthesized beat keeps the song on track with its pulse-like quality and makes it the ideal song to listen to during a steady and demanding workout.