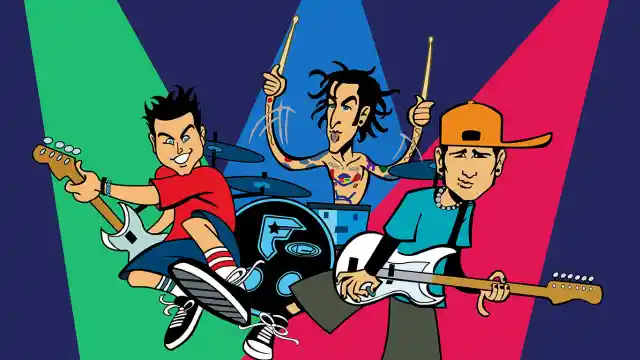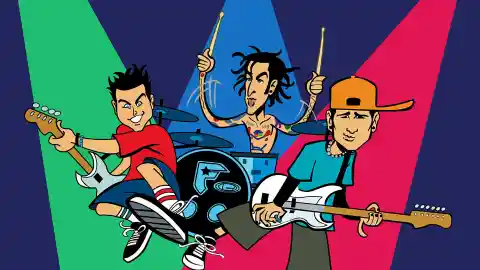 It's officially 2016, which means that a decade ago, the world ended. It literally fell to pieces, and millions were crying endlessly, wondering what was going to happen now. Yep, Blink-182 announced their hiatus ten years ago this year, which also marked the release of their Greatest Hits album. However, I'm not going to write about that album on here; not really. To celebrate this hugely influential band (and their reunion, yay!), I'm going to try and compile my own 17-song Greatest Hits album, but it'll be with songs I think everyone forgets about – songs that are hugely underrated in my opinion (FYI, I'm counting all full-length albums from Cheshire Cat, and I'm not including The Mark, Tom and Travis Show, even though it is quite the masterpiece itself).
"Peggy Sue" – This is honestly one of my favourite Blink-182 tracks of all time. It's so blink. Taken from Blink-182's first proper full-length album, Cheshire Cat (1994), it's a song that is most definitely evident of a sound that the band has completely taken by the scruff of its neck (and stamped their name on indefinitely). Tom's whiney vocals coupled with the heavy guitar make for a pop punk triumph: an angsty teen's idea of heaven. There is a strange sense of comfort in the lyrics which is welcoming, too. The live version of this song is, dare I say, almost better than the studio recording. It is played (as per Blink's live style) at almost double tempo. It's a totally underrated Blink-182 song that I think deserves just as much credit as every track that appeared on the official Greatest Hits album.
"Dumpweed" – When you're in a fully jam-packed arena, and the lights go off, and you hear the opening notes of "Dumpweed," there really is no other feeling like that in the world. "Dumpweed" was made to open shows; it's anthemic, adrenaline-building, pure unadulterated punk rock. "Dumpweed" is the opener of Blink's third studio album, Enema of the State, on which Scott Raynor does not partake in. By 1999, Blink-182 had recruited new drummer Travis Barker from The Aquabats/The Transplants, giving a new pop edge to their music. I find Barkers' drumming a lot less traditional punky than Raynor's, although both men are insanely talented drummers. There is no doubt in my mind, however, that "Dumpweed" is better live. Tom's vocals feel very forced and studio-manipulated, whereas the beauty of DeLonge's lack of singing talent is truly displayed in the live version in the album of the following year (and when you're experiencing it for yourself in reality).
"Wasting Time" – Again taken from Cheshire Cat, "Wasting Time" is a great love song, believe it or not. It's so incredibly easy to listen to, and I can't stop the smile appearing on my face every time I hear the opening notes. It shares the familiar 'Blink-182' sound that is heard in "Peggy Sue" (presumably because they're on the same album…), but with a kind of cute edge to it. The lyrics of the chorus are really clever and insanely catchy – "And maybe I'd impress her by being in a band / And maybe if I act real tough / She'll let me hold her hand / And maybe I'd win her heart by writing this song about her /Sometimes I sit at home and wonder if she's sitting at home thinking of me / And wondering if I'm sitting at home thinking about her / Or am I just wasting my time?" Never mind of the best Blink songs, this should totally feature on a "Greatest Love Songs of All Time" album (particularly with the heart-warming lyrics, "In my town you can't drive naked"…. it's just stunning stuff). The lyrics are the main reason I love this song so much, but the instrumentals coupled with it are just as amazing – it's again a really overlooked Blink-182 song, which is a real pity in my eyes. Please listen to it, if you never have!
"Online Songs" – OK. This song is pretty much indescribable. I've been listening to this song, trying to find any kind of words to write that will justify my picking of "Online Songs" for my Greatest Hits album, but I'm stumped. The fast drums that only Travis Barker could achieve so flawlessly, the pace of the lyrics, Mark's silky voice, and the constant punky guitar riff all collectively make this song so irresistible. The lyrics of the chorus ("Please don't remind me / Put your past behind me / Shines so bright it blinds me / Wish that this would end / And I am not fine / Last night I saw you online / Your screen name used to be mine / Why can't we just pretend?") are so catchy you don't mind how many times they are repeated throughout the hectic two and a half minutes. I could happily play this song on repeat for a lifetime, and I still probably wouldn't be able to get enough of it. It's seriously a great song that everyone should experience at least once in their life. (I hope i'm not bigging it up too much. I don't think I am. It's THAT good.)
"Voyeur" – At least you can always count on Blink-182 staying classy. Despite the song subject, and the song lyrics, it's actually a really great Blink song. I'd like to say that because "Voyeur" is on the album after Cheshire Cat, Blink-182 have really matured; but thankfully, that's not the case. Some might find it weird that this is one of my favourite Blink songs, but it's honestly a really fantastic pop punk song. The highlight of this song is the short, but sweet, bass solo near the end of the song, which is even better on the live album released in 2000 – 3 years after the release of Dude Ranch. Scott Raynor's drumming is a focal point of this song, and it really ties everything together perfectly.
"Boring" – The perfect skate punk song. 1 minute and 41 seconds of pure angst and mesmerising drumming. Tom's unbearable vocals, coupled with all the background noise, makes "Boring" a Blink classic to me. Scott Raynor's drumming talents have hardly been discussed in this article, and I think there is no better song to highlight them in than this one. The tempo upheld by him is astonishing and without Raynor's drumming, I don't think Blink-182's sound would be quite as cemented in the punk scene as it is. Of course, you need all the elements that Blink added to their songs to be as successful and celebrated as they are, but Raynor's talents really propelled them forward, I think. Yet again, the bass solo technique is used, and it is implemented flawlessly. And, of course, the song ends with the noises of a lady making out with a horse.
"Even If She Falls" – Taken off Blink-182's "comeback" album Neighborhoods, "Even If She Falls" is ridiculously underrated. You can definitely tell that Tom was determined to keep his Angels and Airwaves juices flow, but mixed with Mark's general musical geniosity, it's perfection. The lyrics are wondrous ("And there she was / Like a starry night / Like a ferris wheel / Full of blue-green eyes / And a heart of steel / Always on her own / Almost never real"), the chorus is ridiculously catchy, and Tom's voice is surprisingly good. It's a definite throwback to the self-titled album, with riffs that reminds me vaguely of "Asthenia", which was welcomed wholly by the Blink-182 fanbase. Neighborhoods is a shamefully underrated album, and it angers me greatly; I don't think people understand that these men are in their 40s now – the toilet humour and dick jokes aren't going to be relevant for them forever, as much as their fans revel in the "old (or should I say, young)" Blink-182. Neighborhoods should be admired as a forward-thinking, mature, lovely piece of music, not as a comparison album.
"Mutt" – This is such an exceptional song; the drumbeat is catchy, the bass line even more so, and there is a distinct punky guitar riff, which all result in a perfect Blink-182 song. The lyrics are immature, sometimes crude, and it makes it a fun song to listen to. This track was also featured in one of the American Pie movies, cementing its teenage appeal even further. Tom said that he wrote this song about his mate who got lucky a lot and didn't really care about much else. He said, "It's not too deep. As long as it seems deep, that's all that matters," which is a great example of Blink-182's "we don't take ourselves seriously" attitude that they have always been so proud of, and so associated with. It's a light song that can be listened to at any time, and will surely brighten your day up; mostly due to it's stupidity and utter catchiness.
"Dysentery Gary" – Finally, Blink-182 have shown that they are a mature, serious band who demand to be taken seriously through their no-joke strategy. Sigh. Again despite the name, this is another of my all time favourite Blink songs. It flows so flawlessly; the repetitive guitar riffs, the complicated drumming, the whiney voice. It's pop punk at its finest. The introduction of Mark's voice in the breakdown adds another edge to this wonderfully entertaining song. Although the name of the song would indicate otherwise, there actually are some golden lyrics buried in this tune ("Life just sucks / I lost the one / I'm giving up / She found someone / There's plenty more / Girls are such a drag") that are oddly relatable.
"Heart's All Gone" – Taken from the first album since the announcement that the hiatus was FINALLY over, "Heart's All Gone" is a throwback to an "old" Blink-182 that wasn't present on the self-titled album. It's so fast and thoroughly enjoyable; Mark Hoppus himself said that he was "totally proud of that song," and so he should be, I say. The lyrics are bitter and angry (what more could you want, really), particularly the chorus ones: "You seemed so sweet at the start / But the start's all wrong / You say you speak from your heart / But your heart's all gone." It's one of those songs that you aren't afraid to scream the lyrics to because no other way seems appropriate. It's such a clever song that is simultaneously a nod to the future of Blink-182 and the past of Blink-182. Another embarrassingly underrated tune from the comeback album.
"Here's Your Letter" – This song gives us of a glimpse of a +44 song, which was the side project that Mark and Travis embarked upon after Blink's hiatus. The bass line is the most prominent thing in this song during the verses, which works very well indeed with Mark's bass-y voice. The drumming is absolutely insane on this track, adding yet another dimension to the seemingly endless amount of layers this song has. The lines, "Here's a letter for you / But the words get confused / And the conversation dies" and "The last star left in heaven / Is falling down to earth / And do you still feel the same way?" are the most hard-hitting lyrics of the song. "Here's Your Letter" is another example from Blink-182's self-titled album of a brooding, broken heart tune that made the band's musical change of direction pay off.
"Dick Lips" – Tom wrote this song after he got kicked out of high school. Not only is the music on the track wonderful, the lyrics and sentiments are, too. Blink-182 have already proved that they have a great sense of humour and aren't afraid to let that come across in their music. However, this song shows how wonderfully serious and relatable they can be, too. This is a song that would appeal to Blink-182's teenage audience, and it has also proven to be timelessly relatable as teenagers are still sticking on Dude Ranch if they're wasted coming home from a party, or if they are just generally having a "I hate my parents" mood. It's a true Blink-182 classic that shouldn't be forgotten about in the slightest.
"Asthenia" – After a minute of outer space noises that lulls you into pure contentment, the bass riff (that I couldn't wait to learn on my own bass when I first heard it) kicks in, scaring you slightly and bringing you around to reality again. This song is a strange hint to the future of Tom DeLonge's adventure into space rock with his band Angels and Airwaves that would emerge after Blink's hiatus. Tom's voice sounds distant and dreamy and fits the sound of the track wonderfully well. The immense, invasive and loud instrumental, before the chorus, is the best build up to such a marvelous hook. The chorus ("Should I go back / Should I go back / Should I? / I feel alone and tired / Should I go back / Should I go back / Should I? / I hope I won't forget you") is magical, keeping you entirely hooked on this song.
"Wendy Clear" – This is a perfect unrequited love song, but it can be played at any occasion. I've found myself singing this song when I was just utterly fed up with crushes, but also when I was just having a really great day; it's that catchy. This song is also the main reason I decided to buy my first bass guitar, so that I could learn the riff and show off in my bedroom to myself. The lyrics are wonderful, and at times, emotionally gripping: "So I'll see you with another guy who pretends not to hear you when you cry / Oh yeah / I wish it didn't have to be so bad". It's a really lovely song, and the fact that it focuses on Mark's vocals is another plus for this track in my opinion.
"Give Me One Good Reason" – This song is one that cannot physically be listened to at a normal sound level. It demands to be blasted from every available speaker in the vicinity. The intro doesn't give you warning of what will ensue, and it just makes the song even better, if that's possible. If teenage angst had an official theme tune, I would expect it to be "Give Me One Good Reason." The unique kind of breakdown after each verse is a delightful piece of musical writing that is one of my favourite Blink-182 riffs. The lyrics, "I like the ones who say they listen to the punk rock," have become almost a motto for Blink-182 fans; you see it tattooed on people, as blog titles and as countless Twitter bios. This song is a comforting one that many people have found solace in due to the pure relatability of the lyrics. "Give me one good reason / Why we need to be like them / Kids will have fun and offend / They don't want to and don't fit in" – how much more teenagery can lyrics get?! "Give Me One Good Reason" is one of Blink-182's all time best songs, and I'm honestly hurt that it wasn't featured on the Greatest Hits album.
"Untitled" – The lyrics to this song are actually quite beautiful, my personal favourite being, "When I needed you most / When I needed a friend / You let me down now / Like I let you down then / So sorry / It's over." It's a hard-hitting heartbreak punk song that you can picture guys in snapbacks and cigarettes skateboarding to. The pace at the beginning of the song is slow and melodic, which simple accentuates Tom's harsh, gravely voice; then, it picks up enormously, making the track of my favourite Blink-182 songs ever. Again, the live version of "Untitled" is breathtaking, which is a trait not many bands possess. Blink-182 are unique in the fact that they aren't overly talented musicians, but they understand the music they make and that is so important, in this genre especially.
"Don't Tell Me That It's Over" – This track is one that not many people knew about for ages. Blink-182 made multiple versions of their album Take Off Your Pants and Jacket with different bonus tracks on each, making them a sort of collectors item. My own copy came with the track "Time To Break Up," which, with a lot of heartbreak, I've left out of this tracklisting. This particular track was featured on the Green release and was written by Tom DeLonge. Travis said that he used Afro-Cuban influences for the drum track, which is the coolest combination I think I've ever heard of, and the result is even more impressive. The lyrics, "I hear the phone / It rings so violently / Can't leave my room / Can't breathe since she left me / I will admit / I hate those things I said / Girls always cry / Guys will never admit they did," point to universal heartbreak – that the same emotion has been felt, and will be felt, by millions of people before and after you, which is a nice feeling in an odd way.
Picking 17 underrated Blink-182 songs was probably harder to do than my A-Levels, but I've done it. I've left out so many killer songs, most notably "Aliens Exist," "Anthem," "Snake Charmer," "Please Take Me Home," and "Emo" (I could go on and on). But the thing you should take from this if you take anything at all, is this: Blink-182 cannot physically make a song that you can easily rate as 0/10. And if that's not testament to their talent, friendship (eventually reformed) and pure genius, I'm at a loss as to what is.