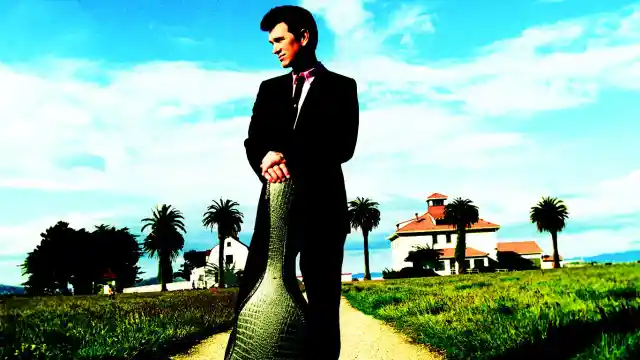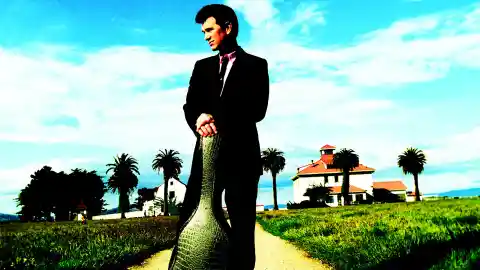 Chris Isaak, armed with his guitar and his chiseled jawline, has been making records since 1984. This rockabilly artist has set himself apart from others in the genre with his memorable falsetto, his moody riffs, and his energetic live show. Some have compared him to Johnny Cash while others have claimed that he is Elvis Presley reincarnated. Both comparisons are valid, as Isaak has covered songs by both legends with precision. His cover of "Can't Help Falling in Love" is particularly solid.
Despite Isaak's success, his discography is not a collection of serenades and smiles. Rather, Isaak's repertoire includes plenty of sad songs about heartbreak. Let's take a look at some of Chris Isaak's most depressing songs. Note that each song was selected based upon its musical quality and its depressing content.
Number Ten: "Life Will Go On." "Life Will Go On" is a depressing track that features one of Isaak's best guitar riffs. The song has a title that implies an uplifting message, but the track is nothing but heartbreaking. Chris's haunting vocal melody is made even more downtrodden by the heart-wrenching guitar riff. While the lyrics detail moving on from an ended relationship, Isaak sings them as if he is dying inside. There is not a single point in this song at which the singer actually sounds like he is ready to move on. This is a fantastic track from Chris Isaak.
Number Nine: "Changed Your Mind." This song is hopelessness. Chris moans and howls his way through the entire track. An echo is paired with his despairing voice and the guitar is equipped with some kind of a distancing effect, making "Changed Your Mind" sound all the more ambient. A relaxed song, "Changed Your Mind" gives the listener the impression that light at the end of the tunnel is nothing but a myth.
Number Eight: "Lie to Me." Chris Isaak is an intriguing artist because a lot of his music sounds quite fresh. A majority of his songs don't suffer from a dated sound. "Lie to Me" is an exception, as it retains a classic sound, yet the song is great in spite of its apparent age. This time around, Isaak sings about disappointment in himself rather than disappointment in another. "Lie to Me" doesn't contain overwhelming anguish, but it does feature some sad saxophone that adds heaps to the track's overall mood. Isaak's falsetto is flaunted at the end of the song, which consequentially sends the listener off feeling sad yet satisfied.
Number Seven: "The End of Everything." In his depressing track "The End of Everything," Chris Isaak expresses his feeling that a breakup is the end of absolutely everything one cherishes in life. The lyrics paint a bleak picture. "This is the end of happiness / this is the end of dreams / this is the end of everything / it's the end for you and me." What makes this song even more depressing is the fact that it closes the album it is on. Yes, "The End of Everything" is the last track on Forever Blue. Isaak sure knows how to leave a good taste in the mouth of his fans.
Number Six: "Black Flowers." If you love a girl, send her black flowers. Trust me, it works every time. Chris Isaak's "Black Flowers" is haunting. Distorted guitar, stray piano keys, quizzical bass, and hints of violin combine to create a song that is fit for an October breakup. "Black Flowers" is a joy not because of its subject material, but because it displays a more experimental side of Isaak. It certainly isn't a rockabilly tune, but it is a great listen regardless.
Number Five: "Nothing's Changed." Similar to "Changed Your Mind" in its laid-back delivery, "Nothing's Changed" is a sad song that trumps most other sad songs. This song's best element is undoubtedly the pinging guitar, which sings right along with Isaak. Chris Isaak and his band flaunt impressive guitar work in the live show, but it isn't often that the artist allows guitar to take center stage on the records. A song that isn't busy but surely depressing, "Nothing's Changed" sets the bar for sad tracks.
Number Four: "Funeral in the Rain." The song is titled, "Funeral in the Rain." Could you expect anything but misery? Not a shred of happiness can be salvaged from this sob-fest of a song. The only thing that could amplify Isaak's self-pity on this track is a backing track comprised of a constant falling of pattering rain. Throw in some thunder for the heck of it. Think Eminem's "Stan." Rename the song to "Rockabilly Stan." I'd be one happy guy.
Number Three: "Wicked Game." Chris Isaak's hit single "Wicked Game" is anything but a cheerful song. The weeping guitar pairs with Isaak's pain-stricken voice to create a sound of despair. Heck, the chorus is, "No, I don't want to fall in love." Also included in the chorus is the barely audible chanting of, "The world is only gonna break your heart." Despite the vast amount of covers this track has yielded, none can match the anguish of Isaak's original. Wicked Game is a fantastic song that is depressing yet entirely listenable no matter one's mood.
Number Two: "Blue Spanish Sky." "Blue Spanish Sky" is the track that inspired this list. It is so blatantly depressing that it borders on parody. I cannot listen to this song without imagining Chris singing it with tears streaming down his face. His voice is full of despair, and when it is paired with Spanish-sounding chords, the result is perfection. Funeral horns creep into the song at a couple of moments, never ceasing to crank out laughter from me. If Isaak were to ever parody himself, he would do it with this song. He sings, "It's a slow, sad, Spanish song / I knew the words but I sang them wrong / the one that I love has left and gone / without me." Heartbreaking.
The music video for this song is nothing out of the ordinary for Chris Isaak (an attractive woman, corniness) though there is a moment that has me puzzled. What exactly is the purpose of the particular shot? It's early into the video. You'll know it when you see it. At any rate, I truly enjoy "Blue Spanish Sky," as it is so depressing that it is difficult to take seriously. And that's okay.
Number One: "Forever Blue." "Forever Blue" is one of the most depressing songs I have ever heard in my life. Unlike "Blue Spanish Sky," which can taken with a smile, "Forever Blue" is a true expression of depression. The term 'depression' is undoubtedly overused by today's society (hence the existence of this article), yet it is entirely appropriate in the case of "Forever Blue." The darkest lyrics are perhaps, "No reason left for living / still there's a lot to do / new tears to cry / old songs to sing / and feel forever blue." Isaak makes it clear that he feels incapable of digging himself out of the hole he is in. With stripped-down acoustics and subtle support from his backing band, Chris Isaak delivers the most depressing song of his career.
For those interested in listening to more from Chris Isaak, my favorite album of his is Forever Blue. I would recommend starting there. Now that I've counted down the top ten most depressing Chris Isaak songs, I'm going to lie down with some ice cream. It's called Rockabluey Road. I'll show myself the door.