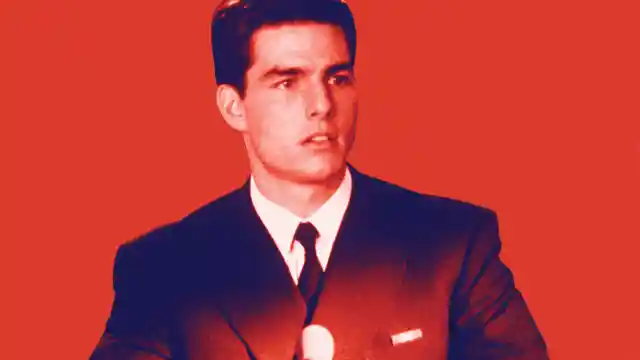 We already brought you part one of our list of 15 things you probably didn't know about Tom Cruise, and now we're back with part two! Check out eight more riveting details about this eccentric and talented star's life that you definitely (probably) didn't know. You might be surprised by what you find out!
Number Eight: He Wanted to Be a Priest. Though he is now most well known for being a devout Scientologist, at one point Cruise actually wanted to be a catholic priest. He went so far as to spend an entire year in a seminary before he was kicked out. The reason he got kicked out? He stole some wine.
Number Seven: He Learned to Dance by Watching Soul Train. Rather than take expensive dance classes, Cruise used Soul Train to transform himself into an excellent dancer. He memorized routines after he realized that women like a man who can dance.
Number Six: He Bought and Crashed a Motorcycle Before He Could Legally Drive. When Cruise was just 12 years old, he bought a motorcycle using money that he had saved up. He then proceeded to crash that motorcycle between two cars. Probably for the best.
Number Five: He Was Almost Iron Man. Though you probably now associated the character of Iron Man with Rober Downey Jr., Cruise was originally slated to play Tony Stark.
Number Four: He Is Dyslexic. Cruise was diagnosed with the learning disorder when he was just seven years old. He has since claimed that he overcame the disability with Scientology.
Number Three: He Was a Wrestler. In high school, Cruise was known more for his athletic prowess than his acting ability. Once he injured his knee while wrestling, he decided to audition for the lead in the school production of Guys and Dolls, and the rest is history.
Number Two: Each of His Wives Has Been 11 Years Younger Than the One Preceding. Though Cruise continues to age, it appears his wives are aging in reverse. His first wife, Mimi Rogers, was born in 1956. Nicole Kidman, his second wife, was born in 1967, and Katie Holmes was born in 1978.
Number One: His Iconic Risky Business Scene Was Totally Improvised. The scene was reportedly shot in just half of a day, and the scene began with only one line: "Joel dances in underwear through the house." Cruise improvised the rest.