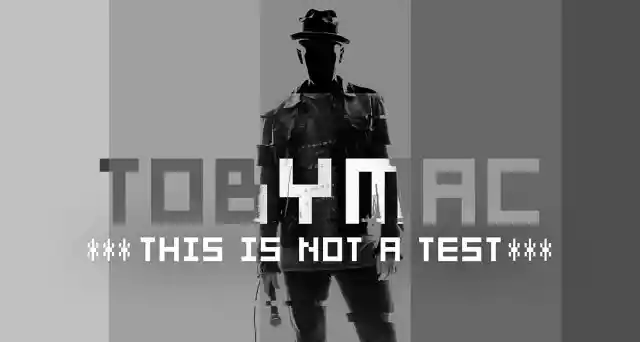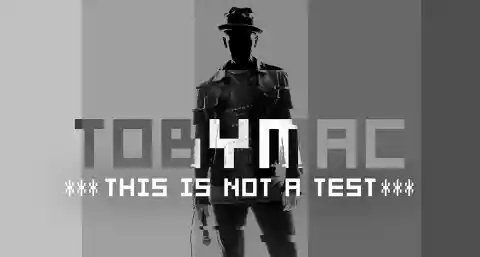 You'd be hard pressed to find an album more highly anticipated than Toby Mac's This Is Not A Test. The Grammy award-winning artist and DC Talk front man gives us 15 tracks of meaningful and catchy tunes that will no doubt delight fans and make you feel really, quiet happy.
Opening with the track "Like A Match," keys, upbeat percussion and fun background vocals make way for a memorable song about showing your love for God so it "burns for the world to see." The brass section gives a punch, and Mac's carefree delivery means it is the perfect doorway to the positive and convicting tracks to follow.
Following on with "Backseat Driver," we are called back to Mac's hip-hop roots, and the duet with Tru and Hollyn is a soulful metaphor of living life with Christ as a driver. Mac drops the phrases, "I want your way Yaweh" and "I don't want to be no back seat driver" frequently through the tune, and you've got to give it to him for somehow making these cliché Christian phrases cool. Then again, Toby Mac has always seemed to make even the most 'Christian' of phrases acceptable, you only need to look at "Jesus Freak" to see that.
A more rock infused take comes with "Like A Match," and the duet with Capital Kings provides a solid backbeat that exhilarates you. Equally as riveting guitar lines emphasize the finality of the song, and the notion that we need to "live every second, make it count" is emphasized.
"Light Shine Bright" is a base driven ballad that infuses Jamaican tones into a RnB groove. Unusual? Very, but Toby Mac's swag means he pulls it off and it somehow melds with the rest of the album. Throwing in theology as a foundation for the song, the ethereal tones of Hollyn balance it out nicely for pop lovers.
The transition to "Till The Day I Die," gives a cheeky take on a press conference where the media badger Mac about the future of DC Talk. Sneakily using it as the entrance to a song that emphasizes the singer's commitment to his faith, a plethora of tones and tech sounds bridge the space between it being a completely hop-hop or pop tune, The duet with NF is an uncompromising testament to the singer's conviction that, "Till the wheels fall off, till the spotlight fades" he will live sold out for God.
"Feel It" is a groove and soul driven track that embodies the revival of the old-school sound akin to Mark Ronson. Catchy and easy to sing along too, the brass is exceptional, and both singers effortlessly bounce off each other's distinctive each other to craft a celebratory tune.
"Move (Keep Walkin)" is an empowering song that ushers in a gospel sound as Mac recounts the feelings we all have during our struggles. Saying, "Keep walking, soldier keep moving on," it is a battle cry of sorts, emphasizing the faithfulness of God.
Stepping into an anthem of victory and salvation, "When Love Broke Through" is a pleasant surprise. Rather than being a distinctive hip-hop piece, there are soul and gospel elements within it, deepened with multi-layered harmonies and a big band that enables you to envision the journey of life. You'd be hard pressed to find a better and less cliché song about the Christian walk than this song, and for that I have to give Toby Mac props.
Switching it up, "Beyond Me" is an acoustic, pop track perfect for radio. The vocal quality of Toby Mac really does need to be emphasized, and his ability to possess a note and deliver with a conviction that allows him to dip into any number of genres with ease and gusto is second to none.
DC Talk fans get pumped, because the old gang is back together on "Love Feels Like." Filled with strategic cuts, intentional beats and bold vocals, it's everything you'd expect – except for DC Talk references of "my saviour was born in a manager," but we roll with what we get. On the plus side, they do a provocative narration of a Bible verse, so that's a win.
"Undeniable," is a soaring track that builds using melodic beats. Asserting the fact that there is no argument that can defeat God, it interchanges between deep beats and minimal backing vocals, to cultivate a sacred feeling that makes this song transcend across cultures and time. The addition of a children's choir all enforces this.
Bringing the tempo to a faster pace with "Lift You Up," this duet with Ryan Stevenson is a bold tune that stirs you to focus on God even in the hard times. For the first time on this record, we get to hear Toby let it rip vocally, and between this and the steadfast hip hop beat it's a winner.
The sweet sounds of a trumpet driven love song fill "Fall," and poetry that would woo any wife makes this a sweet and hopeful track that reminds you of Mac's ability to transcend audiences and age groups. The Phenomenon Remix of "Beyond Me" by Soul Glow Activatur adds a dance party vibe to an already eclectic album, before Garcia's Remix of "Like A Match" tie up the 15 track package.
Bold and uncompromising, this album is distinctly Toby Mac. Filled with duets and lyrics that will either empower you or make you vitally uncomfortable, This Is Not A Test is a reminder that there is no room for half hearted convictions in this life, and that the victory of overcoming this world far exceeds the struggles we all face. Positive, bold, riveting and eclectic, Toby Mac is unlike any artist you have ever heard, and that is why his music is so powerful.