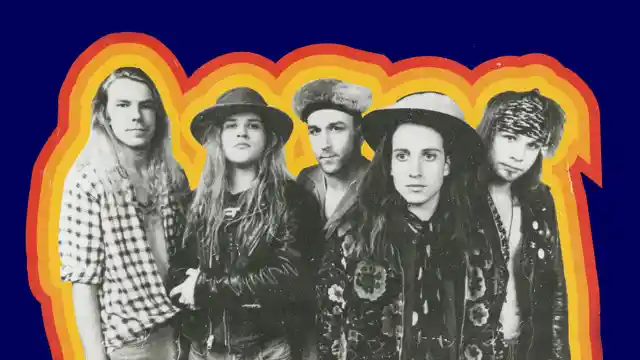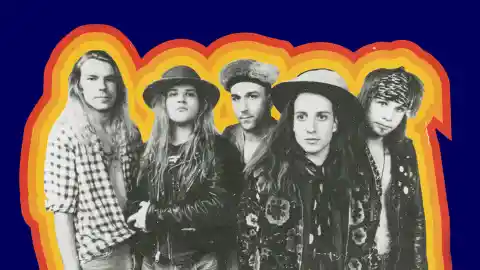 If you lived in Seattle during the mid-1980s, you couldn't escape the grunge scene, especially if you were a music journalist. But was grunge really a movement? Hard to say as many of these bands are more metal-based. So basically, it was a name given to hard rock bands out the northwest. I personally thought it was rock and roll and didn't buy into the hype over it. It wasn't at all like the movie Singles. I didn't dress in flannel shirts and combat boots nor did any of my friends. After the movie came out, we'd actually laugh at anyone who was trying to look like Matt Dillon's character.
Number Ten: Screaming Trees. The Screaming Trees made a name for themselves during the high point of the grunge scene and made it onto the soundtrack for the movie Singles. Highly regarded as the "Godfathers of Grunge," the band mixed elements of hard rock and psychedelic rock for their own brand of grunge. They released seven albums between 1985 and 2000, but success wasn't overnight as the band's first few albums did nothing outside of Seattle. Signing to a major label (Epic Records) only added to the frustration as the band's album, Uncle Anesthesia, barely cracked the charts.
In 1991, Nirvana rełeased Nevermind, which paved the way for other Seattle rockers. Screaming Trees issued Sweet Oblivion in 1992, which housed the runaway single, "Nearly Lost You," but that was it for the band. As grunge faded into oblivion, so did Screaming Trees. This was a great band and they put out great music. If you were privileged enough to see them in person, then you know what I'm talking about. But sadly, the band falls into the category of "One Hit Wonders."
Number Nine: Hole. Hole were not from Seattle, but who said the scene was exclusive to the northwest? As a part of the LA punk scene, the band was lead by the incomparable Courtney Love. Love her or hate her, there is no denying her impact. The band debuted to critical success with Pretty on the Inside, but it would be the band's next album that would put them on the world stage. Live Through This was a critical and commercial success; it went platinum within a year of its release. Although some attributed the success to her husband's suicide, I personally don't think it was.
The third and final release, Celebrity Skin, found Love cleaned up and dressed up. Though the record still rocked hard, it showed us a side of Love that we'd never seen. Even though the album received four Grammy nods, the band called it quits in 2002. While they would reform in 2009 and give the buying public a new compilation of songs, they weren't buying.
Number Eight: Temple of the Dog. Temple of the Dog was formed as a tribute to Mother Love Bone's lead singer Andrew Wood after he died of overdose. The recording was the brainchild of Soundgarden's frontman, Chris Cornell, who was joined by Eddie Vedder, Stone Gossard and a host of other friends of Wood. The album sparked the single "Hunger Strike," which charted decent enough, but low. It wasn't until after Vedder formed Pearl Jam with the surviving member of MLB that A&M realized they had an album vaulted, which brought together two viable groups on one record and rereleased it. Emphasis was put on "Hunger Strike," which found heavy rotation on MTV. The album would go on to sell over a million copies and would be certified platinum.
Number Seven: Mudhoney. Mudhoney never got the recognition they deserved as their EP/album, Superfuzz Bigmuff, was a massive influence on everyone who followed. I had the honor of interviewing the band a few years back, and they showed no animosity about their spot in history. Mudhoney formed out of the ashes of Green River, so we knew it was going to be good. With Mark Arm handling lead vocals, they were darlings of Sub Pop records.
Despite recording ten albums since 1988, the band never took home the big paycheck like their contemporaries. And it seems nothing can kill this band as they are still recording nearly two and a half decades after their inception. Their latest, Vanishing Point, is another fine example of the range of this band.
Number Six: Alice in Chains. It kinda sucks that the lead singer, Layne Staley, couldn't put the needle down before buying the farm with a rock 'n roll cliche. Alice in Chains were slotted in the category. The band was more metal-influenced than other bands who were considered grunge. They are known for their lush two-part harmonies amongst a wash of heavy guitars. They were hit from the word go as their debut, Facelift, would go on to be certified double platinum and sell two million copies in the US alone. Dirt was another hit that gave us "Them Bones" and "Rooster" among others as it peaked at number five on Billboard. While their self-titled third album would garner platinum status, it didn't feature any notable singles. The band would take a break, and while they tried to make a comeback, it wasn't the same without Staley.
Number Five: Pearl Jam. As I discussed in the Temple of the Dog segment, Pearl Jam was born out of the demise of Mother Love Bone, turning a tragedy into a triumph. The band was true grunge right down to flannel shirts and army fatigues. They were very political, especially about animal rights and waged war against such institutions like Ticketmaster. The band was a hit from the start with the release of Ten, which yielded classics such as "Jeremy," "Alive," and "Even Flow."
The album has been certified 13x platinum and maintains as the best selling album by the band. Pearl Jam would go on to release Vs. in 1993. On the strength of the singles, "Daughter," "Go," and "Animal," the album occupied the number one spot for five weeks. The coolest thing about this band is that they never tried to impress us; they remained humble by their success. They have outlasted and outsold every band from that scene and continue to record and tour.
Number Four: Soundgarden. With a voice as powerful as Chris Cornell's, we knew Soundgarden was going to be a major player in the rock 'n roll game. They didn't sign with a major label even though they were being scouted for their debut, Ultramega OK. And even after they signed to A&M and released Louder than Love, they still couldn't get much love. Long time supporters were angry that the band was seeking mainstream success. Then came Badmotorfinger, and the band finally got their sound on tape.
Although there was a little controversy over the track and the video for "Jesus Christ Pose" from the Christian Right, it proved to be a success. They received a Grammy nod for their effort. Then came the mainstream success with Superunknown, which debuted at number one on Billboard. The disc was to be their swan song as singles as "Black Hole Sun," Spoonman" and "The Day I Tried to Live" spurred on the success. While they had one more album in them, that wasn't enough to hold the band together.
Number Three: Nirvana. I know, I know… many of you won't agree with the number three slot, but in my opinion, Kurt Cobain didn't walk on water. We all know the story, so I'll make this short. Kurt Cobain was "possibly" the greatest song writer since John Lennon? I don't know. Comparing anyone to Lennon is going to raise a few eyebrows. Kurt Cobain was at the right time in history as he captured our imaginations with his insights.
While he despised being a rockstar, he did take full advantage of the perks – mainly unlimited heroin. Nevermind was produced by Butch Vig. The album sounded polished, which is what you can expect when you ask Vig to produce. On a personal note, I'm more of a fan of Bleach. I never bought into the hype that surrounded the second record. I mean it was good, but it wasn't a religious experience like so many think it was. So, there you go!
Number Two: Green River. Truly a great band who practically invented grunge. Read more about them in my top ten most influential bands from the northwest.
Number One: Mother Love Bone. Just say no to heroin. MLB, RIP long before their time. Read more about this great band in my top ten most influential bands from the northwest.