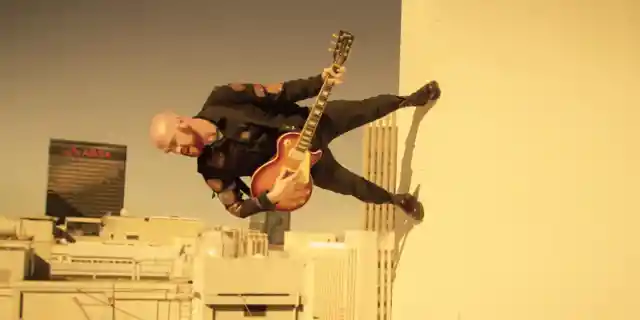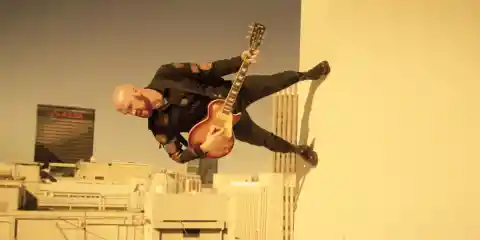 The music video for The Script's single, "Man On A Wire," may not be for the faint of heart, especially if you suffer from a fear of heights. Danny O'Donoghue, the frontman of The Script, seems dead-set on making large declarations of love, and this video is no exception. First, he sat on a corner and refused to be moved in "The Man Who Can't Be Moved." Then he got drunk and went to the woman's house in "Nothing." Now, he takes a tightrope walk between two of the tallest buildings in Cape Town, South Africa in "Man On A Wire."
The music video was inspired by a documentary on Philipe Petit, who, in 1974, completed a high wire walk between the Twin Towers in New York. In the music video for "Man On A Wire," O'Donoghue performed the heart-racing stunt himself. I can tell you that after re-watching the video, I cannot catch a glimpse of fear on his face. O'Donogue was not the only member of the band stuck in a compromising position; drummer Glen Power, and guitarist Mark Sheehan, also put themselves in high-risk situations. Power set up his drum kit at the edge of a terrifying drop off the building while Sheehan defied gravity by posting up on the side of the building.
The video opens up with a close up shot of O'Donoghue's face and as the camera pulls back you notice that he is standing on a wire between two buildings. He is professing his love to a girl who seems to have moved on and began seeing someone else, "Who would have thought I'd see you with someone else?/ Who would have thought that I'd be in such a mess?/ Now you know, now you know/ I'm just a man on a wire, oh." I don't know who hurt this man and why women keep leaving him, but I'm inclined to thank them.
Yes, I know that sounds terrible, but hear me out. We have gotten nothing but good music from his heartbreaks. The Script consistently puts out great songs, and "Man On A Wire" is no exception. Now, I'm not saying that I'm hoping he keeps going through heartbreak, but I am thankful that he puts his emotions to music and that we get to listen to the end result.
"Man On A Wire" comes off of The Script's fourth album, No Sound Without Silence. I encourage you go and watch the music video, then come back and tell me if you caught any signs of fear on Danny O'Donogue's face.