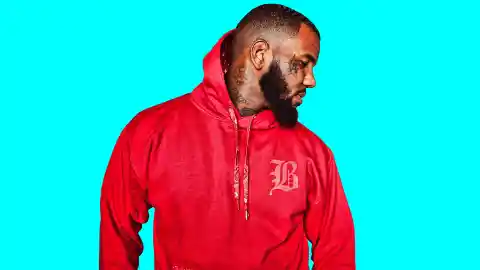 The Game is one of the rap industry's most recognized mainstays. A protege of Dr. Dre's, The Game has maintained his spot in the public eye since the early aughts. However, despite all the time that he has spent in the spotlight, there are still some things that many people don't know about him. With that in mind, here we present our list of 15 things you probably didn't know about The Game. Check out part one below, and stay tuned for part two, coming soon!
Number Fifteen: He Is an Angry Drunk. In an interview he did with Billboard, The Game admitted that "drunk me has beef with everybody." The statement stemmed from some derogatory comments he made at a record release party in September of 2015.
Number Fourteen: He Grew Up in a Crip Neighborhood. Though Game would eventually become a member of the Bloods, he actually grew up in a primarily Crip neighborhood of Compton called Santana Blocc.
Number Thirteen: He Had a Troubled Childhood. In an interview, Game revealed that his father molested one of his sisters when they were young, and he also said that he has seen his parents perform drive-by shootings. Both of his parents were heavily involved in drugs as well – they both did cocaine, and his father was addicted to heroin.
Number Twelve: He Blames His Father for His Brother's Death. When Game was just 13 years old, his 17-year-old brother was shot while at a gas station. Game has gone on the record to say that he thinks that if his father had been there, his brother, Jevon, would not have been shot and killed.
Number Eleven: He Was a Skilled Athlete. Game's athletic prowess was revealed in high school, and he was involved with both basketball and track. He got a scholarship to Washington State University to play basketball; however, the scholarship was later revoked after he was found holding drugs. However, the university denies all of this.
Number Ten: He Was in a Coma for Three Days. Game was shot five times after opening his door to the wrong people one night. He was able to call an ambulance after being shot, but the wounds put him in a three-day-long coma.
Number Nine: He Is a Voice in a Video Game. You can hear Game on Grand Theft Auto: San Andreas as the character of "B-Dup." Game also voiced a character on the game Def Jam: Icon.