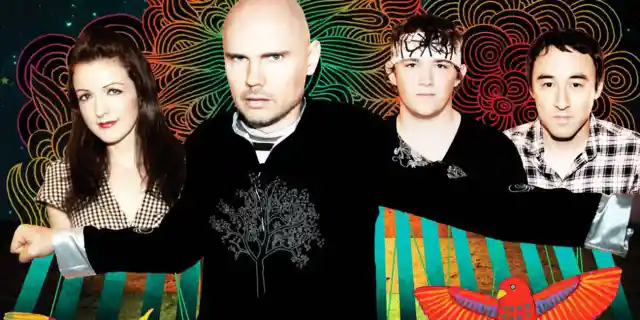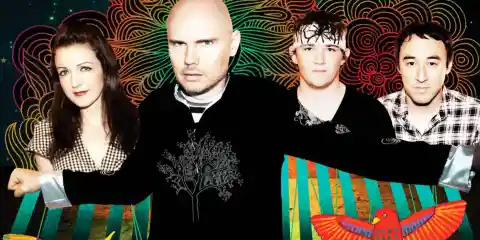 Previously, we brought you part one of our list of 15 interesting facts about the Smashing Pumpkins. Now here are eight more facts about the experimental-leaning alternative rock band helmed by the creative force that is Billy Corgan.
Number Eight: Chamberlin was Kicked Out of the Band. One fateful night, Chamberlin and touring keyboardist Johnathan Melvoin were getting high and Melvoin overdosed on heroin. The incident left Melvoin dead and Chamberlin arrested and out of the Smashing Pumpkins. In an interesting twist, the only original member that rejoined the Pumpkins after the break-up was Chamberlin.
Number Seven: They Once Shared a Member with Hole. After leaving Hole in 1999, Melissa Auf der Maur joined the Smashing Pumpkins. Her brief stint with the band included a 2000 tour behind Machina/The Machines of God and the recording of Machina II. When the Smashing Pumpkins broke up shortly after and she never returned.
Number Six: The Smashing Pumpkins Released Teargarden by Kaleidyscope for Free… Really Slowly. Seeing how music consumption had changed over the years, Billy Corgan decided to change his approach to releasing music to fit with it. The premise of the Teargarden by Kaleidyscope project was that Corgan would release one song a month for free on the Smashing Pumpkins website over the course of a few years. After releasing two EPs and a couple of singles this way, the model was abandoned for a more traditional one.
Number Five: Billy Corgan Wrote Part of Celebrity Skin. Over the years, Corgan has collaborated with a number of artists. His production credits include albums for Ric Ocasek, The Frogs, and Catherine, as well as soundtracks for 1996's Ransom, 1999's Stigmata and 2002's Spun. Most notably, he shares writing credit for a number of songs on Hole's 1998 album, Celebrity Skin. Corgan and Courtney Love were romantically linked in the past and his work on this album sparked rumors that they were together again.
Number Four: Corgan Suffers from Depression. When the Smashing Pumpkins were first starting out, Corgan's depression was starting to get bad and after the release and minor success of Gish, he spiraled deeper in, at a certain point even contemplating self-harm. In the past he has said his depression was the result of abuses he had sustained as a child and now advocates for abuse support groups.
Number Three: Corgan Does Not Like Mashing. Believing that moshing's "time has come and gone," he often requested that people stop moshing at Smashing Pumpkins shows. One night at a show in Ireland, his requests had been ignored and a girl was trampled to death, which prompted him to cancel the next night's show.
Number Two: Corgan Published a Book of Poetry. After a 2003 reading at The Art Institutes of Chicago's Rubloff Auditorium, Corgan decided to publish his poetry. Although the book had received mixed reviews from critics, Blinking with Fists, released in 2004, was well-received by fans and landed on the New York Times Best-Seller list.
Number One: Corgan Loves Sports, Particularly Wrestling. Though he was a big fan of baseball as a child, Billy Corgan has a real sweet spot for wrestling. He created an independent wrestling promotion company, called Resistance Pro, in 2011 and tried to broker a deal with AMC to develop a reality series based on the company and his "takeover of creative direction" for it. In 2015, Corgan was named the new senior producer of creative development for TNA Wrestling. Thank you for reading our list of 15 interesting facts about the Smashing Pumpkins. We hope you enjoyed it!