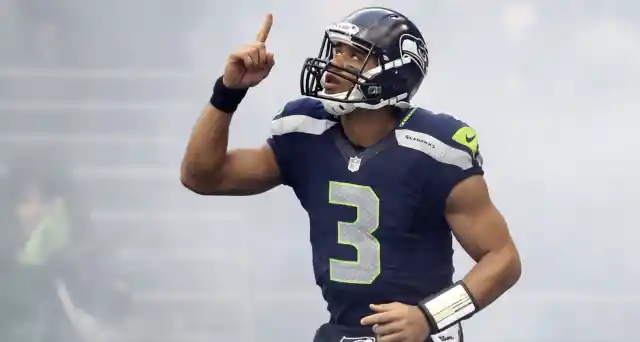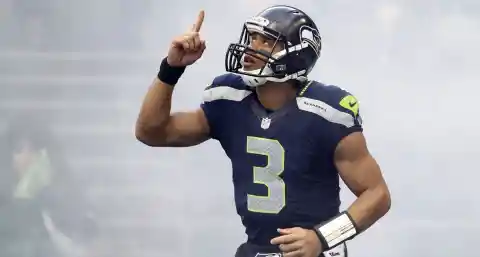 How many football players does it take to pull a Boeing 737? Actually, it only takes one, a comedian, and two teams of volunteers. On Tuesday, Seahawks quarterback and Alaska Airlines Chief Football Officer, Russel Wilson, went up against The Soup's comedian, Joel McHale, in a competition to pull a Boeing 737 twenty-five feet – by hand, for the Strong Against Cancer campaign. Think of it as timed tug-o-war against a plane.
Both celebrities headed up teams comprised of Alaska and Horizon Airlines engineers and maintenance employees, as well as a group of lucky winners from a local Facebook contest. Whoever's team pulled the ninety thousand pound aircraft across twenty-five feet the fastest was declared winner. It was no surprise that Team Russel won the challenge, hefting the plane across the Boeing Field tarmac in just under seventeen seconds – it took Team Joel over a minute to cover the same distance.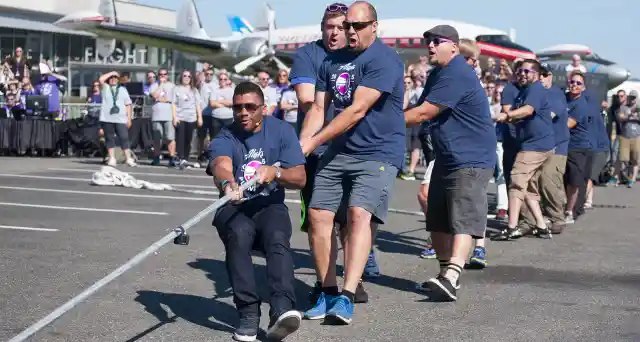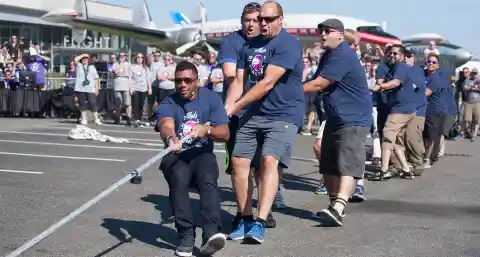 Russel let his own team attempt to pull the plane under his direction, but it wasn't until the Quarterback joined in on the tugging himself that the aircraft got moving. Later, Team Joel made second run of pulling the plane, this time carrying it to the finish line in just over fifteen second.
However, time and strength were not the only measures of success in this challenge. Teams were also pitted against each other to raise money for immunotherapy treatments and the Ben Towne Center for Childhood Cancer Research at Seattle Children's Research Institute. In this case, Strong Against Cancer was the real winner, with the Plane-Pull reeling in $30,490 worth of donations.
Wilson is no stranger to charity fundraisers and philanthropy, being the Team Captain of Strong Against Cancer himself, as well as Alaska Air's Chief Football Officer. The quarterback can routinely be found making trips to Seattle Children's Hospital, putting smiles on young faces and raising public awareness regarding childhood cancer. Wilson also heads the Russell Wilson Passing Academy, sponsored by Alaska Airlines – A football camp dedicated to teaching children, ages eight through seventeen, the athletic skills required in the game of football, character building, and teamwork. The camp offers multiple scholarships to inter-city and underprivileged youth.
You can watch the video of Teams Russel and Joel, pulling the 737, on Alaska Airlines' twitter.