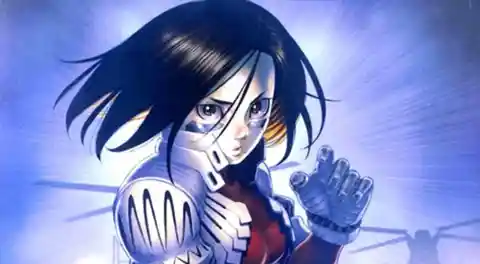 News has broken concerning a very high-profile new film project for Mexican-American filmmaker Robert Rodriguez. The man known for directing a wide range of different genre films (Desperado, Spy Kids, Sin City), will be helming a live-action adaptation of the Japanese manga series Battle Angel Alita for 20th Century Fox. Perhaps even more interesting, though, is that the film will be produced by James Cameron and Jon Landau under their Lightstorm Entertainment banner, which certainly promises a hefty budget for the film, as well as an already built-in audience.
James Cameron has explained that he and Rodriguez have been planning to do a film together for years. Cameron has also stressed about how confident he is in Robert to bring his vision to life. "He's very collaborative and we're already like two kids building a go-kart, just having fun riffing creatively and technically." Rodriguez has also stated how he is thrilled to be working on this project, as he holds Cameron in high-esteem as a creative influence for him.
This news can be seen as a sigh of release for fans that have followed James Cameron news concerning potential projects. The director has been vocal for more than 15 years about wishing to adapt Yukito Kishiro's manga into a live-action film, fully intending to direct it as well. This is an exciting proposal, as anyone who has read the series could vouch that it's a perfect match for Cameron's sensibilities. Set in a dystopian world and following a war-trained android's journey of self-discovery, Battle Angel Alita certainly recalls several of Cameron's past works (The Terminator and Dark Angel, namely), and the series is considered a modern cyber-punk masterpiece. After the massive success of Avatar, however, Cameron has been busy preparing to direct the sequels, but it's reassuring that he's found a way to keep his Battle Angel film alive.
The film's script has been written Laeta Kalogridis (Shutter Island). No shooting date has been announced as of yet, but we should expect it to happen sooner than later, as Rodriguez is known for being a speedy director, and his slate is fairly clear for future projects. He is also set to direct a live-action remake of the 1983 animated film Fire and Ice.