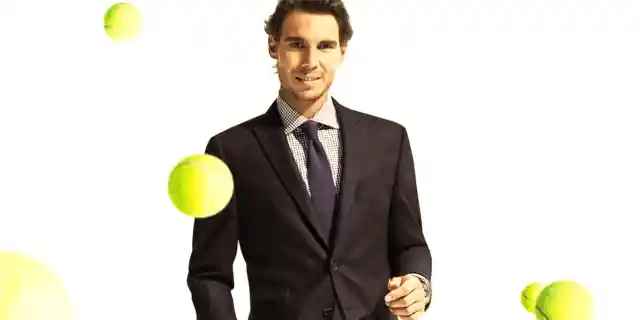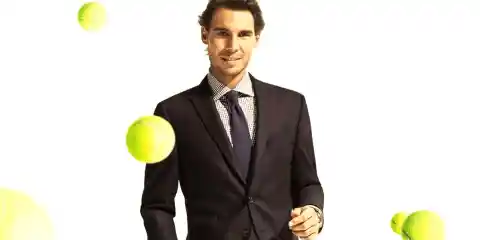 We already brought you part one of our list of 15 things you probably did not know about Rafael Nadal, and now we're back with part two! Check out eight more fascinating facts about the professional tennis superstar that you definitely (probably) did not know below. You might be surprised by what you find out!
Number Eight: He Is Ambidextrous. Nadal was encouraged to begin playing as a lefty on the court by his uncle, who recognized him as ambidextrous. Nadal writes with his right hand, but he hits his forehand with his left.
Number Seven: He Generates Amazing Topspin. It's no secret that Nadal employs topspin quite heavily on the court. However, the extent to which he uses it is incredibly impressive. According to tennis researcher John Yandell, professionals like Andre Agassi and Pete Sampras tended to hit balls that spin 1,800 to 1,900 revolutions per minute. However, the balls that Nadal hits have an average of 3,200 revolutions per minute.
Number Six: He Is the Face of a Fragrance. In 2009, Nadal became the face of L'Homme Sport cologne by Lanvin. No, you won't find actual droplets of his sweat in the cologne, but it's a nice substitute.
Number Five: His Rackets Are Always Strung the Same. While other tennis players may have their rackets restrung to match the surface they play on, Nadal keeps his rackets strung at 55 pounds no matter what surface he plays on.
Number Four: He Collaborated on a $525,00 Watch. Nadal worked with watchmaker Richard Mille in 2010 to develop the Richard Mille RM027 Tourbillon watch. However, unless you've got a spare $525,000 lying around, you won't be able to afford it.
Number Three: He Was the First Tennis Player Chosen to Represent Armani. Nadal was the face of Emporio Armani Underwear and Armani Jeans in 2011, replacing Cristiano Ronaldo. This was the first time Armani chose a tennis player to represent the brand.
Number Two: He Has His Own Asteroid. An asteroid was discovered in 2003 at the Observatorio Astronomico de Mallorca and was subsequently named after Nadal. The asteroid is called 128036 Rafaelnadal.
Number One: He Is a Dragon Ball Fan. In fact, Nadal used to watch Dragon Ball as soon as he got home from school when he was little. He has even been called the "Dragon Ball" of tennis because of his unorthodox behavior.