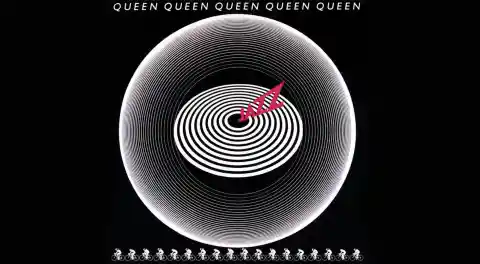 Oh Freddie Mercury, what would music be like if you were still kicking around today? From 1973 to 1978, Queen released a total of eight brilliant albums. Not all songs were gems but within that time frame we the public were given such classic songs like "Killer Queen," "Bohemian Rhapsody," "Fat Bottom Girls," "You're My Best Friend," "We Are The Champions," "We Will Rock You," and the list goes on. But there is one album within that time span that's my favorite, and quite possibly the most underrated, which would be Jazz that was released in 1978. This throwback Thursday, I'll take you through track by track Queen's Jazz album.
"Mustapha:" This song consists of about six words with mostly 'Mustapha' being the operative word. It's a weird mix of what I can only guess is Arabic/Persian background music with Mercury repeating the same phrases. Definitely not one of my favorite Queen songs but one that's completely interesting. Best line: Due to the fact that there is only six words in this song I can't really say there's a 'best' line.
"Fat Bottomed Girls:" I love this song. It will forever be that classic anthem that you won't be able to stop yourself from singing. Brian May said that he wrote this song with Mercury in mind saying, "I wrote it with Fred in mind, as you do especially if you've got a great singer who likes fat bottomed girls… or boys." It has been covered multiple times by different artists over the years and featured in TV and movies. Still no one can sing it better than Freddie Mercury. And the musical composition is just magic. Best line: "Oh won't you take me home tonight? / Oh down beside your red fire light / Oh and you give it all you got / Fat bottomed girls you make the rocking world go round."
"Jealousy:" I might be one of few people (seeing as how this song flopped as a single) that is completely in love with this song. It gives you an idea just how beautiful Mercury's voice and songwriting style truly was. The beautiful piano line behind Mercury's voice before the rest of the band joins in is beautiful. I think we can all relate to how jealousy really is most of our undoing. Best line: "Oh jealousy you tripped me up / Jealousy you brought me down / You bring me sorrow, you cause me pain."
"Bicycle Race:" I dare you to turn this song on and not sing at the top of your lungs. This song gets me so excited. While it is a very fun and upbeat song, Mercury mentions quite a few different references to religion, race, pop culture and even their own song that is two tracks previous on this album. Either way it's an amazingly multifaceted composition that just works. Best line: "You say God give me a choice / You say Lord I say Christ / I don't believe in Peter Pan / Frankenstein or Superman / All I wanna do is bicycle."
"If You Can't Beat Them:" This song was written by John Deacon and it takes you on a hard rock musical journey. If you listen to this song on headphones you can hear some pretty cool transitions from the guitar that will blow your mind. Obviously Mercury crushes the vocals while Roger Taylor just nails the drum lines. I was actually surprised how much I enjoyed this song because it's usually not my typical choice. Best line: "Keep your fingers off my money / Don't try and pull me down / You're taking me out to wine and dine me / Trying to wind me round and around."
"Let Me Entertain You:" The perfect crowd hype song! The lyrics start off addressing the audience then goes on to explain how Queen will be entertaining them for the night. It's an upbeat song with fantastic guitar riffs. It's not my favorite but I do still enjoy it. Best line: "We'll breakfast at Tiffany's / We'll sing to you in Japanese / We're only here to entertain you."
"Dead On Time:" May's guitar skills are put to the test in this song. Granted he wrote it so I'm guessing he knew what he was doing the entire time. But holy crap can that guys fingers move. This is one of the fastest guitar works I've heard. If this song doesn't give you a Redbull like energy kick then I'm not really sure what will. It's one of those songs that are just musically incredible and will blow your mind. Best line: "Leave on time, leave one time / But you can't take it with you when you leave on time."
"In Only Seven Days:" I am a sucker for a slow romantic song. While this song isn't really THAT slow, it's still beautifully written. It's the kind of song you listen to with your sweetie and talk about how much you guys want to spend all of your time together. John Deacon did a great job with this song. Bravo John. Best line: "It would take a hundred or more / For memories to fade."
"Dreamer's Ball:" May has confirmed that he wrote this song as a tribute to the King himself, Elvis Presley, who had died just the previous year. This song gives off classic Elvis vibes and is a great tribute to the king. Best line: "Honey though I'm aching / Know just what I have to do / If I can't have you when I'm waking / I'll go to sleep and dream I'm with you."
"Fun It:" Not really a huge fan of this one. It's one of those songs that definitely came out of the 70s. It's extremely funky and Taylor is the lead singer while Mercury sings back up. It's not that I don't think Taylor is a good singer, I'm just a die-hard Mercury fan and find it hard to not want to be listening to his voice. But hey that's just my opinion. Best line: "Can't you tell when we get it down? / You're the one, you're the best in town.
"Leaving Home Ain't Easy:" This song is written and sung by May. As I said before I am a die hard Mercury fan but I do actually enjoy this ballad. It's slow with an acoustic guitar accompaniment. I really enjoy the lyrics and I think that anyone can feel the emotion behind it. Best line: "I won't lay no blame / I won't call you names / Cause I've made my break / And I won't look back."
"Don't Stop Me Now:" Ah I love this song! It is the best song on the album and I think it's one of Queen's top songs in general. If you're ready to party, you need to throw this song on and get your friends all riled up. Mercury starts the song off slow with just his voice until he gets to the chorus and the upbeat piano makes it the perfect pump up song. I dare you to turn this song on and not sing along. Best line: "I am a satellite, I'm out of control / I'm a sex machine ready to reload / Like an atom bomb about to oh oh oh oh oh explode."
"More of That Jazz:" And now we come to the final track on the Jazz album. It's a pretty dark and gritty song to choose to end the album but I like it. The most random part is that the song finishes off with a compilation of one-liners from other different tracks on the album. It's definitely a funky, trippy way to finish an album but I dig it. Best line: "Lie on the floor / Kinda thinking I've heard that line before."