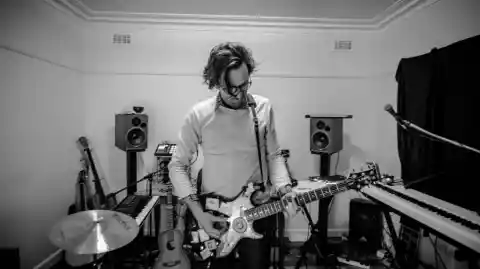 facebook.com/PeterRabbitMusic
PPcorn will bring you the exclusive premiere of Peter Rabbit's new video for "Looking For Love" on August 14. The new solo project of Melbourne's Peter Hume, the song showcases the deep tones of the well-known musician's voice and his love for storytelling.
The first song penned for Peter Rabbit Music, Hume shares, "It's all about a groove. It's very groove driven and just really vocally driven; simple, hypnotic." A moody, mesmerizing hit, it alternates between the solemn sounds of piano, before escalating with Hume's signature guitar rifts. Ethereal vocals cover the melody, and we hear the storytelling of Peter Rabbit in this intriguing tale that explores the true meaning of love.
Best known as a member of platinum-selling band Evermore, Hume sat down with PPcorn to tell us all about his journey as a solo artist and the creation of Peter Rabbit Music. Today we bring you Part 1 of our interview with Hume as he speaks about exploring his love for all things creative and stepping out with his own unique sound. In the lead up to our exclusive premiere, Part 2 of our interview with Hume will delve into the heart of Peter Rabbit Music, how it came about, and what we can expect from his new sound.
Previously releasing the video for his taster track, "You're Welcome Anytime At All," Peter Rabbit Music is a fresh take for the artist whose career has spanned 15 years. Stepping more so into the creative realms of songwriting and film, it is an expression of Hume's journey and hopes for the future.
Collaborating with his brothers as a member of Evermore, they have received seven ARIA nominations and numerous top 10 charting singles including "Running," "Boys and Girls" and "Light Surrounding You." Hume has worked in the capacity of a vocalist, multi-instrumentalist, director and producer through this time, enabling him to refine skills now presented to us in Peter Rabbit Music.
Peter Rabbit's New Video "Looking For Love" will premiere on PPcorn on August 14.
Read Part 1 our interview with Peter Hume here.
Want more Peter Rabbit? Connect on Facebook and Instagram.