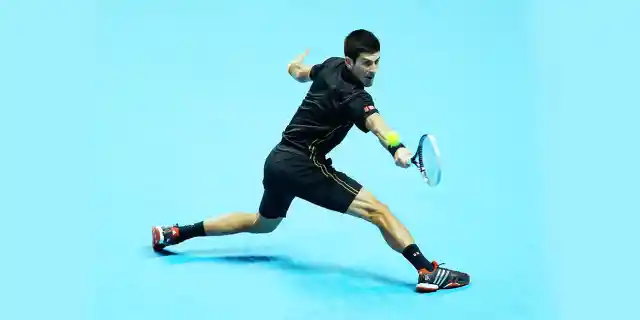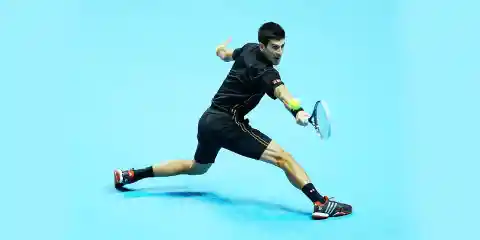 We already brought you part one of our list of 15 things you probably did not know about Novak Djokovic, and now we're back with part two! Check out eight more fascinating facts about the professional tennis player and superstar that you definitely (probably) did not know below. You might be surprised by what you find out!
Number Eight: His Diet Helped His Game. Djokovic credits his decision to stop eating gluten, dairy, and certain kinds of tomatoes with helping to make him better on the court. To test whether it was his diet that made the difference, one morning, he ate a bagel, and he said that he "felt like I'd spent the night drinking whiskey!"
Number Seven: He Has a Great Sense of Humor. In fact, Djokovic has been known to do impressions of both Rafael Nadal and Serena Williams, and they're not half-bad. Djokovic also expresses his sense of humor on the court by dancing.
Number Six: He Eats Bananas While He Plays. If you look closely, you'll be able to witness Djokovic eating bananas during changeovers when he plays. We're not sure if that has something to do with the special powers of his diet, but whatever it is, it works.
Number Five: Athleticism Runs in His Blood. But not tennis-related athleticism! Djokovic's family is made of professional skiers; however, he was recognized as a prodigy in tennis from a very young age.
Number Four: He Speaks Four Languages. Djokovic is talented both on and off the court. In fact, he speaks four languages! Djokovic can speak Serbian (obviously), Italian, German, and English.
Number Three: He Gives Back. In 2007, Djokovic founded the Novak Djokovic Foundation in an effort to aid underprivileged children in Serbia so they can get the best education possible. Djokovic has even been charitable on the courts – he donated all of the prize money he got from winning 2014's Internazionali BNL d'Italia to Serbians who had been affected by the flood.
Number Two: He Married His High School Sweetheart. Djokovic met his wife, Jelena Ristic, while in high school in 2005. The two became engaged in 2013, and they were married in 2014 just a few days after his second Wimbledon victory.
Number One: He Is a Published Author. Is there anything this guy can't do? The book is titled Serve To Win, and it details Djokovic's personal journey along with tips on how to achieve the same diet he follows.