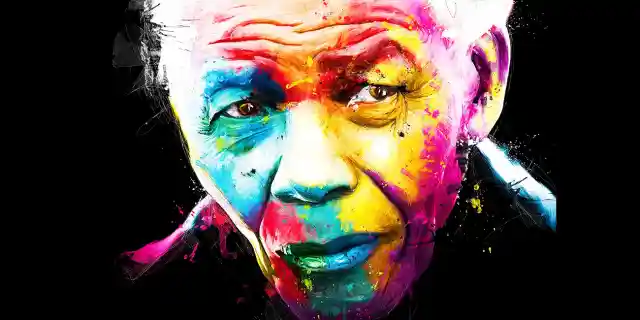 Nelson Mandela was one of the most important public figures of the 20th century. His anti-apartheid actions and revolutionary ideas helped shape the world to be what it is today. However, despite the fact that Mandela spent a considerable amount of time in the spotlight and under the scrutiny of the public eye, there are still some things that many people don't know. With that in mind, here we present our list of 15 things you probably didn't know about Nelson Mandela. Check out part one below, and stay tuned for part two, coming soon!
Number Fifteen: He Lived Up to His Name. Mandela was born with the name Rolihlahla, which translates to the act of pulling the branch of a tree or "troublemaker" in accordance with his Xhosa's tribe's language. He was given the name Nelson by his teacher on his first day of school.
Number Fourteen: He Was in a Spike Lee Film. Nelson is featured in Lee's biopic Malcolm X and can be seen playing the role of a teacher reciting Malcolm X's iconic speech to Soweto school children. However, Mandela refused to recite the phrase "by any means necessary," so that's why Lee closed the film with footage of the actual Malcolm X.
Number Thirteen: He Has a Woodpecker Named After Him. Scientists named a prehistoric woodpecker after Mandela, and the full named of the woodpecker is Australopicus nelsonmandelai. Interestingly, Mandela has a nuclear particle named after him as well.
Number Twelve: He Married a First Lady. Before she married Mandela, Graca Machel was the wife of Samora Machel, who was the president of Mozambique. Since she married Mandela, she has been the first lady of not one, but two separate countries.
Number Eleven: He Had Many Disguises. Mandela often had to hide his identity when he was fighting apartheid, and so he developed many clever ways to get away. He even hid as a chauffeur, and his antics earned him the nicknamed of "the Black Pimpernel" because of how well he was able to evade the police.
Number Ten: He Loved Boxing. Though Mandela was a renowned pacifist, he actually enjoyed the sport of boxing. He said that he was not interested in the violence of it, but rather the science behind it.
Number Nine: His Favorite Food Was Tripe. Mandela ate many an extravagant meal with various world leaders, but his favorite dish of all time was tripe, which is an animals' stomach lining.