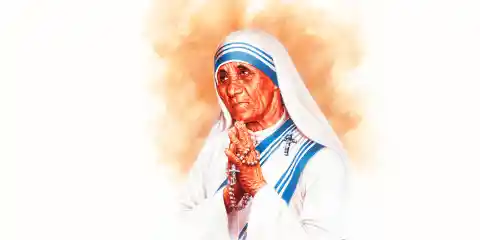 Mother Teresa has become an icon and symbol for world peace, but how much do you really know about her? Well, we're here to tell you the truth about her life – and it's not as nice as you might think. Despite the fact that Mother Teresa spent a considerable amount of time in the spotlight and under the scrutiny of the public eye, there are still some things that many people don't know. With that in mind, here we present our list of 15 things you probably didn't know about Mother Teresa. Check out part one below, and stay tuned for part two, coming soon!
Number Fifteen: She Abandoned Her Family When She Was 18 Years Old. Teresa left her home at the tender age of 18 years old to join Dublin's Sisters of Loreto. She would never see her family again.
Number Fourteen: Pope Paul VI Gave Her His Limousine. In 1964, Pope Paul VI gave his ceremonial limousine to Mother Teresa when she was trying to raise money for a colony of lepers.
Number Thirteen: She Wasn't as Confident as Most People Think. Though many people believe Teresa's faith in God had to be rock-solid, the truth is a little more murky. In reality, Teresa experienced doubts about her faith, just like everyone else.
Number Twelve: Her Father Died When She Was Very Young. Teresa was just eight years old when her father passed away, and it wasn't a pleasant death, either. He was reportedly poisoned by one of his political enemies.
Number Eleven: Her Mother Taught Her the Value of Giving to the Poor. After Teresa's father died, she subsequently became very close with her mother. It was her mother who instilled in her the will and desire to give back to those less fortunate.
Number Ten: She Got a Calling to Leave Teaching. Teresa was on her way from Calcutta to the Himalayan foothills when she reportedly got a calling from God to leave what she was doing as a teacher and being serving the poor. She listened.
Number Nine: She Never Judged Others for Their Religions. In fact, in 1982, Teresa travelled to help children of both East Beirut, which was Christian-dominated at the time, and West Beirut, which was Muslim-dominated. Stay tuned for part two of our list of 15 things you didn't know about Mother Teresa, coming soon!