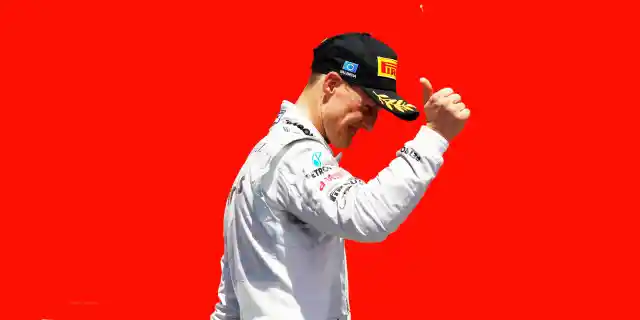 One of the most successful drivers in the history of Formula One. Schumacher took home 7 world championships and 91 wins. Fan favorite and endearingly known as Schumi, Schuey and various other names. He has entertained viewers and sports enthusiasts for years. However, sadly after a near death ski accident in 2013, which saw the racing hero put into an induced coma. it is unlikely we will ever get to see him race again. So to celebrate one of the best F1 drivers in the game, here are nine of his best races.
Number Nine: Schumacher's First Race, Belgian Grand Prix, 1991
Making an impression from the get go. Schumacher was brought in at the last minute due to another driver being imprisoned, for ironically an altercation with a taxi driver. Beating his team mate by seven tenths of a second and securing seventh on the grid. People suddenly started paying attention to the new kid on the block.
Number Eight: Hungarian Grand Prix, 1998
Establishing a great relationship with his team and especially Ferrari engineer Ross Brawn. Nothing proved it more than their thirst for strategy changes. With Schumacher on course for a third place finish, he and team Ferrari turned it up a notch. Displaying some fast laps and a surprise pit stop, Michael bolted in first a full ten seconds more than bitter rival David Coulthard.
Number Seven: Spanish Grand Prix, 1994
Famous for creating rivalries, one of Schumacher's first opponents was none other than British hero Damon Hill. Winning his first championship in the same year, Hill didn't make it easy. On course for six straight wins, Schumacher's Benetton wasn't behaving as it should. Stuck in the same gear for the majority of the race, Schuey still managed to finish the race displaying his immense skills as a driver. Although Damon won, Michael will forever be remembered for some exceptional driving.
Number Six: Belgian Grand Prix, 1995
Nicknamed the 'Rain Master' Schuey certainly showed us why at the 1995 Belgian Grand Prix. With heavy rain, a slippery track and starting a mighty 16th on the grid. Schuey started climbing the pack early on. Overtaking cars and quickly taking the lead, Schumacher went on to win the race by 20 seconds and eventually taking home his second championship.
Number Five: Spanish Grand Prix, 1996
In the days before Ferrari and Schumacher ruled the roost, the team had been struggling. In rain soaked conditions that were also somewhat dangerous. Schumacher proved yet again what he could do in the rain. Gaining extra seconds on each lap, Schuey managed to bring home his first win for Ferrari and what would become the start of beautiful friendship.
Number Four: Belgian Grand Prix, 1998
Of all his rivalries it was with David Coulthard that seemed to create the most venom. With extremely wet conditions and a huge collision created by Coulthard at the beginning of the race. Schumacher was hoping to get the advantage. Especially when championship competitor and Coulthards team mate Mika Häkkinen had spun out. Trying to lap Coulthard, he plummeted into the back of his Mercedes causing him to lose a wheel. Not giving up Schuey famously drove the three wheeled car around the track, before retiring and famously storming out of his car and making his way angrily towards Coulthard and the Mclaren team.
Number Three: British Grand Prix, 1999
With a chance at winning his third championship, Schumacher was already in spectacular form. Being the eighth race of the season it was still anyone's title. Yet due to a break failure, Schuey famously crashed, breaking his leg and ending his championship hopes. However the following year he was back. Stronger than ever he went on to win five consecutive championships.
Number Two: Belgian Grand Prix, 1997
Belgium again and his self confessed favorite track. Schuey wowed spectators everywhere with a master class in how to race like a true Formula One racer. Passing rival Jacques Villeneuve to take the lead, Schuey eventually led by a momentous 67 seconds. No wonder it was his favorite track.
Number One: Brazilian Grand Prix, 2006
Ending with his 'final race', Schuey went in all guns blazing. In the hope of winning an eighth world title. 10 points behind current leader Fernando Alonso and angrily starting in 10th place, Schumi quickly reminded us all of his talent. Fighting his way to the top then frustratingly gaining a puncture. Schumacher still fought back taking over other drivers one by one and eventually making it to fourth place. Leaving with his held head high and as one of the greatest drivers to ever grace the tracks, Schuey returned for another go four years later.