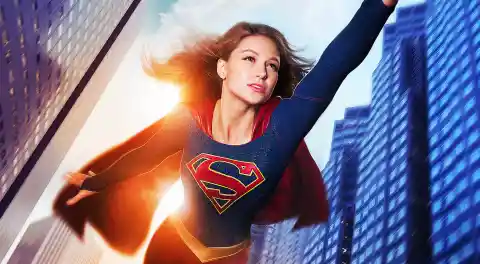 Monday night, CBS premiered their newest, greatest, show, Supergirl (don't worry, this article has no spoilers), starring Melissa Benoist (Glee). Supergirl consists of an all-star cast and many familiar faces: Chyler Leigh (previously Dr. Lexie Grey in Grey's Anatomy), David Harewood (Homeland), Calista Flockhart (best-known for her role in Ally McBeal), Jeremy Jordan (SMASH), Laura Benanti (Women on the Verge of a Nervous Breakdown, In the Next Room, Gypsy, The Sound of Music, Nashville), and of course, Melissa Benoist. Benoist portrays Kara Zor-El/Supergirl/Kara Danvers, the show's lead character. However, Benoist isn't just a supergirl on set; she's also a supergirl in real life. Here's why.
Many television aficionados recognize Melissa Benoist from Glee and The Longest Ride. We know she can sing, we know she can act, but Supergirl is definitely Benoist's greatest venture yet; it's about more than acting or escaping reality through television. Benoist is now introducing young girls to female superheroes, feminism, and equality through her character. She's a real life supergirl, and we applaud her! Benoist takes pride in the fact that Supergirl is a series intertwined with a feminist message. She has stated that she "thinks it's great." So, how is Supergirl (the show) feminist?
Benoist says that Supergirl is feminist because the show isn't targeting a specific audience or sex. Instead, Supergirl is for everyone. Additionally, where the characters are concerned, Benoist states that Supergirl has identical powers to Superman. There are no powers that separate the two heroes or place Supergirl at a weaker level than Superman. They are equals. Benoist is teaching this to young girls. Young girls now see that superheroes aren't only men. Superheroes are women, too. And, most importantly, young girls see that they can save the world all by themselves.
It is evident that Melissa Benoist is inspiring and teaching young girls. Her role as Kara Zor-El/Supergirl/Kara Danvers is so much more than a lead role in a television series. Benoist's role is a message and a symbol for girls everywhere. Benoist carries this message with her. Girls, you can do anything boys can do. Ready to save the world?