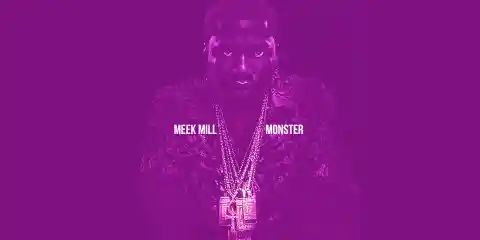 The money is turning "noodles into pasta" and "tuna into lobster" for Philly go-getter Meek Mill. His ferocious urban single, "Monster," comes from his album, Dreams About More. The furious beat is fully locked and loaded for the streets, clubs and the haters seeking thirst. Money, foreign cars, and the "baddest bitch in the game wearing my chain," is the song hammering with an unyielding swag. Of course, it's expected from the menacing and alluring MC who "started off with a $1 and got a milli." It is an exceptional thing to see Meek Mill solo on this track showing he can stand, further adapting his artistry.
The record starts immediately with an alarm sound. Then, the mood establishes: "It's a shame how they hate on me / Ya Gotta feel me." Meek Mill is rhyming like a dialed-up freak of nature, knocking enemies forcefully with this statement piece. The rapper speaks of his city, "4 A.M. / I'm on the north side of Philly / Riding around like these haters don't want to kill me," but remains focused on his money. In a way, this song is inspiring for aspiring rappers coming from the bottom and trying to make it on top by any means necessary. Keep the dream alive and reform until the dream is a reality.
Jahlil Beats produced a Freddy-Kruger-meets-hip-hop urban thriller, slowly increasing the intensity when the lyrics hit a hard dimension that matches the music within the lyrics. The beat is a hard blow similar to the struggle from the bottom, haters looking to daunt focus, and the strength to come out even better. And the producer does an admirable job of bringing those elements in union, correlating to the song's subject with the knowledge of hip-hop.
As a single, this is an urban radio anthem with Meek Mill at his best. Unfortunately, previous singles failed to succeed at radio, but even still, they were great singles nonetheless. Something is distinct this time, and this is the type of record the rapper is prominent for in music. It also does not hurt that "Monster" builds itself Ford-tough. The game is on because this year, the rappers are bringing some excitement.