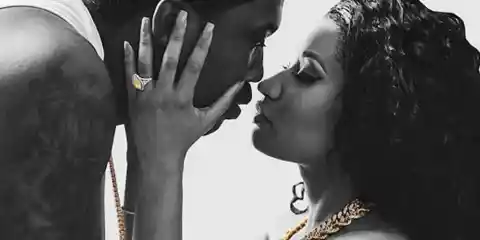 The threesome of the dreamer Meek Mill, "something in that liquor," Chris Brown, and zany dungeon dragon Nicki Minaj in agreement question love over money on single, "All Eyes On You." On the positive side, after a few under-appreciated single releases, Mill's seeks assistance from Breezy and Minaj in hopes of a proper hit at Urban stations. In fact, this song lands officially from the sophomore album, Dreams Worth More Than Money. Surprisingly, the album excludes previous singles: "FYM" featuring Boosie BadaAzz, "I Don't Know," and "Monster." Nevertheless, if fans are looking for a loose club-friendly single then street single "Check," is a more promising alternative.
Brown takes the leading role by narrating an urban fairytale, destined for fame because of his unfailing smooth vocal. Certainly, Brown's crooning during the infectious chorus, showcases his R&B vocals progressively, "Baby, is you drunk, is you had enough? / Are you here lookin' for love?" Once again, Brown demonstrates why he is this generation's most reliable male urban artist in the last decade. Lukewarm in his lyrical wordplay deliverly, Mill's remembers how the passion blossomed, "Countin' this money, lovin' the feelin' / look at you now, in love with a hitta." Following, Minaj candidly writes to haters in disagreement of her love connection, "And if them b—— wanna trip, tell 'em they tour guides on us / this kitty cat on reclusive, he duck, duckin' them gooses / I put him on to that new new, now he only f— with exclusives." Moreover, a well-built layered composition from the producer, Ben Billions is equipped with proper ingredients to measure its success. Of course, Billions uses Brown's voice to handle the excellent bass in the chorus, "Got the club goin' crazy / All these b——, but my eyes on you."
As an official lead single, it's quietly safe to warrant an easy Top 20 hit on Urban. Besides, DJ's live for modern contemporary singles such as this midtempo number. Nonetheless, Ben Billion's urban flavor is immensely boiling over inside the bass battleground of melodic trap music. In the end, Meek Mills's reminisces with a boisterous enthusiasm, Nicki Minaj swims adequately in wordplay and Chris Brown delivers vocally as expected.