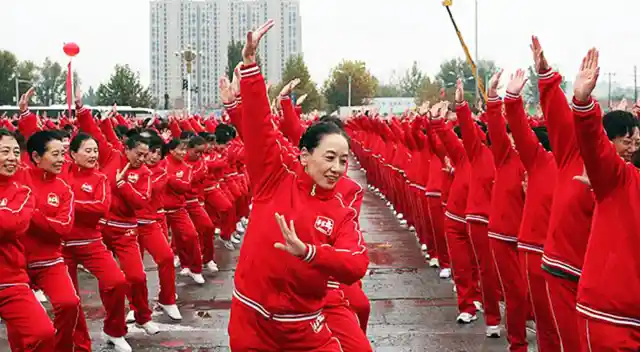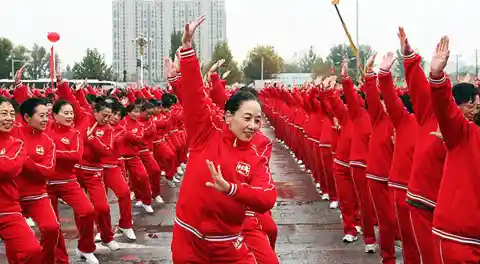 On Saturday, a group of more than 18,000 Chinese pensioners gathered to dance in unison and subsequently broke the world record for most people dancing in unison. As reported by the Daily Mail, the dancing took place in Xianghe, which is located in the Hebei Province of China.
The group was comprised primarily of middle-aged women, and they are calling themselves "The Red Dance Alliance." They danced in unison to popular Chinese song "Little Apple," and the entire group of people wore matching red sweat suits.
Although 18,472 people showed up to break the record, 41 were disqualified during the dance, which means the record stands at 18,431 people dancing in unison. The previous record clocked in at over 17,000 people dancing in unison, which took place in Atlanta, Georgia in 2007.
Though the sight of over 18,000 people dancing in unison and dressed in red may seem alarming to some, it is actually quite commonplace in Chinese culture. Known as square dancing, the practice of dancing in public is seen as a way to stay in shape and maintain good health.
The video documenting the dance lasts just under three minutes (another video which last 90 seconds also exists) and, while blurry, truly displays the feat reached by these pensioners. They truly are dancing in unison. Interestingly, China holds another dancing-related world record: the largest line dance held in multiple venues simultaneously. This slightly esoteric goal was achieved last year and included a whopping 25,703 participants who agreed to dance. The record setting took place in Hangzhou, which is located in east China.
According to New China TV, the dance was indeed a stunt to promote healthy living, which, as mentioned above, is commonly associating with this kind of public dancing in Chinese culture. And the ladies dancing appear to be living examples of good health, as well. Many of them appear over 60 years of age, and yet they are capable of dancing spryly along to the music. The Chinese pensioners, or "The Red Dance Alliance," were set on keeping people away from bad habits and appeared jovial as they danced to "Little Apple." Watch for yourself in the video below!
https://www.youtube.com/watch?v=1rEKDitP8P8