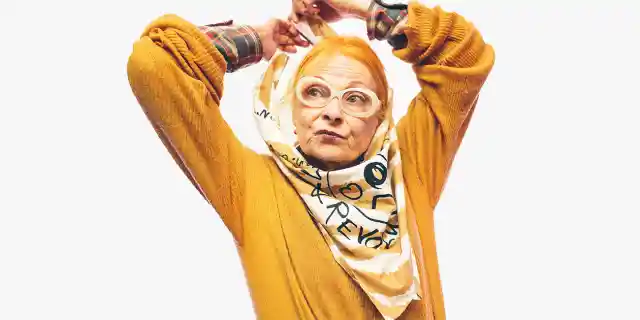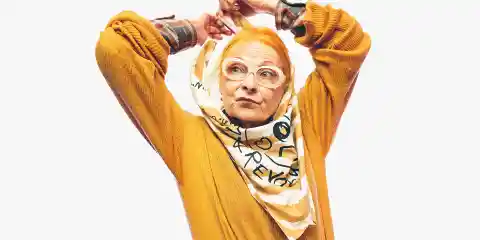 Earlier, we brought you the first part of our list of 15 interesting facts about Vivienne Westwood. Now, here are eight more facts about the prolific fashion designer, whose hand in the history of punk fashion has made her an icon.
Number Eight: Vivienne Westwood Designed a Dress for the Sex and the City Movie
One of Westwood's wedding dresses was used as Carrie's dress during her wedding to Mr. Big. The dress became the star outfit of the movie. Such praise prompted Westwood to ask producers if she could be involved in a sequel.
Number Seven: Gwen Stefani Wore Her Corset in a Music Video
Gwen Stefani has name-dropped Westwood in the past, but she has also been dressed by her. While it's only noticeable in a few scenes, Stefani is wearing a Vivienne Westwood corset in No Doubt's "Spiderwebs" video.
Number Six: Her Designs Were Featured in an Exhibit at The Met
With such a hand in creating the punk look and aesthetic. It is only natural that when The Met decided to put on the "Punk: Chaos to Couture" exhibit, Westwood and McLaren's work and influence would feature prominently.
Number Five: She is a DBE
Vivienne Westwood has been recognized by Queen Elizabeth II twice. She first received an OBE (Officer of the Most Excellent Order of the British Empire) in 1992. Then in 2006, it was upgraded to a DBE (Dame Commander) for "services to fashion."
Number Four: She is a Two-Time British Designer of the Year
Vivienne Westwood won the award for Women's Wear Designer of the Year. In both 1990 and 1991, during her "Pagan Years."
Number Three: She Uses Her Designs for Political and Social Change
Vivienne Westwood has been known to wear her causes on her sleeve, quite literally. In 2005, she launched a limited-edition t-shirt and babywear line with the words "I Am Not A Terrorist, Please Don't Arrest Me," on them in support of the group Liberty. In 2013, she had her models walk down the runway with pins of Chelsea Manning's (the U.S. soldier who was convicted of espionage for giving WikiLeaks millions of sensitive military documents) face on their lapels with the word "Truth." One of her recent collections has her models walking down the runway with pins saying #PoliticiansRCriminals as a nod to her crusade on climate change.
Number Two: She Once Impersonated Margaret Thatcher on a Magazine Cover
After designing a suit for Thatcher, but having not sent it yet, Westwood wore the suit on the cover of Tatler in 1989 with the words "This woman was once a punk." The cover angered Thatcher, but earned Westwood a spot on The Guardian's list of "Best Ever UK Magazine Covers."
Number One: She Starred in a Canadian Documentary
Called Vivienne Westwood's London, the documentary featured Westwood showing viewers her favorite sites in London. Thank you for reading our list of 15 interesting facts about Vivienne Westwood. We hope you enjoyed it!