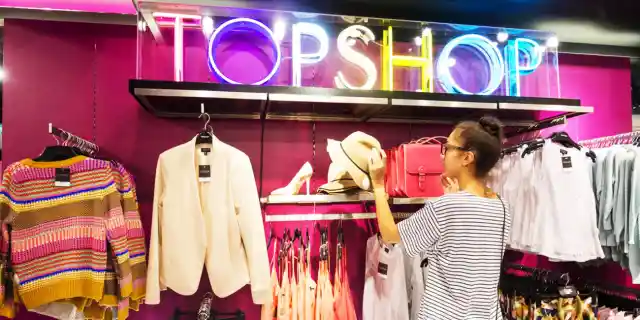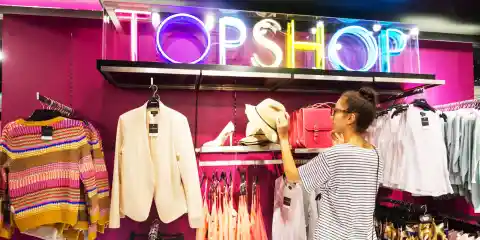 Topshop is the go-to spot for all things fashion. It's a step up from Forever 21 and incorporates that cool girl chic that its home country of England is known for. If you haven't started shopping at this British brand, then you're clearly missing out. For all the die-hard Topshop fans out there, here are eight interesting facts you didn't know.
Number Eight: Topshop Used To Be Known As Peter Robinson's Top Shop
Hey, it may be a minor difference, but I bet you didn't know the famous clothing store actually changed its name from Peter Robinson's Top Shop to Topshop. Now you know how to properly type it out to all your friends when you Snapchat them your outfit choices from the fitting room.
Number Seven: The Creative Director Is 50 And Still Swears By The Brand's Clothes
Kate Phelan is the Creative Director of the brand and even at 50 years old still swears by high street fashion, like the clothing and accessory options sold at Topshop. Just goes to show that you can pull off anything you have the confidence to put on.
Number Six: Kate Moss, Kendall Jenner, And Gigi Hadid Have All Been Faces Of Topshop
Topshop knows the importance of a memorable brand ambassador. They've managed to sign several of the top models in the world to be the face of their brand, including Kate Moss, Kendall Jenner, and Gigi Hadid.
Number Five: Topshop Was The First High Street Fashion Brand To Present At London Fashion Week
The major Fashion Weeks across the globe are an exclusive group. It's almost impossible for a high street brand to snag a runway, but that's exactly what this brand did back in 2005 making it the first ever high street fashion brand to show at LFW.
Number Four: The Brand Didn't Expand Internationally Until 2009
The first store to be opened outside of the U.K. was in New York in 2009. Although this was their first flagship store outside the U.K. (the first U.K. flagship store opened in 1994), Topshop had international shipping previously available for fans located worldwide.
Number Three: The Men's Equivalent To Topshop is Topman
Topshop celebrates all things women's trends; however, some men were dying to have a store of their very own. The brand answered this request with the introduction of Topman, a store dedicated to unique, high street men's clothing and accessories.
Number Two: At Some Locations, There's A Wait To Get In
In the U.K., some Topshop stores are so popular customers have to wait in line just to get in! Thankfully this isn't the case at all locations, but it shows just how popular the brand is.
Number One: The First Ever Flagship Store Is Located At 214 Oxford Street, London
For die-hard fans of the brand, if you're ever in London you should make time to visit the first ever flagship store that opened back in 1994. It's still open to this day, so you can get your shop on where it all started. You may love Topshop fashionistas, but I bet you never knew these facts. Now get out there and go check out a store near you for trends you won't find anywhere else.