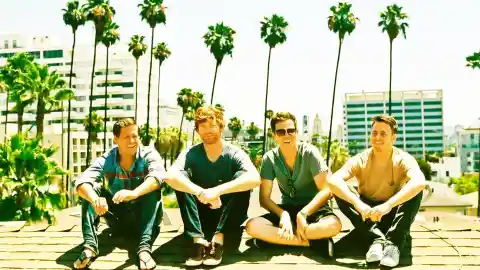 Although I'm not typically a fan of what's on the radio, I do enjoy discovering new music nonetheless. Here is a list of the top five bands and musicians your ears need to hear (you'll especially like these bands if you're into '80s music).
Number Five: Mansions on the Moon. Hailing from Los Angeles and Virginia Beach, Mansions on the Moon is a chill-wave/dream-pop band featuring Ted Wendler (guitar and vocals), Lane Shaw (drums), Jeff Maccora (bass), and Ben Hazlegrove (keyboards). The band's 2010 debut, Paradise Falls, is an album full of remixes presented by Benzi and Diplo. In 2012, they released their EP, Lightyears, which was executive-produced by Pharrell Williams. In 2013, they released the EP, Full Moon, while in 2014, they released their self-titled debut album.
Despite the aforementioned genre, some of the band's songs defy this; "Rest of Your Days" is a folksy love song in the same vein as Grizzly Bear and Iron and Wine, while "Athens," a song that seems to be about being happy in someone else's captivity, is slow-techno/indie-rock ala The Postal Service. "More Than Nothing (ft. Codi)," a song about unrequited love, is the perfect example of how MOTM isn't just about the beats; this song focuses entirely on the lyrics.
But the band knows how to press those beats as well, such as in my personal favorite track, "Full Moon," which makes listeners feel as if they entered a sensitive raver's dream. "All There Is" is a beautiful track off of their self-titled LP about pursuing your dreams, singing, "don't let the days go by / you're running out of time." In essence, the band picked the perfect name to describe the sound of their music.
Number Four: Dawn Golden. Dawn Golden is the side project of musician Dexter Tortoriello. In 2011, he created the EP, Blow, and in 2014, he created the full-length album, Still Life (remixes of both albums are available as well). I feel his work on the latter is more personal and relatable. Listening to songs off Still Life is like entering a warped time zone, where electronics and heavy instruments take over but never undermine the brutally honest, tender and often-reverbed vocals.
"All I Want" describes a fainting relationship, with the narrator disintegrating himself ("well I know I'm hard to take / and my bones are calling out your name / while I beat your cold windows / break the locks on the gate / while I try to forget / I used to be something great"). Nonetheless, it's a haunting love song, with the repeated vocals, "cause you're all that I want." "Swing" is equally disturbing but beautiful, with the lyrics, "darkness keeps me all alone / darkness eats away at the place we're calling our home / …I tell you that I love you but you don't mean shit to me." During the chorus, this track is filled with an addictive techno groove.
By far, my favorite track on the album is "Discoloration." The phrase repeated in the track is "swallow me whole," and that's exactly what this song feels like; as if we're being consumed by a melody, a lyric, a force greater than us. Dawn Golden is definitely a talented lyricist, with lines from this latter song including, "and you knelt beside me and you started to pray / and the whites of your eyes blackened with a hardened decay."
Number Three: Crozet. Hailing from Philadelphia, PA, Crozet is a multi-instrumental band consisting of John Helmuth and Sean Lee. Their music can best be described as chillwave/electronica-pop, otherwise known as an 80s-music-lover's wet dream. They have created two albums under Synth Records, and rightfully so, as all of their music contains distorted yet velvety synths, along with decadent guitar and drums. The vocals themselves are full of reverb and seem to easily melt into the ears of the listener.
Their first EP titled "Alterations," features covers of songs by Teen Daze, Memoryhouse, Geneva Jacuzzi, Yo La Tengo and a terrific, techno cover of John Waite's "Missing You." They've also covered Bruce Springsteen's "I'm on Fire," as well as doing a remix of The Early November's "In Currents." Their first album, We'll Be Gone By Then, is an excellent debut, featuring stand-out tracks like "Closed Shades" and the title track.
The former features the minimal, simple lyrics, "It's all I know / we can go / don't say it's wrong / we'll take it slow." This track could have easily been the electronic love song that Andy and Blane shared together in Pretty in Pink; it's got that 80s-synth-romance-vibe written all over it (similar to Neon Indian), and it's addicting for sure. The latter title track also features short and simplistic lyrics, contains the same '80s sensation and is perfect for watching the sunset with your best friend or lover.
Number Two: Hot As Sun. Hailing from Jackson, MS, Hot As Sun consists of singer/songwriter/composer Jamie Jackson, songwriter/guitarist WAZ and lyricist/visual artist Deborah Stoll (their name comes from a Paul McCartney song). Although the band can be described as electronic/psychedelic-pop, it's hard to fit them in a genre. Under Last Gang Records, they released a four-song EP in 2010 and a full-length album in 2013.
One of my personal favorite songs off of their EP is "Don't Crowd Around the Light," a haunting song that gives you mixed impressions about its meaning. But one thing's for sure: when Jackson sings, "Is this the end I'm looking for?" we are with her all the way on this magical quest. While their debut album, titled Night Time Sound Desire, features many tracks you can dance to, I find their most seductive songs are "Don't Let the Right One Get Away" and "Mother I'm Alive."
The former is definitely a track you can dance to, but it's more like a song you listen to alone in your room when you finally make the decision to stay with your significant other. It's a beautiful song with an addicting chorus and wicked groove. The latter track with its meaningful lyrics and jangly beat is an anthem for living life, emphasized by the repeated lyrics, "out of the darkness / into the light." I personally listen to this track every time I find myself wandering through the dark forest. Since the inception of the band, Hot As Sun has opened up for bands like Phantogram, Foster the People and Gotye, and their songs have been featured on various TV shows including Glee and Vampire Diaries.
Number One: Sub Rosa. I first heard Sub Rosa on the TV show Hindsight, and I immediately fell in love with them (not to be confused with the one-word band, SubRosa). To my knowledge, the band has only released one album: 2006's slings and arrows. But this is no small feat; the album is chock full of alt-rock/pop gems, although they often border on the metal/emo genre due to their themes.
Singer/guitarist Jennifer Boeder's vocals are gorgeous and often layered beneath or at equal measure with distorted guitars and drums (done by Jesse Hozeny). The mood these two create is dark, and the melodies are haunting. Songs like "White Flag" seem to be about the want to surrender but the inability to do so. As the lyrics say, "it's a long way down (run like hell and fall behind)." "Megaphones" is a dirge that tells us, "remember, you've got to leave the light on," which suggests the song is talking about an outcast who doesn't fit in or who has enemies.
"Gary" contains post-apocalyptic lyrics like, "the end it came and went / dead machines are all that's left / grip the wheel and smell the steel / driving through some darker century." These are my three favorite songs by Sub Rosa thus far, and they all contain the theme of isolation and alienation. This band can sing about deep subjects in the same vein as TOOL but with the female sensitivity of Sarah McLachlan. That's a win in my book.