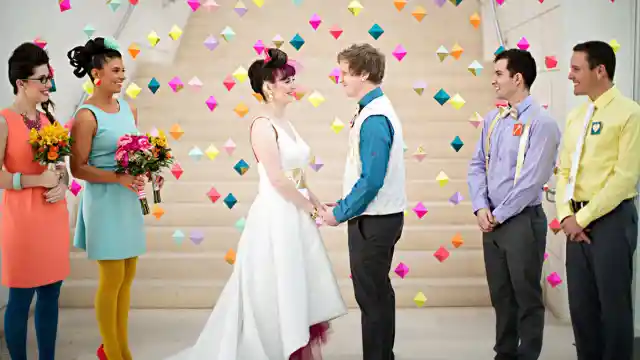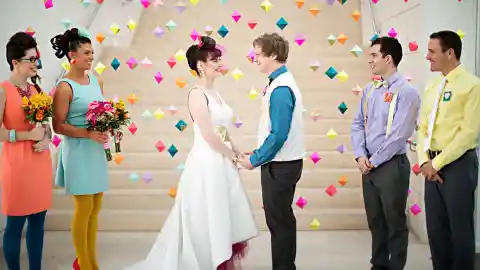 Let me start off by saying that it's indeed possible that some couples out there have used these songs for their wedding. If this is the case, I applaud you for being unique. However, if you're looking for some atypical wedding songs to play on your big day, here are some tracks you should check out.
Number Ten: "Drop in the Ocean" by Michelle Branch. Although she had a few hits, I feel Michelle Branch's best work can be found in lesser-known songs, like "Drop in the Ocean" (from 2001's The Spirit Room.) The lyrics are perfect for couples who feel an intense, spiritual connection to each other. The first verse is, "love took me by the hand / love took me by surprise / love led me to you / and love opened up my eyes"; the second verse is, "and every time I drift away / I lose myself in you / and now I see I can be me / in everything I do." However, the best part of the song is the chorus: "Cause I was feeling as small / as a drop in the ocean / and now I realize / that nothing has been as beautiful / as when I saw heaven's skies / in your eyes." The song begins with a church-sounding organ, then gradually mixes in electronic beats, then builds up into a whirlwind of sound with Branch beautifully singing, "in your eyes." For all I know, Branch could have written this about God, but I feel it can be applied to spiritual partners as well (and in my opinion, if you're marrying someone, you should feel a spiritual connection to that person).
Number Nine: "Existentialism on Prom Night" by Straylight Run. "Existentialism on Prom Night" is a song by Indie-Rock band Straylight Run from their 2004 self-titled debut album. While this song may have been aimed at lovers who're not yet ready for marriage, the lyrics are innocent and brilliant and could easily translate into a wedding song. The lyrics begin: "Sunk inside our blankets / sprawled across the bed / and we were dreaming / there are moments when / when I know it and / the world revolves around us." By far my favorite verse is, "sing me something soft / sad and delicate / or loud and out of key / sing me anything / we're glad for what we've got / done with what we've lost / our whole lives laid out / right in front of us." And then, the beautiful chorus: "Sing like you think no one's listening / you would kill for this / just a little bit." Personally, the narrator in this song seems to be embracing the flaws of his partner, only wanting to see him/her in a state of joy.
Number Eight: "Svefn-g-englar" by Sigur Ros. "Svefn-g-englar" is a song by Sigur Ros from their 1999 album, Ágætis byrjun. While couples may not be psyched about having their wedding song sung entirely in Icelandic tongue, the sheer beauty of this song is beyond compare. Running about ten minutes, the song's title loosely translates to "Sleepwalking Angels." Supposedly, in the English translation, the song begins with the lyrics, "I'm back / inside of you / it's so nice to be here," followed by "I burst out and the peace is in the air / bathed in new light." There's also a glorious sadness in the lyrics, although even those who speak Icelandic say some of the band's lyrics don't make sense. However, if you listen to this song, I guarantee you'll get so wrapped up in it's charm that it won't even matter if the lyrics or language make sense. The best part of the song is when Jónsi Birgisson sings "tju tju" in his falsetto (it almost sounds like he's singing, "it's you").
Number Seven: "A Song for Milly Michaelson" by Thrice. "A Song for Milly Michaelson" is a song by Thrice from their 2008 album, The Alchemy Index Vols. III & IV. The song's title makes reference to a character in the 1986 film, The Boy Who Could Fly. While the lyrics definitely reflect some of the movie's themes and scenes, I feel like this is a beautiful love song that couples can identify with. The lyrics begin with, "well you know I hardly speak / when I do, it's just for you." The following lyrics describe a specific scene from the movie: "And there's something you should know / girl you should have died that day / you fell reaching for the rose / but baby I was there to save you." The chorus is perhaps the most romantic part of the song: "Here we go, hold on tight and don't let go / I won't ever let you fall / I love the night , flying o'r these city lights / But I love you most of all." In essence, this track is about a boy who had something come true for him that most of us only fantasize about: the ability to fly. However, he chooses love over pride and power. Although Thrice is known to be a hard-rocking punk band, ballads like this is maked them stand out among their counterparts.
Number Six: "Do You Realize??" by The Flaming Lips. "Do You Realize??" is a song by The Flaming Lips, from their 2002 album, Yoshimi Battles the Pink Robots. This is the perfect song for those interested in science, or overall universal love. The song opens up with lyrics, "do you realize / that you have the most beautiful face" and "do you realize / we're floating in space." The song goes on to make references to death, the sun and illusions, but the song should be considered positive (lyrically and melodically.) If you're fans of the band, it would be pretty cool and creative if you had your bridesmaids and groomsman dress like animals/angels, (like in the video) or create your own unique twist on the song.
Number Five: "True Love Waits" by Radiohead. "True Love Waits" is a song by Radiohead from their 2001 live album, I Might Be Wrong: Live Recordings. The song is beautifully acoustic and was a solo performance by Thom Yorke for this album. This track is unconventional because it contains a lonely, aching feeling throughout, portrayed in lines like "I'm not living / I'm just killing time." However, it's equally comforting describing someone who'll do just about anything to keep this person in their life ("I'll drown my beliefs / to have your babies.") Like most Radiohead songs, some of the lyrics are enigmatic but somehow they still seem to make sense ("And true love waits / in haunted attics / and true love lives / on lollipops and crisps.") However, the most alluring moments of the song are when Yorke sings in a romantic tone of desperation: "just don't leave / don't leave." I feel like this song would be perfect for childhood sweethearts of a sensitive nature.
Number Four: "Take My Hand" by Dido. "Take My Hand" is a song by Dido from her 1999 album, No Angel. The song contains romantic lyrics, like "sit on top of the world / and tell me how you're feeling / what you feel, is what I feel for you." The chorus is a promise that the narrator is making to her lover: "Take my hand / and if I'm lying to you / I'll always be alone / if I'm lying to you." My favorite line of the song, however, is when Dido sings, "catch the snow on your tongue / and show me how it tastes." The best part of this track is that it starts out slow with beautiful electronics, and then it gradually builds up into a crescendo of sound, making it perfect to both slow dance and bust moves too. (When the strings come in, I picture the groom twirling the bride endlessly.)
Number Three: "This Must Be the Place (Naïve Melody)" by Talking Heads. "This Must Be the Place (Naïve Melody)" is a song by Talking Heads from their 1983 album, Speaking in Tongues. This is probably one of the least cheesy love songs in existence, but it is a love song nonetheless, with lyrics like, "home is where I want to be / but I guess I'm already there / I come home, she lifted up her wings / I guess that this must be the place." Other heartwarming lyrics include, "out of all those kinds of people / you've got a face with a view" and "never for money / always for love." Even David Byrne, who wrote the song, said the following about it: "That's a love song made up almost completely of non sequiturs, phrases that may have a strong emotional resonance but don't have any narrative qualities. It's a real honest kind of love song. I don't think I've ever done a real love song before. Mine always had a sort of reservation, or a twist. I tried to write one that wasn't corny… that didn't sound stupid or lame the way many do. I think I succeeded; I was pretty happy with that." While personally I want this song played at my funeral, you can see how it would make the perfect wedding song as well. (Arcade Fire also covered this song.)
Number Two: "Ashes to Ashes" by Faith No More. "Ashes to Ashes" is a song by Faith No More from their 1997 record, Album of the Year. While this song can probably be interpreted many ways, the lyrics come across to me as both spiritual and romantic, despite it being a heavy Rock song. The song makes various references to the narrator wanting himself and this other person to be equals, emphasized by lyrics like "give it all to you / then I'll be closer," and "give the same to me / then I'll be closer." Closer to what? My guess is closer to love or closer to a higher power. The chorus is, "smiling with the mouth of the ocean / and I'll wave to you with the arms of a mountain / I see you." These references to nature come across to me, personally, as possible wedding vows. The song title alone could be a reference of loving someone till they die (If you like this track but feel it's too heavy for a wedding, try finding an acoustic version of it, or create one yourself.)
Number One: "There is a Light that Never Goes Out" by The Smiths. This is a song that should be used by couples with a weird sense of humor. "There is a Light that Never Goes Out" is a song by The Smiths from their 1986 album, The Queen is Dead. Although The Smiths are known for writing depressing and emotional lullabies. This track is surprisingly upbeat, although it's not without a hint of derangement. The song essentially takes place in a car with the narrator saying, "take me out tonight / where there's music and there's people / and they're young and alive / driving in your car / I never never want to go home / because I haven't got one." However, the twisted romance comes in the chorus: "And if a double-decker bus / crashes into us / to die by your side / is such a heavenly way to die / and if a ten-ton truck / kills the both of us / to die by your side / well, the pleasure, the privilege is mine." While this song can be sung about best friends, I feel it also applies to lovers. In my head I picture a couple doing the tango to this strange love song.