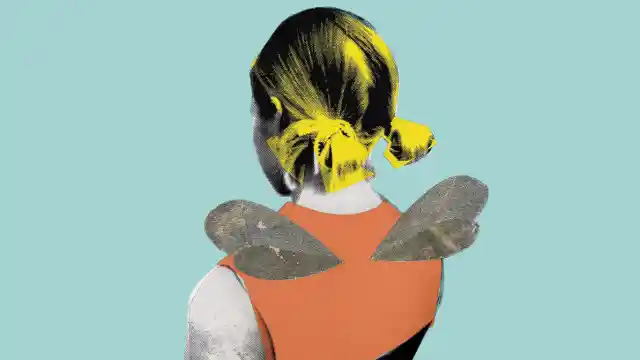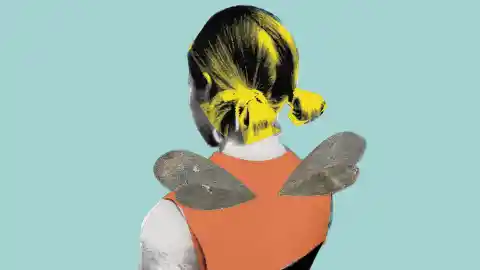 Personally, I love when musicians or bands create music which pays tribute to people in pop culture, whether they're writers, painters, fashion icons, philosophers or other musicians. I know I left out a lot of songs (especially from the Velvet Underground/Andy Warhol scene), but there will be a part two. For now, enjoy this list of ten songs that reference people or events in pop culture (and in the process, discover who or what affected or inspired these artists).
Number Ten: "Sylvia" by Eurythmics. "Sylvia" is the somber song by the Eurythmics, off of their 1989 album, We Too Are One. While it's difficult to dig up official information on what the song is about, there are clues within the lyrics that portray the song is about late author and poet, Sylvia Plath. The first verse begins, "Sylvia is missing / dark stars tattooed across her face / tiny bruises black and blue / the dedication on her arm / reads 'love and hate.'" The second verse, in my opinion, describes the time Plath spent in London: "Run away to London / lipstick tainted powered painted / perfume in her hair / run away to London / a thousand cold caresses / couldn't keep her there."
Some of the last words Plath wrote while in London were, "When I came to my beloved Primrose Hill, with the golden leaves, I was full of such joy." Weeks later, in the dark, depressive winter, she killed herself. When Annie Lennox sings "cold caresses," my guess is that she's referring to all the dead heroes of Plath's who resided in London and were the prime influence of Plath moving from America to London; in essence, all of her literary heroes, and even her husband and children, could not help ease her sorrow. The chorus reflects the depression that afflicted Plath for most of her adulthood: "She wants to fall into a deep, deep sleep / so she can forget herself." If my memory serves me right, in The Bell Jar, Plath mentions how she thought about cutting, yet the pain seemed more than skin-deep (I'm unsure of whether or not Plath became a cutter in the future; although she did write a poem about it). Anyway, this is a beautiful tribute to an underrated and often misunderstood writer.
Number Nine: "Edie (Ciao Baby)" by The Cult. "Edie (Ciao Baby)" is a song by The Cult, off of their 1989 album, Sonic Temple. The song is about Andy Warhol superstar, Edie Sedgwick, who died in 1971 at the age of 28. Said vocalist Ian Astbury of the song, "Edie was inspired when I was in New York City when we were recording the Electric album. I have several friends there involved in the fashion industry and one in particular turned me on to a movie called Ciao! Manhattan. I became extremely interested in the Velvet Underground and the Warhol period."
The lyrics to this song make reference to her lifestyle and fame; the song calls her "Warhol's darling queen" and a "youth-quaker"- the latter which was a culture and fashion movement of the 60s which Edie was a part of. The song seems to worship her while also recognizing her invisible wounds, with lyrics like, "the dogs lay at your feet," "stars wrapped in your hair," "angel with a broken wing," "wired on the pills you took" and "your innocence dripped blood." Perhaps the most telling lines are, "Why did you kiss the world goodbye? / don't you know paradise takes time." The song ends by saying, "Ciao, baby"- I'm not completely sure of this, but I believe "ciao" is something Edie would often say when she was in her prime.
Number Eight: "Vincent" by Don McLean. "Vincent" is a song by Don McLean, off of his 1971 album, American Pie. The song is a tribute to late painter Vincent van Gogh. This is what McLean had to say about this track: "In the autumn of 1970 I had a job singing in the school system, playing my guitar in classrooms. I was sitting on the veranda one morning, reading a biography of Van Gogh, and suddenly I knew I had to write a song arguing that he wasn't crazy. He had an illness and so did his brother Theo. This makes it different, in my mind, to the garden variety of "crazy" – because he was rejected by a woman [as was commonly thought]. So I sat down with a print of Starry Night and wrote the lyrics out on a paper bag."
Verses in the song cleverly describe several of van Gogh's paintings, but the most famous verse in the song is the first one, which describes van Gogh's painting, The Starry Night: "Starry, starry night / Paint your palette blue and gray / look out on a summer's day / with eyes that know the darkness in my soul." The song goes on to describe how often artists' aren't appreciated until their death, with lyrics like, "you suffered for your sanity / you tried to set them free / they would not listen / they did not know how / perhaps they'll listen now." And perhaps the most beautiful, lyrical tribute to the artist can be found in these lines: "You took your life / as lovers often do / But I could've told you Vincent / the world was never meant for / one as beautiful as you."
Number Seven: "Song for Bob Dylan" by David Bowie. "Song for Bob Dylan" is a song by David Bowie, off of his 1971 album, Hunky Dory. Many debate whether Bowie was trying to parody or praise Dylan in this song. Supposedly the song was reflecting Dylan's song to Woody Guthrie titled "Song to Woody." Said Bowie of the song, "There's even a song – 'Song for Bob Dylan' – that laid out what I wanted to do in rock. It was at that period that I said, 'okay (Dylan) if you don't want to do it, I will.' I saw that leadership void. Even though the song isn't one of the most important on the album, it represented for me what the album was all about. If there wasn't someone who was going to use rock 'n' roll, then I'd do it."
The song begins with Bowie calling Dylan by his real last name (Zimmerman) and singing lyrics that seem to praise Dylan as a revolutionary: "With a voice like sand and glue / his words of truthful vengeance / they could pin us to the floor / brought a few more people on / and put the fear in a whole lot more." The last verse seems to echo Bowie's want for Dylan to come out of retirement due to Dylan's motorcycle crash: "Give us back our unity / give us back our family / you're every nation's refugee / don't leave us with our sanity." The chorus describes a woman- "the same old painted lady / from the brow of a super brain." Many believe Bowie was describing Edie Sedgwick, who had a short fling with Dylan, but ultimately chose Warhol over him.
Number Six: "Man on the Moon" by R.E.M. "Man on the Moon" is a song by R.E.M., off of their 1992 album, Automatic for the People. The song is a tribute to Andy Kaufman, and the song makes several references to events in the performer's life. Lyrics containing such references include, "the wrestling match," "Mister Fred Blassie in a breakfast mess" and "Andy are you goofing on Elvis?" The chorus, which goes, "if you believed they put a man on the moon / if you believe there's nothing up his sleeve / then nothing is cool," is a reference to rumors of Kaufman faking his own death in 1984 — just as some believe that men never landed on the moon.
Number Five: "Jeremy" by Pearl Jam. "Jeremy" is a song by Pearl Jam, off of their 1991 album, Ten. Supposedly Eddie Vedder was affected by a newspaper article he read about a student who shot himself in front of his high school English class (This happened on January 8th, 1991). Specifically the student's name was Jeremy Wade Delle, and classmates described him as introverted, quiet and lonely; before he moved to the school in Texas where the event took place, he was in a psychiatric hospital, and when he moved to his new school, he was put in a "special" program which caused him to further isolate. This is seen within lyrics like, "Daddy didn't give attention / to the fact that mommy didn't care." And lyrics like "Jeremy spoke in class today" and "try to erase this from the blackboard" reflect how when youth are mistreated, neglected or misunderstood, they often feel trapped in the thought that they must make the ultimate sacrifice as an act of revenge. The sad thing is that by shooting himself, Jeremy's inner truth will never be heard.
While the song peaked high on the charts and won Best Video of the Year in 1993, I'm sure when Vedder wrote the lyrics and Jeff Ament wrote the music, they weren't trying to sensationalize the event; rather I feel they were trying to send out a message to all the lost kids out there. Vedder said himself that he felt "the need to take that small article and make something of it — to give that action, to give it reaction, to give it more importance."
Number Four: "Nietzsche" by The Dandy Warhols. "Nietzsche" is a song by The Dandy Warhols, off of their 2000 album, Thirteen Tales from Urban Bohemia. Of course, this song is referencing the German philosopher and scholar, Friedrich Nietzsche. The lyrics are fairly simple; two lines repeated three times: "I want a god who stays dead, not plays dead / I, even I, can play dead." It's easy to assume this song was written about atheism, as Nietzsche was a rumored atheist, and moreover the narrator seems to be saying that he rather not believe in God than believe in a God who ignores our prayers and pleas.
Furthermore, Nietzsche famously wrote in several of his works, "God is dead." But I bet that The Dandy Warhols, an underrated, brilliant band in my opinion, was trying to express more than themes of atheism or nihilism. Here is a quote from the philosopher: "God is dead. God remains dead. And we have killed him. How shall we comfort ourselves, the murderers of all murderers?…Must we ourselves not become gods simply to appear worthy of it?" This last part of the quote reflects the lyric, "even I, can play dead." Personally, I believe the band is trying to express Nietzsche's philosophy that human beings have the same abilities and capacities of God within themselves ( the "Overman"). I also believe the band's lyrics are trying to reflect the philosopher's ideas about how, without morality under the hand of God, people can be free of emotions like guilt and notions like sin- thus, by playing dead like God, we as humans can also be free from the burdens of moral responsibility.
Number Three: "Frances Farmer Will Have Her Revenge on Seattle" by Nirvana. "Frances Farmer Will Have Her Revenge on Seattle" is a song by Nirvana, off of their 1993 album, In Utero. As you can see from the title, the song is about the late, former actress who became infamous for her legal and psychological problems; namely her numerous stays at various mental institutions, where the actress said she was horribly mistreated. The "revenge on Seattle" part of the title could be referencing her being born in Seattle and her being hospitalized in Washington state (where it's rumored that she was lobotomized.) Some surmise that Farmer wasn't even mentally ill; she was just a rebellious, assertive woman, which at the time (in the 30s and 40s) was considered not acceptable.
The first few lines of this Nirvana song seem to describe the ups and downs of being famous. The "revenge" part of the song can be seen in the following lyrics: "She'll come back as fire / to burn all the liars / and leave a blanket of ash on the ground." However, the most poignant line in the track is, "I miss the comfort in being sad." In this lyric, we can make assumptions as to why Cobain related to Farmer; they both were eccentric, misunderstood by society and just wanted to be left alone. I'm also sure that Cobain related to her hospitalizations and the mistreatment of her by the media and even those close to her.
Number Two: "Ohio" by CSNY. "Ohio" is a song by CSNY, off of their 1974 album, So Far. The song was composed and written by Neil Young, and the song was inspired by the Kent State shootings in 1970. Said Young of the event, it was "probably the biggest lesson ever learned at an American place of learning." Apparently, David Crosby wept after recording the song, and if you listen closely in the faded background, you can hear him say "How many more?" The lyrics are pretty straight-forward, describing events at the time, with lines like, "tin soldiers and Nixon coming / we're finally on our own / this summer I hear the drumming / four dead in Ohio."
Number One: "You Were Right" by Built to Spill. "You Were Right" is a song by indie-rock band, Built to Spill, off of their 1999 album, Keep It Like a Secret. This is absolutely one of my favorite songs of all-time, as it references lyrics from several classic rock songs. The chorus of the song is, "You were wrong when you said / everything's gonna be alright." This latter lyric is a reference to Bob Marley & The Wailers' song, "No Woman, No Cry." Lead vocalist Doug Martsch then uses the title of "You Were Right" when referencing semi-pessimistic lyrics from classic artists. For example, he sings, "you were right when you said all that glitters isn't gold" (Neil Young,) "you were right when you said all we are is dust in the wind" (Kansas,) and "you were right when you said we're all just bricks in the wall" (Pink Floyd).
The song also references The Jimi Hendrix Experience ("manic depression's a frustrating mess"), The Rolling Stones ("you can't always get what you want"), Bob Dylan ("it's a hard rain's gonna fall"), Bob Seger ("we're still running against the wind"), John Mellencamp ("life goes on after the thrill of living is gone") and The Doors ("this is the end"). I thought this song was extremely clever, and I wish I wrote it myself.