In the United States, we love football and we love food. Sometimes the two loves converge and create a fantastic game day experience. With the NFL season underway, an important question comes to light: what will you be eating while cheering your team onto a third-down conversion or hoping the opposing kicker shanks a 40-yard field goal? Burgers, wings, chili, and guacamole are all game-day favorites, but here are some recipes that are unique spins on classic football fare.
Number Ten: Granny Smith Guacamole. Guacamole has been a crowd favorite for years. More and more recipes are putting a spin on the classic dip, including using peas and apples. This recipe using Granny Smith apples comes from parade.com. Take three ripe avocados, halved and pitted, and scoop the avocado flesh into a bowl, reserving the skin. Add 1/2 cup of a finely chopped Vidalia onion, 1/2 cup of chopped fresh cilantro, the juice of one lime, and hot sauce to taste. Mash the ingredients with a fork to a desired consistency. Fold in one Granny Smith apple finely chopped. Season with salt to taste. Divide guacamole into each avocado skin and serve with tortilla chips.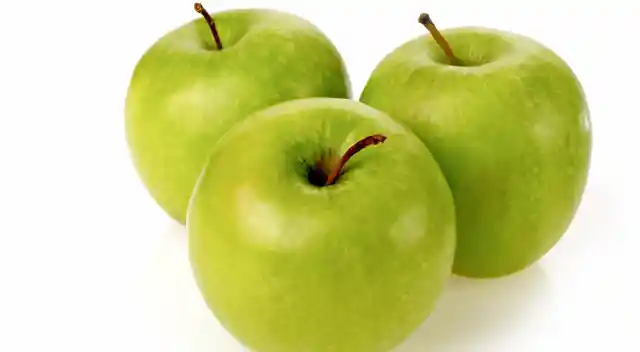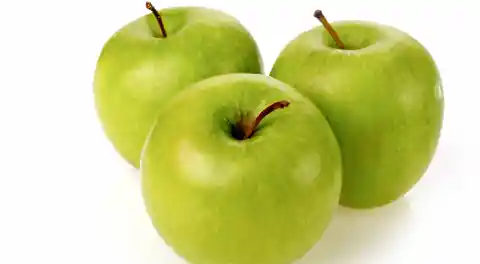 Number Nine: Spicy Onion Rings. Crispy beer-battered onion rings are a game day favorite. Celebrity chef Cat Cora's recipe adds a dash of heat to the party. Cut one large sweet yellow onion 1/2 inch thick, remove dark exterior, separate into rings and soak in 1 cup of buttermilk mixed with 1/4 teaspoon of cayenne pepper powder for 1 hour. Mix 1/2 cup flour, 1/2 teaspoon of salt, 1/2 teaspoon of freshly ground black pepper, 1/2 teaspoon of cayenne pepper powder and 1 teaspoon of granulated garlic. Set aside. In a medium-sized bowl, combine one 6 ounce beer and 1/2 cup of flour. Mix thoroughly. In a large, deep pot, heat 2 cups of canola oil to 350°F. Remove onion rings from buttermilk, shake off excess, dredge in flour, then dip in beer batter. Drop some onion rings into oil and repeat process, being sure not to crowd rings, as they will stick together. When golden, remove and let drain on paper towels.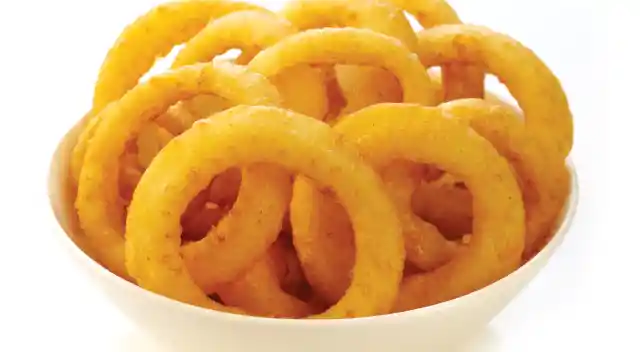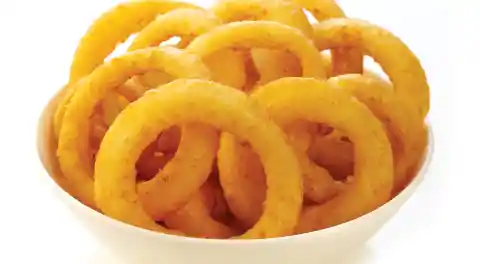 Number Eight: Hot Thai Crab Dip. Jazz up mundane potato chips and sour cream dip with this hot Thai crab dip recipe from foodnetwork.com. Mix 3 ounces of cream cheese, 1/4 cup mayonnaise, 2 teaspoons lime juice, and sriracha and chopped cilantro to taste, and fold in 1/2 pound crabmeat. Spread in a baking dish, top with breadcrumbs (preferably panko) and bake at 425 degrees F until golden for about 15 minutes. Use whatever item you'd like for dipping: potato chips, tortilla chips, crackers, or baguette slices.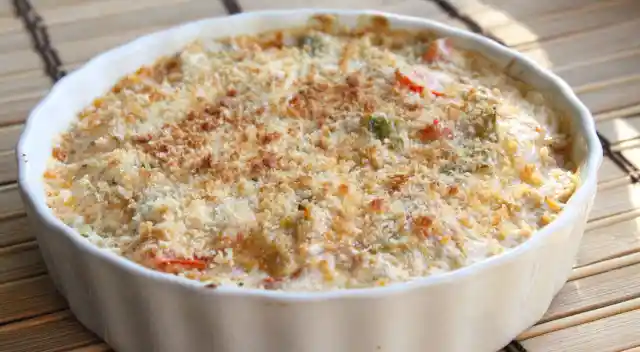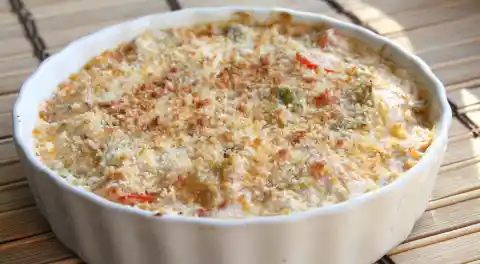 Number Seven: Chipotle Chili. Sometimes a day of watching football calls for a nice piping hot bowl of chili. This hearty recipe from allrecipes.com uses ground beef and hot Italian sausage. Cook 1 pound of bulk hot Italian sausage and 2 pounds of ground beef in a large pot over medium-high heat until crumbly and lightly browned. When meat has begun to brown, drain excess grease, and season with 5 tablespoons of chili powder, 1 tablespoon of ground cumin, and 1 teaspoon of ground of ground coriander. Cook and stir for 1 minute, then stir in 2 cloves of minced garlic and 1 large diced onion. Cook until the onion is soft and translucent, which is about four minutes. Next, stir in 1 28-ounce can of diced tomatoes, 1 15-ounce can of tomato sauce, 1 14-ounce can of kidney beans, 2 teaspoons of minced chipotle peppers in adobo sauce, 1 teaspoon of salt and fresh ground black pepper. Bring to a simmer, then pour the chili into a slow cooker. Cover, and cook on low for 8 to 10 hours. Stir in 1 6-ounce can of tomato paste one hour before the chili is done.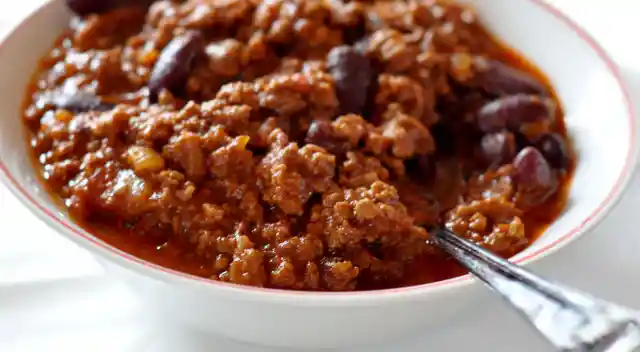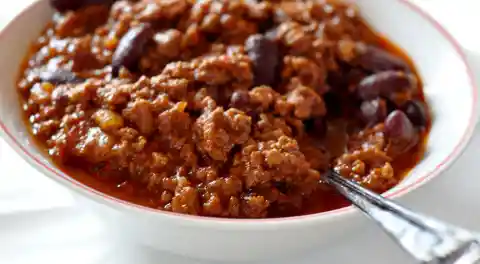 Number Six: Personal Pizzas. Pizza and football go so well together, don't they? Instead of ordering a pie from your neighborhood parlor or throwing in a frozen pizza, try this version from thepioneerwoman.com. One side note: the recipe called them "French bread pizzas," but French bread isn't being used, so we'll call them personal pizzas. Preheat the oven to 375 degrees F. Slice six deli rolls or crusty Italian rolls in half and lay them, cut side up, on a large baking sheet. Top each half with a generous portion of either jarred marinara, pizza, or pesto sauce. Next, top with a generous amount of grated mozzarella and Parmesan cheese. Add whatever toppings you'd like. The world is your oyster … er pizza. Put the pan in the oven on the lowest rack for 8 to 10 minutes. Crank up the heat to 425 F and put it on the highest rack until the cheese starts to bubble a bit and turn golden. Remove and enjoy. Just wait long enough to avoid the dreaded "pizza burn."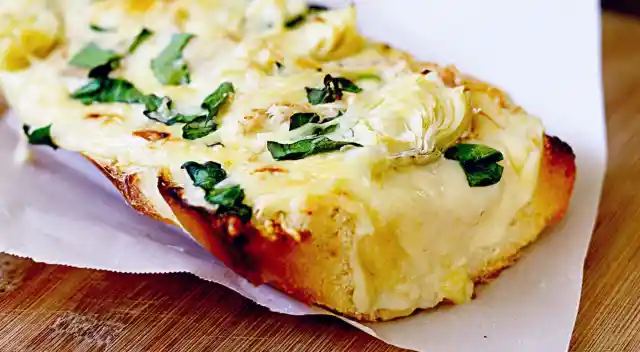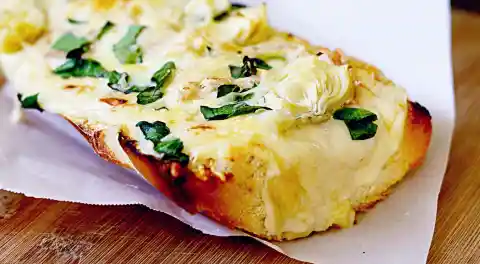 Number Five: "Touchdown Brownies." Fudge brownies are always a game-day hit. The "touchdown brownies" from thebakermama.com combines sweet and salty into the perfect play. Like a quarterback hitting a receiver in stride on a fly pattern. Preheat oven to 350 degrees F. Line a 9″ x 13″ baking dish with parchment paper and lightly grease with non-stick cooking spray. In a large microwavable bowl, melt 1 and 1/2 sticks of unsalted butter and 1 cup of chocolate chips in 30 seconds intervals until completely melted, about 2 minutes. Stir in 2 cups of sugar then four large eggs, one at a time, until well combined. Stir in 1 teaspoon vanilla. Add 1 cup of all-purpose flour and 1/4 tablespoon of salt and stir until just combined. Stir in 1 cup caramel bits, 1 cup crushed pretzels, 1 cup chocolate chips and 1/2 cup chopped pecans. Spread batter evenly into prepared baking dish. Bake for 45-50 minutes until a toothpick inserted in the center comes out clean. Place on a wire rack and spread caramel sauce evenly over hot brownies. Place 35-40 mini pretzels evenly over caramel and sprinkle with remaining 1/4 cups of chocolate chips, caramel bits and chopped pecans. Place brownies in the refrigerator for at least an hour and the caramel will set. Otherwise, serve warm or at room temperature for a gooey caramel topping. Lift brownies out of dish with parchment paper. Cut into squares. Try not to eat them all at once.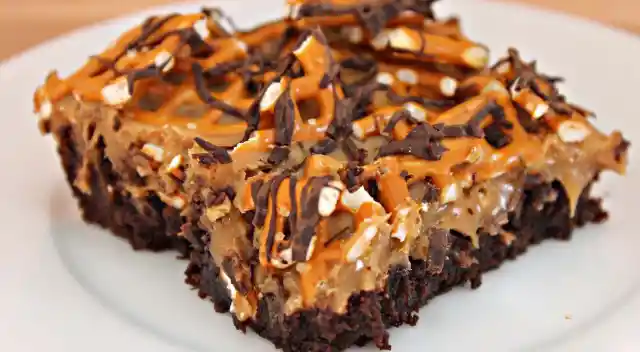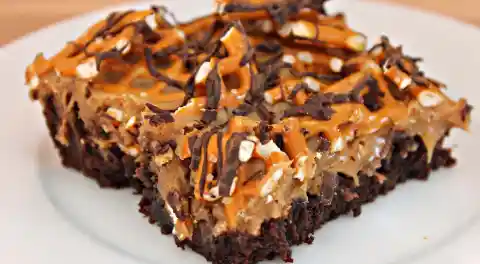 Number Four: Korean Sliders. We love a good burger, but sometimes it's good to mix it up. If you're in the mood for a meaty sandwich try this Korean slider recipe from foodnetwork.com. Create the marinade by combining 1/2 cup soy sauce, 2 tablespoons brown sugar, 1 tablespoon of grated ginger, 1 tablespoon of mirin, and one table spoon of sesame oil, and four chopped garlic cloves and four scallions. Marinate 1 pound of skirt steak for two hours. Sear in a hot buttered skillet, then thinly slice. Serve on 12 mini buns with mayonnaise and spicy kimchi, if desired.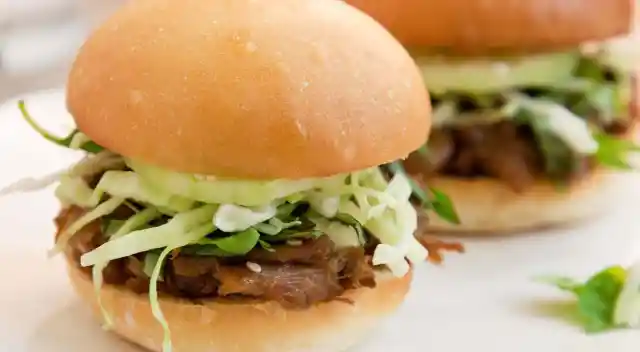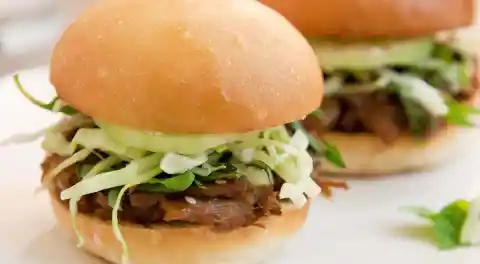 Number Three: Potato Cheddar Guinness Soup. By themselves, cheese, potatoes and beer are fan favorites. Put them together in a soup and you have a definite crowd pleaser. According to simplyrecipes.com, this potato cheddar Guinness soup takes 50 minutes to cook. Melt 2 tablespoons of butter on medium heat in a large, thick-bottomed pot. Add the 1 medium chopped onion and cook until golden, for about 10 minutes. Add the 1 chopped celery rib and cook 5 minutes more. Add 1 1/2 pounds of peeled and thinly sliced russet potatoes to the pot. Add the 3 cups of chicken stock, 1 cup of Guinness extra stout, and 1/2 teaspoon of thyme. Bring to a simmer, lower the heat, partially cover, and simmer until the potatoes are tender and easily fall apart, about 15 to 20 minutes. When the potatoes are tender, remove the pot from the heat. Pour potato mixture into a bowl and let cool for a few minutes. Working in batches, ladle the soup into a blender, filling the blender bowl only a third full at a time. Add a portion of 6 ounces of grated cheddar cheese to the blender bowl. (Note: If it takes three batches to purée the soup, divide the cheese into three portions.) Holding the lid of the blender down, pulse until smooth. Return the smooth purée to the soup pot. Stir in the 1 teaspoon of Worcestershire sauce and 1/8 teaspoon of paprika. Taste for salt and add more if necessary. If the soup is too sour or bitter to your taste, add 1/2 teaspoon of sugar to the soup. Garnish with chopped chives or bacon bits and serve. This recipe makes four servings.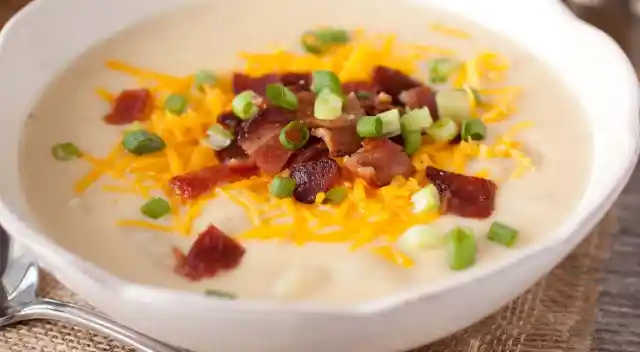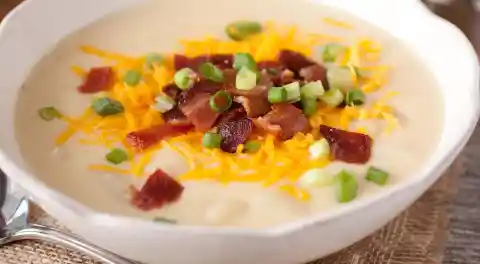 Number Two: "Pig Candy." Bacon. Need we say more? Okay, fine. Sweet, spicy, crackly bacon. This recipe from seriouseats.com is a breeze. In a small bowl, mix together 1/2 a cup of dark brown sugar and 1/8 teaspoon of cayenne pepper. Lay bacon strips (1 pound) on a wire rack set inside a foil-lined baking sheet. Sprinkle 2/3 of the brown sugar mixture on top of the bacon strips. Light one chimney full of charcoal. When all the charcoal is lit and covered with gray ash, pour out and arrange the coals on one side of the charcoal grate. Set cooking grate in place, cover gill and allow to preheat for 5 minutes. Place entire baking sheet with bacon on grill rack, cover, and cook until sugar starts to caramelize and bacon begins to crisp around the edges, about 15 minutes. Brush bacon slices with 1/4 cup of maple syrup, flip, and brush second side with syrup. Sprinkle on remaining brown sugar mixture, cover, and continue to cook until bacon fully crisps, about 10 to 15 minutes more. Remove from grill, let cool, then serve. Go ahead, pig out.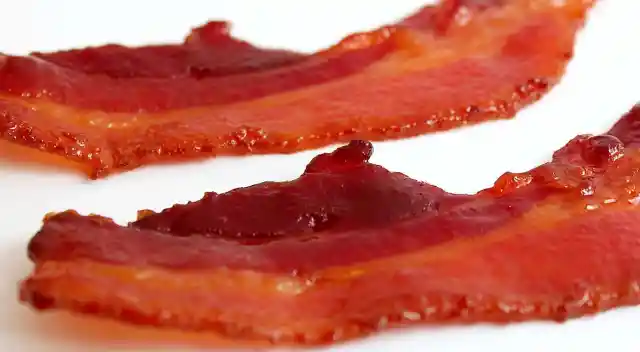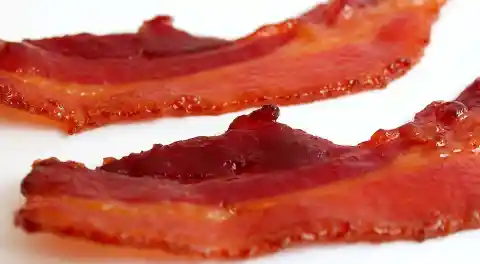 Number One: Honey BBQ Chicken Wings. Chicken wings and football are the makings of a good day. There are so many different wing flavors including hot sauces, mustard-based sauces, Asian-inspired sauces, and barbecue sauces. If you want wings but want to spruce up the usual barbecue flavor, try this recipe from food.com. Cut off and discard wing tips (or save the tips for making stock) of 3 pounds of chicken wings. Cut each wing at joint to make two sections. Rinse wings, drain, and pat dry with a paper towel. Season wings with salt and pepper to taste. Place wings on broiler pan and broil about six inches from heat for 10 minutes on each side or until brown. Transfer wings to slow cooker. In a bowl, combine 2 coups of honey, 1 cup of soy sauce, 1/2 cup of bottled barbecue sauce, 1/4 cup oil, and 2 cloves of minced garlic. Pour mixture over wings. Cover and set slow cooker on high for 2 hours or low for 4 hours. Serve with blue cheese or ranch, if desired.