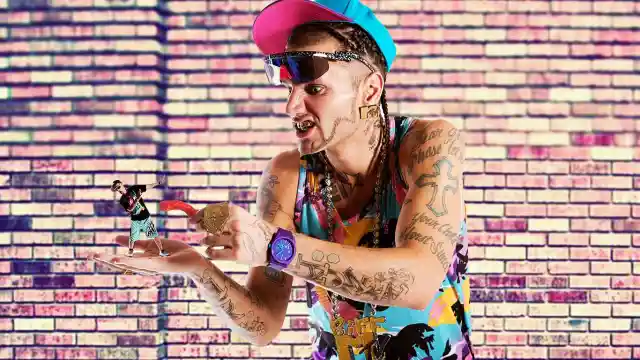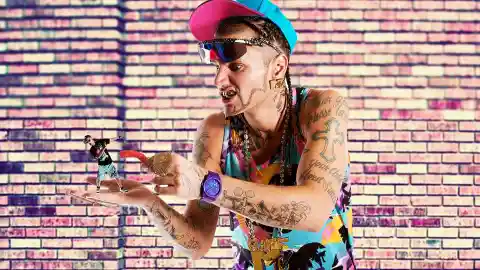 Musicians influence us most through their music. However, fans are also inspired by the ink their favorite artists choose to get. Whether completely weird or definitely interesting, here is a list of ten musicians with generally "cool" and unique tattoos.
Number Ten: Riff Raff. Riff Raff, a rapper from Houston, TX, has an interesting tattoo on his left, inner arm. It is the typical head of a green alien; however, above it reads the words, "We Are Not the Same." Below these words is the option to circle "Yes" or "No." Riff Raff circled "No." While only Riff Raff knows the meaning behind this tattoo, my guess is that the message is about how we are not that different from aliens or UFOs (and ancient astronaut theorists would agree.) However, one must wonder why he didn't go for the simpler option of tattooing "We Are the Same" above the alien head.
Number Nine: Miranda Lambert. Known for being a country-pop superstar, Miranda Lambert also has a pretty badass tattoo. On her left, inner forearm, in black and white, is a double six-shooter with wings attached. It has since become her default logo. Supposedly Lambert got the ink as a present to herself, to honor the success she's received (She also has the logo for MuttNation tattooed on her foot; this logo represents her foundation which helps animal charities across the USA.) Although she has been known to be a bad girl on stage, this winged-pistol tattoo proves that she's a southern rocker just as much as she's a country girl.
Number Eight: Layne Staley. Layne Staley, the late frontman of Alice in Chains, had one tattoo done on his upper-right back. It's an image of a cloaked or hooded man with his eyes sewn shut; the image of the man seems to be done in all-black ink, while the hood around him appears brown. It's obvious to most that this tattoo was inspired by a lyric from "Man in the Box": "Feed my eyes / can you sew them shut?" Even the music video for the song features a man with his eyes sewn shut. What's interesting is that the man in the video, as well as the man in Layne's tattoo, resembles Jesus Christ, who is also mentioned in the lyrics. I chose to include this tattoo as it could easily describe Staley's addiction and his cries for help. In the song, Layne really is "the man in a box," and he's buried in his addiction; whether he was religious or not, in the song he seems to asking for help ("won't you come and save me.") Nonetheless, the tattoo seems to depict how Layne felt about his life in general, if you really think about it.
Number Seven: Tyson Ritter (The All -American Rejects) Tyson Ritter is the bassist, pianist, songwriter and lead singer for the rock band, The All-American Rejects. On his upper right arm, he has a tattoo of an electrical socket, with a plug going into the top socket. The story goes that the top black socket was originally a tattoo of "AAR," and all band mates got the same one; however people mistakenly thought that the letters represented a fraternity, so he changed it to an electrical outlet with the plug going into where the band logo once was. Said Ritter of the tattoo, "Actually I only got it because I was trying to impress my girlfriend, but it ended up working out cause the guy made it really surreal looking." You may find this tattoo on lists containing the words "weird" or "bad," but personally, I love a good tattoo re-working, and the outlet does have a ghost-like quality to it.
Number Six: Dave Grohl Dave Grohl, once the drummer for Nirvana, is now known as the frontman for alt-rock band, Foo Fighters. While you may not consider Grohl's tattoos completely original, they stem from a place of love and worship. What I'm referring to is his trio of Led Zeppelin-inspired tattoos. Specifically, he's got the three-circle, Led Zeppelin IV logo tattooed in three different places; the first, he did himself, the second, he did illegally in Amsterdam, and the third he got professionally done with his first check while with Nirvana. Of course, this was John Bonham's logo, which makes sense as both Bonham and Grohl are drummers. Grohl's dreams certainly came true when he got to form the supergroup, Them Crooked Vultures, with Zeppelin bassist John Paul Jones.
Number Five: Lenny Kravitz Lenny Kravitz is known for being a singer-songwriter that incorporates many genres into his music, including rock, jazz and soul. Besides boasting a floral pattern on his left forearm and a unique cross on his right bicep, Kravitz also has a large Japanese dragon tattooed over his heart, which trails over onto his upper left arm. The dragon is black and grey, with a hint of red, and is surrounded by what looks like elements of smoke, waves, clouds, wind and water. The waves and water make sense, as most Asian dragons are considered water deities. The dragon itself is considered a supernatural creature.
Number Four: Ryan Gosling You may be wondering why I included Ryan Gosling, an actor, on this list. But Gosling is a man of many trades; he's also a musician, creating a solo recording titled "Put Me in the Car" and forming an indie-rock band with Zach Shields called Dead Man's Bones in 2007. On their self-titled debut, which received praise from critics, Gosling played cello, piano, bass, guitar and also sang vocals. But on to the topic at hand: Gosling's tattoo. While he supposedly has four, the one that I think is the coolest is the one on his upper left arm: the cover of the children's book, The Giving Tree. Apparently Gosling's mother would read the book to him and his sister when he was younger, making it symbolic of his childhood. However, in 2010, while promoting Blue Valentine (in which you can see the tattoo visibly,) Gosling stated, "That story's the worst. I mean, at the end the tree is a stump and the old guy…just used him to death." If you research the story, it's about a boy who befriends a female tree, and as he gets older he makes requests of the tree, and the tree gives and gives until all that is left is a stump. For children, the supposed moral is that we should be like the tree; however, in Gosling's words, "You're supposed to want to be the tree? F*** you. You be the tree. I don't want to be the tree" (Personally, looking at the story from a different light, it could be a tale about how we ravage Mother Nature without giving anything back to it.) Anyway, Gosling has also said about tattoos in general, "A tattoo should never be meaningful, because at a certain point you're going to hate it, and it might as well make you laugh." FYI- Some of Gosling's other tattoos he did himself.
Number Three: Travis Barker Travis Barker, best known as the drummer for Blink 182, is also known for sporting tons of tattoos, some of which unfortunately got burnt off in his plane crash (like his first tattoo, which was his nickname, Bones, with a Dag Nasty symbol above it.) But what I find most fascinating is Barker's head tattoo, or should I say tattoos, as there are multiple ones on there. Said Barker of this, "I just finished my head. I always wanted my head done. I had seen someone when I was young with their whole head done. During summer-time, it was shaved and you could see the tattoos. And then you can grow your hair out, and no one can tell." His head tattoos include The Transplants gas-mask logo and the phrase "one life one chance" on the back of his head, as well as his kids names (Alabama and Landon) on the side of his head and his last name (Barker) on the bottom-left side of his head. If he leans forward, you can see a tattoo of Mary on his skull. Apparently the head tattoos took about 30 hours to complete (Other tattoos include a Cadillac symbol on his chest, an image of Jesus Christ on his left arm and a banner which reads "Can I Say" across his chest, the latter which was inspired by the name of a friend's first album.)
Number Two: Buddy Nielsen (Senses Fail) Buddy Nielson is the lead vocalist for post-hardcore band, Senses Fail. I put him at number two for his hand-written, black-ink tattoo of the words "Follow Your Bliss" tattooed across his chest. Buddy is covered with tattoos, from his neck to his sleeves; on his chest, surrounding the "Follow Your Bliss" quote, are two red flowers with swords going through them and a skull and crossbones tattoo beneath the quote (it's rumored that Buddy has about 45 tattoos.) However, the "Follow Your Bliss" quote is my favorite due to its roots possibly being in the following quote from mythologist Joseph Campbell: "Follow your bliss, and the universe will open doors for you where there were only walls." The band even makes mention of the quote in "Can't Be Saved," off of 2006'sStill Searching: "Follow your bliss, it reads on my chest / I know I got it tattooed for a reason / Why can't I just hold it true?" The quote was also used as the name of their 2012 greatest hits album.
Number One: Lady Gaga Lady Gaga has become one of pop's biggest superstars, and she has shown her diversity by playing different genres of music and different instruments. I put Gaga at number one for her tattoo on her inner left arm. The tattoo translates to the following quote: "In the deepest hour of the night, confess to yourself that you would die if you were forbidden to write. And look deep into your heart where it spreads its roots the answer, and ask yourself…Must I write?" This quote is from German poet Rainer Maria Rilke. As a writer, I can think of no better testament to the art than getting a quote about it. Gaga also has other tattoos, including a unicorn with the banner "Born This Way" wrapped around it on her thigh, and to honor John Lennon, a peace sign on her wrist.