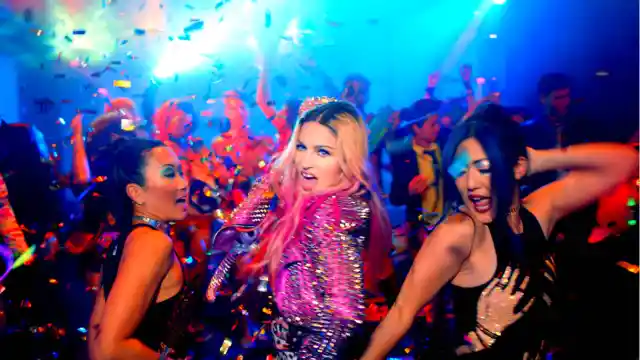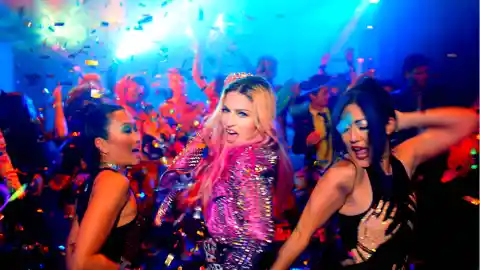 Photo Credit: capitalfm.com
Yesterday Madonna, one of pop music's most prolific artists, released a banging music video for her new single "Bitch I'm Madonna." In a move to amp up the energy surrounding the release, Madonna recruited the likes of Beyonce, Katy Perry, Miley Cyrus, Nicki Minaj, and Kanye West to join her in throwing the wildest and most explosive house party this side of the new millennium. As a self-identifying pop culture fiend, you would all probably assume that I have locked myself in a dark room for an extended screening of the video (during which I intoned phrases such "slay" and "on fleck" with a fervid dedication). In reality I'm just seeing the video for the first time today, and my delayed experience is for one reason (beyond the lack of a Britney Spears cameo). The "Bitch I'm Madonna" visual was a TIDAL Exclusive, and I am not a TIDAL user.
Luckily our "Like A Virgin" songstress scheduled her release so that the visual is making its way onto Vevo for non-TIDAL users today. Those of us who have only seen grainy footage of photos of the video will be able to access the video in High Definition for the first time. We'll be able to cheer along as Madonna proves that age isn't a number, and that she is still one of the biggest names in the game. I'm getting that chance to proclaim that Madonna "slayed," that we "aren't worthy;" however, it seems silly (for lack of a better word) that TIDAL is making it that much more difficult to support our artists. In fact, I would argue that releasing videos on such an exclusive platform is detrimental to fans, casual listeners, and the artists themselves. That is why I am thinking that TIDAL Exclusive Music Videos have got to go.
From its earliest beginnings (WAY back in March), TIDAL has been heralded as a new age in music. Upon it's unveiling, sixteen of music's biggest names (including Madonna) joined rap mogul Jay-Z in proclaiming that TIDAL was for everyone; if you had the money to pay for the service. Granted membership to the exclusive club is only $10-$20, but that makes marketing campaigns such as #TIDAL4All a little less than appealing in the age of "freemium" music streaming.
Almost immediately the service and its artist began to experience a bit of a backlash from from all sides. Fans and industry competitors were obviously a little upset by the price, but even fellow artists were a little shocked by the promises that were made at the unveiling. The service hit some negative press and users were not increasing, so there was only one thing to do (other than jumping ship). Hit 'em with the exclusive content!
In the past months several of TIDAL's founders have released their content exclusively to the service. Rihanna made it the only place fans could view her patriotic "American Oxygen" visual, Lil' Wayne debuted a new single, Jay-Z performed a concert of fan-favorite material. More recently Nicki Minaj has hit fans with several TIDAL Exclusive videos, introducing both current single "The Night Is Still Young" and buzz single "Feeling Myself" on the service. The only issue with this overwhelming barrage of exclusive content is that there still aren't many users on the TIDAL interface. In fact, the #TIDAL4All campaign is making artist's content markedly less accessible to fans.
Music, like any art form, is meant to be available for a common discourse. Art is culture. Providing it on such an exclusive platform is stifling the content and making it more difficult for fans to access the work. #TIDAL4All has made these visuals #Music4Less (ironic hash tag usage intended), and not in a good way. Beyond that, TIDAL is almost attempting to force users to join there service. On a personal level, I am not interested in utilizing TIDAL services for a variety of reasons. In fact, I am currently a paying member of TIDAL's main competitor Spotify, and I am comfortable and happy on the service. Baiting users to switch services is instead depriving the masses from access to content from their favorite artists.
Not only does a TIDAL Exclusive debut negatively affect fans, but it also has a negative affect on the artists. Music Videos lead to an increased exposure for an artist, allowing their fan base to grow and expand. Now, I am well aware that an established artist such as Madonna (referred to as the Queen of Pop in many circles) may not need to rely upon music video views to recruit new fans and sell concert tickets, but she is an exception to this rule. Even still, a TIDAL Exclusive debut has negatively affected the performance of individual single's. Releasing a promotional product to such a select group of users has led to less interest in a product when it is released to the general public. Once a video finally makes it's way to appropriate channels, there is less buzz about it. Part of the reason for that lack of interest is another issue for TIDAL Exclusive music videos; piracy.
Since their release, almost every single TIDAL Exclusive video has made it's way onto YouTube, Tumblr, or some other website within hours. We live in an era when "exclusive" content isn't private for very long before it is winging its way across the world wide web. As recently as last year Madonna has compared piracy to artist rape, but that hasn't stopped TIDAL users from ripping the content and circulating it across the internet. This negatively affects both the artist (who is now making less money for their product) and the fans (who are now viewing a less impressive copy of the work). It is almost ironic that a service that vowed to give artists a bigger cut of the proceeds for their work is almost setting artists up for piracy, but that is the case with TIDAL.
The biggest issue that artists such as Madonna are bound to face from choosing to utilize a TIDAL Exclusive debut is that it is negatively affecting artist's relationships with their fans. Yesterday fans were storming social media accounts, begging Madonna to make her content available to all fans, not just the ones who are paying $10. Since opening TIDAL, Jay-Z and his fellow artists have been accused of seeming desperate for more money. The service has been billed as a vanity project, meant to bring the multi-millionaire musicians even more money. Forcing fans to buck up $10 to view a music video is not going to help any of the artists refute those claims. The evidence on social media reveals that it only furthers those claims and drives a wedge between the artist and their fans. Not a good place to be.
I realize the importance of TIDAL Exclusive content and the affect that it will have for the growth of the service in the future; however, I do not see any benefit to releasing music videos exclusively. So yeah. TIDAL Exclusive music videos have gotta get to going.
What do you think about TIDAL's Exclusive content? Feel free to let us know in the comments below!
FDRMX Eyes: UK Country Group Jess and The Bandits provide an acoustic take on Bonnie Raitt's "Love Sneaking Up On You." Check it out below!
[jwplatform s7ikY2el-daFoP3nJ]