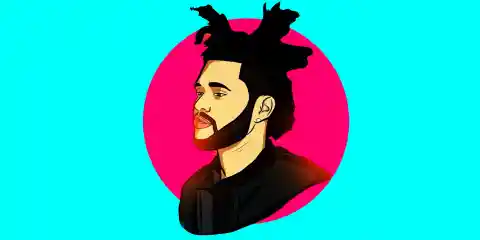 The Weeknd has quickly become a household name over the course of the past few years. Though a lot of Abel Makkonen Tesfaye's life has been placed beneath the public eye, there are still some facts about this secretive singer that many people do not know. Here PPcorn presents a list of 15 facts you probably didn't know about The Weeknd.
Number Fifteen: He Used to Cover Boyz II Men Songs
Though it might sound funny now, it's true! In an interview, he said, "I got a microphone and a sh-tty computer and started recording these corny songs with my friends, Boyz II Men covers and sh-t."
Number Fourteen: He Is Inspired by Some Incredibly Musicians
He has said that he is most inspired by Michael Jackson, R. Kelly and Prince. This becomes clear if you listen to his album. All three of their influences can be heard.
Number Thirteen: He Is Also Inspired by Kanye
According to The Weeknd, Kanye has been hugely influential on him as well. He said, "[Kanye] definitely helped craft who I've been, subconsciously, for the past few years. To actually be with him and talk to him and work with him, it's just like coming to life."
Number Twelve: He Is Featured in Lana Del Rey's Music
The Weeknd and Lana Del Rey have been friends for a long time, and he has admitted that they have both inspired each other. In an interview, he said, "She is the girl in my music, and I am the guy in her music." Whatever that means.
Number Eleven: He Likes Ethiopian Music
The Weeknd grew up being inspired by Ethiopian artists like Aster Aweke and Mulatu Astatke. His family would play the music around him.
Number Ten: He Is Multi-Lingual
It's true. Just like The Weeknd enjoys Ethiopian music, he can also speak and understand Amharic, the language spoken in Ethiopia.
Number Nine: He Loves The Joker
According to him, the Joker is his favorite villain of all time. He likes the Joker because, "…You don't know his past, you just know what his plans are."
Number Eight: His Hair Has a Meaning
The artist has said that his hair was inspired by artist Jean-Michel Basquiat. He has been growing it out for over four years, and he only shampoos it occasionally.
Number Seven: The Weeknd Is a Total Ladykiller
Since last spring, The Weeknd has been romantically linked to model Bella Hadid. Considering that his music is widely considered to be some of the best bedroom music currently available, his relationship with Hadid has been surprisingly mellow.
Number Six: He Considers Drake Family
According to an interview he did, The Weeknd and Drake are very close. Drake has even said, "We're definitely a family," when talking about The Weeknd. He went on to say, "It's a Toronto thing."
Number Five: He Screwed Over His Producer
Well, this depends on who you ask. Jeremy Rose did an interview with Vice that implies he produced the first three of The Weeknd's tracks but did not receive credit. Rose and The Weeknd parted ways after Abel reportedly did not let Rose have any creative input.
Number Four: He's Not Afraid of Genre-Bending
It's True. The Weeknd began as a small production, but he's no longer afraid of "selling out."
Number Three: He Looks Up to Michael Jackson
The Weeknd has been compared to Michael Jackson, and he even covered one of his songs – "Dirty Diana." He also relates in another way. Jackson's song "We Are the World" was written for Ethiopia, and The Weeknd has a lot of connections to that.
Number Two: He Started Smoking Weed When He Was Young
The Weeknd first smoked weed when he was just 11 years old. Many people speculate that the "XO" associated with the "XO Crew" stands for ecstasy and oxycontin.
Number One: He Lives in a Haunted House
The house that The Weeknd rents in the Hollywood Hills is reportedly haunted, and he has said, "I've had sleep paralysis. I hear voices sometimes. I heard the Hills are over Indian burial ground. But maybe it's the wind."