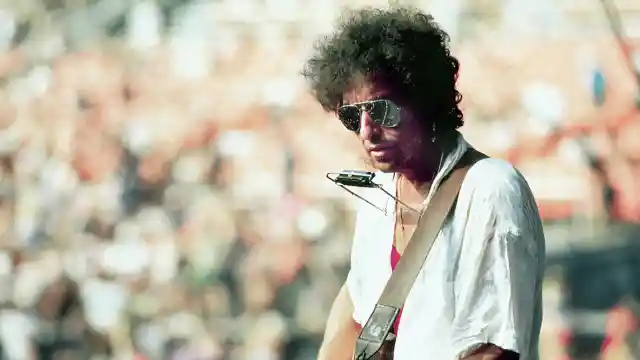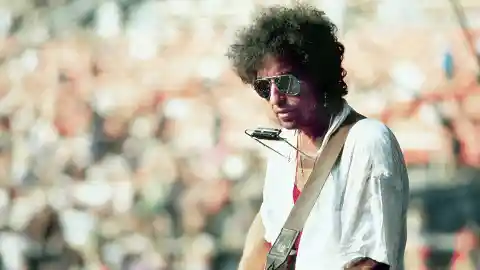 Songwriters are often overlooked. Case in point, Dolly Parton wrote and sang "I Will Always Love You" decades before Whitney Houston got a hold of it. Songwriters may not get all the glory, but if you write a good one, and it gets picked by the right artist, royalties can be abundant. What constitutes a good song is the ability to evoke a universal response and connect with listeners.
Number Ten: Tom Waits. He might have a raspy voice, but his ability to penn a tune is undeniably genius. Tom Waits has written a book full of great songs, but he really hasn't gotten the credit he deserves. Waits has been covered by Nico Case ("Christmas Card From a Hooker in Minneapolis"), Johnny Cash ("Redemption Song"), Diana Krall ("Temptation"), and of course, the Eagles covered 'Ol 55 for their On the Boarder release.
Waits has the uncanny ability to write songs which everyone can relate to and deliver them with pure and unbridled emotion. Some of his stand outs are, "The Heart of Saturday Night," "Heart Attack and Vine," $29.00″ and "Jersey Girl," which was cover by Bruce Springsteen. It's no wonder that he was inducted into the Rock and Roll Hall of Fame in 2011; what is surprising is the Songwriters Hałl of Fame has eluded him.
Number Nine: Lyle Lovett. Love him or hate hIm, there is no questioning that Lyle Lovett can write a song like nobody's business, with a catalog dating back to the mid 80s. Although his first record went unnoticed, it housed some incredible tunes including, "Cowboy Man" and "You Can't Resist it." He showed us early on his versatility with a swing number, "An Acceptable Level of Ecstasy (the Wedding Song)." This would continue on his next release Pontiac with the track "She's No Lady." By the time he got to Lyle Lovett and His Large Band, he was comfortable enough to split the record down the middle – half blues and jazz and half country. The disc earned him a Grammy, and he has pretty much stuck to the format ever since.
Number Eight: Paul Simon. Paul Simon has been writing songs for nearly five decades and has an incredible body of work to show for it. As a part of the duo Simon & Garfunkel, they gave us such classics as, "Bridge Over Troubled Water," "The Sound of Silence," and "The Boxer." The two singer-songwriters were commissioned to write the soundtrack for the groundbreaking film, The Graduate, which further propelled them into superstardom with the track "Mrs. Robinson."
When Simon emerged as a solo act, it seemed like he could do no wrong as the hits were churned out like a conveyer belt. Now free to record without restraints, he flirted with reggae on "Mother and Child Reunion," and showed us his gospel side on "Loves Me Like a Rock." Possibly the largest leap of faith by any artists, Simon released Graceland in 1986. The disc had many layers including zydeco, mbaqanga mixed with pop and rock. Besides the title track, the album would produce two more hits, "Diamonds on the Souls of Her Shoes" and "You Can Call Me Al." He has won twelve Grammys and has been inducted into the Rock and Roll Hall of Fame.
Number Seven: Willie Nelson. When it comes to great song-writing, one may look no further than Willie Nelson. His ability to turn a phrase is second to none. However, before the spotlight was bestowed upon him, he wrote songs to make ends meet. Possibly one of Nelson's most enduring songs is "Crazy," which became a hit for the late Patsy Cline. While he found success writing for other people somewhat satisfying, he wanted to record his songs as a solo artist. He would achieve it with such songs as "Angel Flying to Close to the Ground," "Bloody Mary Morning," "Yesterday's Wine" and "Good Hearted Woman."
As far as covers go, Nelson has loaned out his songs to the biggest and brightest stars including, Elvis, Wanda Jackson, Al Green, Bryan Ferry, George Jones and B.B. King ("Funny How Time Slips Away"). Willie has won more awards than one can count, but one of the most prestigious was his 1973 induction into the Nashville Songwriters Hałl of Fame.
Number Six: Bernie Taupin. Bernie Taupin gained notoriety as Elton John's right-hand man and was the first writer to make an album cover (inside Goodbye Yellow Brick Road). He and John have collaborated on over 30 albums together. Taupin's songs for Sir Elton are more than this article can hold, but from "Your Song" to "I Guess That's Why They Call it the Blues" will give you some idea of how many songs Taupin wrote for him. The genius behind the success of Taupin is his ability to tell a story within the confines of a three-minute song. In fact, he has been quoted as saying, "lyricist? It's a strange word. I like to be thought of as a story teller."
Number Five: Leonard Cohen. If you are just discovering or have never heard of Leonard Cohen, read this. The poet, author and songwriter has been called only second to Dylan – although Dylan would disagree. There is definitely a coolness that wraps around Cohen. With his signature fedora, he takes you on a ride inside his mind which can be very dark. His first recording, Songs of Leonard Cohen, came out in 1967. With a folk vibe, three songs made it onto the Robert Altman film, McCabe and Mrs. Miller, and an additional three tracks were used on two German films, Beware of a Holy Whore and Fata Morgana. The recording itself faired well, reaching number 13 on the UK charts, but remained a cult classic in the US.
Cohen's second outing, Songs From a Room, was produced by David Crosby and featured Jennifer Warnes as well as Charlie Daniels. The track, "Bird on a Wire," has been covered by Willie Nelson, Johnny Cash, and the Neville Brothers. "Story of Isaac" would later be covered by Judy Collins and Suzanne Vega. Subsequent albums received similar success. Death of a Ladies' Man would find Cohen even more fame as he allowed Phil Spector to get involved.
Cohen's voice was to be surrounded by Spector's infamous Wall of Sound and long-time admirers Bob Dylan and Allen Ginsberg provided background vocals on "Don't Go Home With Your Hard-On." Leonard Cohen has released 13 studio albums, and he can't seem to buy a bad review. His latest Popular Problems is again surrounded by critical praise. Now, 80 years old, Cohen is still at cult status, and he wouldn't have it any other way.
Number Four: Jackson Browne. Jackson Browne has weaved his way into the fabric of American culture. His songs evoke memories and feel like an old friend. The one-time Nitty Gritty Dirt Band member has written some of the most timeless songs. The Dirt Band would record a bevy of his songs including "These Days" and "Holding." At only 18 years old, he was signed by Elektra records as a staff writer. He worked with his soon-to-be romantic partner, Nico, from the Velvet Underground on her debut Chelsea Girl, which included the track "These Days." He would get a lot of mileage out of "These Days" as it would be recorded by Gregg Allman, Joan Baez, the Eagles, Linda Ronstadt, the Byrds and Tom Rush.
He took over as frontman with his own band and released Jackson Browne on Geffen Records. The album housed his first hits "Doctor My Eyes" and "Rock Me on the Water." From there on out, Browne could do no wrong as his second album, For Everyman, contained the track "Take it Easy." The song was co-written by Glenn Frye who would later record it with the Eagles.
Browne has written so many great songs that it would be impossible to fit them into this article, but here are a few: "The Pretender," "Here Comes Those Tears Again," "Running on Empty" and "That Girl Could Sing." With a body of work spanning over five decades, Jackson Browne has reached icon status, but still remains humble.
Number Three: John Lennon/Paul McCartney. I know what you're thinking, "Lennon/McCartney aren't number one?" Believe me, I almost did cave in, but I had to be true to myself. I'm a diehard Beatles fan, but if the truth be told, McCartney and Lennon deserve their own spots on any top ten list as they didn't collaborate that much after A Hard Day's Night. As they got into Beatles for Sale, Lennon was writing more introspective lyrics in the style of Dylan with songs such as "I'm a Loser," "No Reply," and "Baby's in Black."
McCartney was showing signs of growth, too, on "Yesterday," "I've Just Seen a Face" and "Michelle." However, McCartney's contributions were more rooted in pop music. By the time the band got to Rubber Soul, they were clearly on separate pages. Again, Lennon offered up "In My Life" and "Norwegian Wood," while McCartney offered up poppy numbers such as "Drive My Car" and "You Won't See Me." The creative gap furthered on Revolver as Lennon penned trippy LSD numbers like "She Said, She Said" and "Tomorrow Never Knows." McCartney offered up some more pop-oriented songs such as "Good Day Sunshine" and "Got to Get You Into My Life."
Sgt. Peppers was the brainchild of McCartney, and it showed, as Lennon only contributed four tracks. After the psychedelic period, they were clearly writing their own material. The White Album showed us many sides of the band, including Harrison. Lennon's contributions were mostly written in India, and tracks such as "Dear Prudence," "Julia," "Happiness Is a Warm Gun" and "Revolution," didn't have any of McCartney's DNA on them. And vice-versa, "Back in the USSR," " Martha, My Dear" and "Blackbird" didn't have any Lennon influence on them. You can say what you will about Let it Be and Abbey Road, but clearly these songs were not a group effort.
Number Two: Carole King. Carole King has quite the resume, beginning with penning the classic, "Will You Love Me Tomorrow," which was a hit for the Shirelles in 1960. From there, she churned out such classics as "Up On The Roof," "Chains," "(You Make Me Feel Like a) Natural Woman," "Loco-Motion," "Take Good Care of My Baby" and "Pleasant Valley Sunday."
King then befriended James Taylor and Joni Mitchell and started her collaborations. Her first solo effort came by way of Writer, which included the hit for the Drifters, "Up On the Roof," and while it faired well, it would take her next effort to make her a household name. Tapestry was released in 1970 and was immediately embraced by the critics and the buying public as it was the heyday of the singer-songwriter boom.
For the album, she reworked "Will You Love Me Tomorrow" and "(You Make Me Feel Like a) Natural Woman." The originals, "It's Too Late" and "You've Got a Friend," which was a hit for James Taylor as well, catapulted King into superstardom as she took home four Grammy awards. It occupied the number one spot for 15 weeks and remained on the charts just shy of six years. Sales for the album are over 25 million.
She would continue her reign through the '70s and would go on to win over new fans through the 1980s and 1990s. In '95, Tapestry Revisited: A Tribute to Carole King was released. The disc gave us such artists as Rod Stewart, Faith Hill, the Bee Gees, Aretha Franklin and Celine Dion paying homage to the classic album. To date, she has had 118 hits on Billboard, won a bevy of awards including four Grammys. She has been inducted into both the Songwriters and the Rock and Roll Hall of Fame.
Number One: Bob Dylan. Bobby Zimmerman changed the world with his music even if he won't admit it. Dylan arrived on the scene at the right time. The world was in chaos with Civil Rights, assassinations and Vietnam. Bob Dylan's music had the ability to ease souls and spur on movements. Even though he didn't have a great singing voice, he influenced everyone from Hendrix to Lennon and beyond.
Although his early years weren't lucrative, he made a name for himself by playing clubs in New York's Greenwich Village. It was by sheer luck that he met John Hammond who signed the singer to a five-year contract with Columbia Records. While his first record didn't yield any "hits," it did create a buzz. His second release, The Freewheelin' Bob Dylan featured such classics as "A Hard Rain's a Gonna Fall," "Don't Think Twice, It's Alright," and "Blowin' in the Wind." By his third release, he was already a star, but The Times They Are a Changin' would make the the young start a household name.
In '65, Dylan reinvented himself into a rock star by going electric. By enlisting the group, The Band, he recorded "Like a Rolling Stone." Long time supporters didn't like the direction Dylan was taking, and this became apparent at the Newport Folk Festival where he got booed by many fans. Unaffected by the crowd's response, Dylan went on a world tour where he got similar reactions. Dylan ended the decade with a folk/country album entitled Nashville Skyline, which housed the track "Lay Lady Lay." The '70s and beyond saw many incarnations of Bob Dylan as he continued to influence other artists.