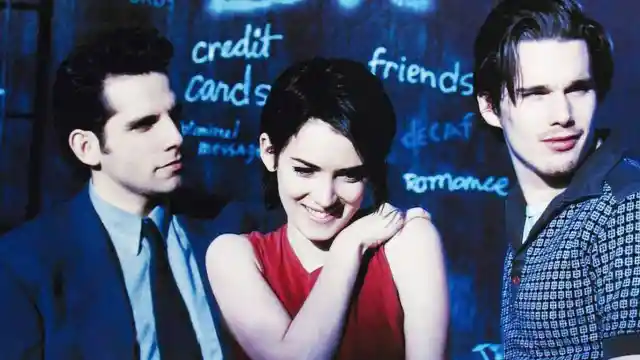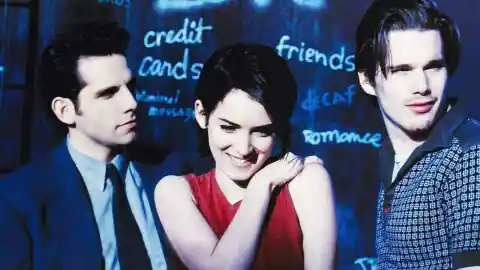 Movie soundtracks are goldmines for musical gems you probably wouldn't have found anywhere else, if it wasn't for the movie itself. But even if you missed the flicks, the music is still waiting to be discovered. Here is a list of ten underrated soundtracks from an underrated decade: the 1990s.
Number Ten: Cruel Intentions (1999). Cruel Intentions was a movie about teens, but it had more maturity, class and a bigger vocabulary- not to mention a soundtrack of substance. Besides the 90s hits "Bittersweet Symphony" by The Verve and "Praise You" by Fatboy Slim, listeners will be pleased with the droll "Coffee & TV" by Blur and the dismal "Ordinary Life" by Kristen Barry. Aimee Mann's "You Could Make a Killing" could arguably be the best this soundtrack has to offer- especially when she purrs, "There's nothing that competes with habit."
Counting Crows fans will note the addition of their beautiful, piano-laden track, "Colorblind," which will take you straight back to the love scene in the movie. "Comin' Up From Behind" by Marcy Playground will also leave you questioning whether these boys deserve more than their one-hit-wonder fame from "Sex & Candy." Skunk Anansie's "Secretly," which plays at the conclusion of the movie, is a sultry masterpiece with lyrics that brilliantly describe all those desirous encounters we've had with people we knew were bad for us.
Number Nine: Cant Hardly Wait (1998). Despite being a party movie, the soundtrack to Can't Hardly Wait is a diverse breath of fresh air, bringing together hits from artists of every genre, while putting some underrated songs on the map as well. Where else could you find classics like "Dammit" by Blink 182, "Paradise City" by Guns N' Roses and "It's Tricky" by Run DMC?
"Graduate (Remix)" by Third Eye Blind will get you amped up, and like the band itself, deserves more exposure (despite how many times we can listen to "Semi-Charmed Life" without getting sick of it). In addition, "Can't Hardly Wait" by the Replacements shows that this soundtrack isn't just for teeny boppers, and "ashtray floors, dirty clothes and filthy jokes" can surely apply to every generation.
Hip-hop and R&B fans get their fair share of songs as well, from "Turn It Up/Fire It Up" by Busta Rhymes and "Swing my Way (Remix)" by KP & Envyi, to "Hit 'Em Wit Da Hee" by Missy Elliot and the funky jam "I Walked In" by Brougham. Check out "High" by Feeder and "Umbrella" by Dog's Eye View for a mellow dose of melody.
Number Eight: Clueless (1995). If Clueless were made in the present day, surely its soundtrack would be muddled in with that of Legally Blonde or Mean Girls. Luckily it was made in the 90s, where alternative, hip-hop and indie-girl rock just simply meshed well together.
Here you will find tracks from Coolio, the Beastie Boys and Jill Sobule; the latter whose song "Supermodel" is featured in the scene where Alicia Silverstone gives Brittany Murphy a makeover. The soundtrack also features some excellent covers, such as World Party's "All the Young Dudes," The Muff's "Kids in America" and Cracker's "Shake Some Action."
Highlights for the more introspective listener can be found in slow, acoustic tracks like "Ghost in You" by the Counting Crows (a Psychedelic Furs cover) and Radiohead's bitter-sweetly crafted "Fake Plastic Trees." Still, even more 90s groovy charm can be found in songs by Supergrass, Lightning Seeds, and The Mighty Mighty Bosstones (who made an appearance in the film). The only disappointment? General Public's "Tenderness" was not included. But this soundtrack still deserves to make the cut.
Number Seven: Empire Records (1995). As this movie took place in a record store, Empire Records definitely could have gotten away with two, even three soundtracks. Unfortunately, we only got one; however the songs are nothing short of spectacular, bringing to the forefront great tracks from recognizable artists and unheard gems that never made it past the decade of flannel and Walkmans.
The soundtrack opens up strong with "Til' I Hear it From You" by the Gin Blossoms, "Liar" by The Cranberries and "A Girl Like You" by Edwyn Collins. Songs you'll easily recognize from the movie are the somber but lyrically brilliant "Free" by the Martinis and easily the movie's theme song, "Sugarhigh" by Coyote Shivers (although this version doesn't include Gina singing). Toad the Wet Sprocket, Better Than Ezra and Cracker add some interesting tracks to the soundtrack, while the vocals in "Bright as Yellow" by the Innocence Mission will surely remind you of Mazzy Star's Hope Sandoval. The best track on this soundtrack goes to former Lemonheads' front-man Evan Dando, for his soft-spoken serenade of hope, "The Ballad of El' Goodo" (a Big Star cover).
Number Six: Singles (1992). This soundtrack is a little-known wonder. Featuring an overflowing amount of rock from legends like Pearl Jam, Alice in Chains, Soundgarden and the Smashing Pumpkins, who would argue? The soundtrack opens up with the hit "Would?" from Alice in Chains, followed by Pearl Jam's "Breath" and "Seasons" by a solo Chris Cornell. The Replacement's Paul Westerberg contributes two tracks: "Dyslexic Heart" and "Waiting for Somebody."
"Drown" by the Smashing Pumpkins and "Nearly Lost You" by the Screaming Trees are stand-out songs that demonstrate the pain of relationships, while The Lovemongers contribute an interesting take on Led Zeppelin's "Battle of Evermore." The best song on this compilation belongs to the underrated Mother Love Bone, whose timeless ballad "Chloe Dancer/ Crown of Thorns" should be preserved by anyone who respects rock 'n' roll. Singles may not have been Cameron Crowe's best work, but he sure nailed down the grunge scene of the early 90s.
Number Five: Great Expectations (1998). Again, another soundtrack that brings together artists and genres never crossed before. Where else could you find tunes by the Grateful Dead, The Verve Pipe and Iggy Pop nestled together? While the movie may have lacked expectations, the soundtrack delivered completely in the way of transporting us to another world.
The delicate and other-worldly "Life in Mono" by Mono evokes in us a sense of weightlessness despite being surrounded by chaos. The unexpectedly jazzy, "Lady, Your Roof Brings Me Down," by former Stone Temple Pilots front-man Scott Weiland, makes us feel like we fell down the rabbit hole.
Tori Amos fans will love her addition of the powerfully charged track "Siren," arguably the soundtrack's greatest song and one of Tori's best as well. One should get chills when she sings, "Reach high, doesn't mean she's holy/Just means she's got a cellular handy." Chris Cornell also delivers one of his best solo tracks, in the beautiful and poetic "Sunshower." Overall this soundtrack is nothing short of being a unique work of art. It takes you from one atmosphere to the next, while never lacking quality.
Number Four: The Jackal (1997). This is one soundtrack that may have slipped under the radar. Even if you've seen the movie, most likely you were too concerned with maniacal Bruce Willis to pay attention to the music in the background. Nonetheless, this soundtrack is pulsating with energy, bringing to the forefront sounds of electronica never heard before.
The soundtrack features songs by Prodigy, Moby and Lunatic Calm, while introducing Dolls Head, Black Grape and Apollo Four Forty. A remix of Bush's "Swallowed" and Ani DiFranco's "Joyful Girl" are unique additions, while Massive Attack's mix of "Superpredators" is noteworthy. If anything, check out this soundtrack for track #1: Fatboy Slim's "Going Out of My Head," which features a sample from The Who's "I Can't Explain." Imagine a violent but bizarre video game or a rave where lots of drug-induced moshing goes on, and you've got The Jackal soundtrack.
Number Three: Lost Highway (1997). Who would've thought this twisted work of art by David Lynch would introduce an equally spellbinding soundtrack? This CD features multiple tracks by heavy-hitters like Nine Inch Nails, Rammstein and Marilyn Manson. Nine Inch Nails front-man Trent Reznor also contributes two songs.
Lou Reed's cover of "This Magic Moment" may even be better than the original; perhaps because we're picturing Lou Reed, cigarette in hand, straight-forwardly yet nonchalantly telling his beloved the way it is (verses trying to woo her). The Smashing Pumpkin's "Eye" is an orgy for the ears (appropriate for a Lynch film,) while "I'm Deranged" by David Bowie, which is heard in the film's beginning, quite literally spells out one's loss of control and eventual destruction. Marilyn Manson fans will love his take on "I Put a Spell on You," while the intense Nine Inch Nails song "The Perfect Drug" is just one of the many reasons why this soundtrack is disturbingly fitting for this film.
Number Two: William Shakespeare's Romeo & Juliet (1996). The visual context of this movie may have distracted viewers from the diverse array of music the film featured. Everyone remembers the quirky hit "Lovefool" by The Cardigans. "#1 Crush" by Garbage and "Local God" by Everclear are two songs from notable bands of the 90s that may not have received much exposure but definitely should have.
"Young Hearts Run Free" by Kym Mazelle and "Angel" by Gavin Friday contribute to the soundtrack the theatrical elements found in the movie, while Mundy's "To You I Bestow" and The Wannadies "You and Me Song" are great additions that mirror the characters' actions. The one song on the soundtrack that audiences may remember from the film is Radiohead's "Talk Show Host;" a fantastically spectral song that has become a popular live staple of the band.
My favorite track goes to Des'ree's "Kissing You (Love Theme from Romeo & Juliet). You might remember Des'ree for her hit "You Gotta Be," which for many became annoyingly positive after awhile; but "Kissing You" proves this R&B artist is more than just a one hit wonder.
Number One: Reality Bites (1994). You may wonder why this soundtrack is on the list, as the film is now a cult classic. But one must remember that we're not focusing on the movie's impact, but the legacy the music from the movie left behind.
The soundtrack opens up with the hit "My Sharona" by The Knack (who can forget that scene in the movie when they're all high in the convenience store?), followed by hits like "Stay (I Miss You)" by Lisa Loeb and "Tempted" by Squeeze. Here you will also find the romantic "All I Want is You" by U2 and the upbeat cover of Peter Frampton's "Baby I Love Your Way," by Big Mountain.
Lenny Kravitz's "Spinning Around Over You" is an unknown gem from the artist, while Dinosaur Jr.'s "Turnip Farm" is just one of the many tracks from this alternative band worth listening to. The most notable track on the album? The fun, lovely "Spin the Bottle" by the Juliana Hatfield Three. This song's appeal lies in its theme of innocence-on-the-brink-of-extinction, all the while featuring the vocals of a 90s angel queen.