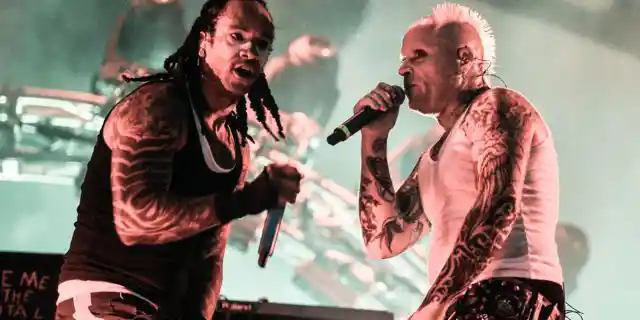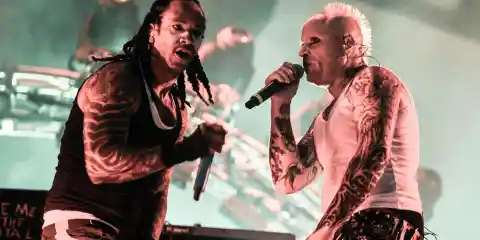 The Prodigy have had one of the most enduring popular careers in electronic music history. As you'll see from the second half of this list, despite some critical setback, they have continued to create crowd-pleasing music for decades and they show no signs of stopping now. Read on for the second half of the list…
Number Eight: They Have Performed With Some Big Names. They have played live with some of the biggest names in electronic and rock history. Some of the notable producers and bands include Chemical Brothers, Moby, David Bowie, Rage Against The Machine, Sepultura, Dog Eat Dog, Suede and DJ Paul Oakenfold.
Number Seven: They Have Very Different Approaches to Preparing for a Show. Hair and makeup differ for each band member. Liam needs about two minutes, Keith takes about three. Whereas Maxim requires a good hour and a half.
Number Six: Liam Howlett Was in a Hip Hop Band. They were called Cut 2 Kill and had some moderate success in the UK – nothing like the success of The Prodigy, though.
Number Five: Their First Single Didn't Do So Well. It was called the What Evil Lurks E.P. A hard copy is hard to find, since there are only 7,000 total copies of the record.
Number Four: They Are So Popular that Bands Have Attempted to Create Fake Records. Yeah, there are fake The Prodigy records out there. Part of the reason for this is the demand for new music in the long hiatuses they often take.
Number Three: They Make Most of their Music in a Home Studio. It's owned by Liam and it even has its own name: The Dirtchamber.
Number Two: The Hold the Record for Most Simultaneous Hit Singles. For a month in 1996, 10 of their songs were on the UK Top 100 at the same time: Charly, Everybody In The Place, Fire, Out Of Space, Wind It Up, One Love, No Good [Start The Dance], Voodoo People, Poison and, of course, Firestarter.
Number One: "The Fat of the Land" is the Fastest-Selling Dance Record of All Time. Another world record for The Prodigy. The 1997 album sold 317,000 copies in a week.