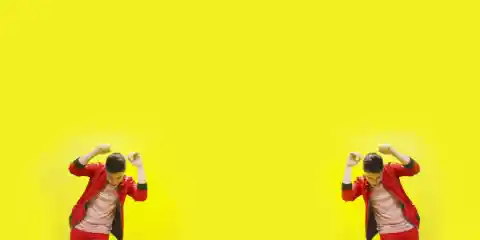 Fans of the immensely popular artist Sam Tsui were expecting a prank on his YouTube channel this April 1st, but instead were pleasantly surprised with a highly-stylized music video for his new single "Secret"! Earlier March, fans who texted "samtsui" to a number received a call back from him with details about the original track. Many have heard of Sam Tsui for his covers and mashups, but he has since left his comfort zone and began focusing on a career as an original artist. Taking the plunge has paid off big time! In his new single, Sam tells us that "love should be easy", and it's no secret that this music video is easy to love.
The video focuses on three diverse couples of different ages, ethnicities, and sexual orientations. They appear to correlate with different stages of relationship stability. We have two younger couples in their mid twenties or early thirties: One is in the midst of an argument, embodying a rocky and tenuous relationship; the other appears to be packing up for a new home, ready to start a new chapter of their lives together. The third aging couple is in a comfortable stage of lifelong friendship, as evidenced by their reminiscence over photo albums. These depictions are of couples who are finding or have already found the "secret" to maintaining a loving relationship.
Sam boldly portrays all-inclusive subjects in his music video. While the interracial couple and homosexual couple may draw the ire of some viewers, I think this decision is a deliberate one which emphasizes the song's focus on all kinds of relationships. It's not so much as a political commentary of the types of people in them. That in itself encompasses the trending views of Los Angeles millennials in a very Sam Tsui-like style. I'm not saying that this is the reigning view of all Angelinos, but the city is one of the few places in the world that supports self-expression to the extent that people wouldn't blink twice at someone "different" walking down the street.

Visually, the music video successfully enhances the message and mood of the song
Each shot employs heavy use of color blocking with brightly saturated color. Since the couples wearing single-colored outfits pop against the background set, the viewer attends to every actor's action and visual cues such as props. With this minimalist reduction, a story unfolds without any use of dialogue. Shots of Tsui and the band rocking out on stage evoke a very 1950s and 70s rock-disco-pop feel, but their clothes are provide a modern connection to his audience. Furthermore, Sam's energetic dance moves parallel the groovy sound of the track.
Musically, the groovy song has a Michael Jackson-esque pop style that really works. It matches Sam Tsui's voice and produces an uplifting, feel-good sound that is enjoyable to listen to on its own. The parts in which Sam wholeheartedly belts out high notes attest to his vocal talent. Boasting about "the fairytale kind of love you hear about," Sam's sugary sweet lyrics are not too inventive or deep. But I think that comes with the constraint of the pop style and form for this song. To be relatable to everyone, it must be more generic. "Everybody wants to know the secret / How do we keep it so good? / Got something special, you and me, babe, " he croons.
Despite the cliches, "Secret" finds fresh appeal with its celebration of the purest, simplest love in all shapes and sizes. Can anyone say #RelationshipGoals? With this new release, we are excited for more original music from Sam Tsui. Want to know more about the singer and his presence in the music sphere? Check out "15 Things You Didn't Know about Sam Tsui".