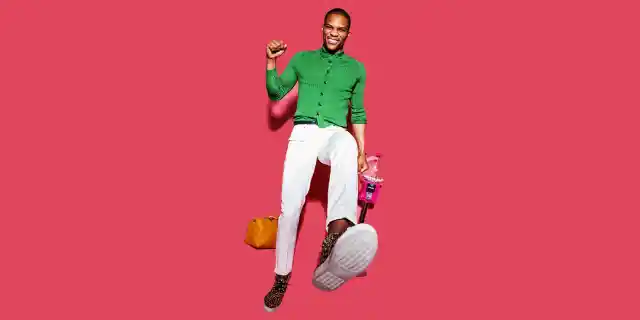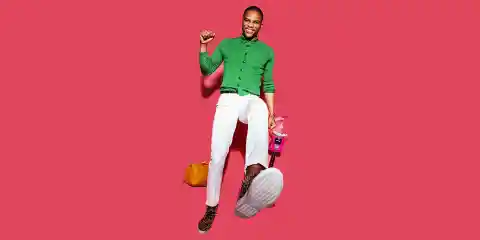 Welcome to part two of our list of 15 things you didn't know about Russell Westbrook. He may play with ferocity out on the basketball court for the Oklahoma City Thunder, but as part two will demonstrate, Russell has a quiet side, too. Find out more about the star point guard below.
Number Eight: Russell Westbrook is an Underwear Model
Soon after joining the NBA, Russell signed with the Kings & Jax boxer-brief company. He has appeared in numerous ads for them over the years.
Number Seven: Catfish is His Favorite Dinner
Catfish is a pretty southern choice for a west-coast guy. He has also said that his favorite breakfast is French Toast.
Number Six: He Has His Own Eyewear Company
Russ launched Westbrook Frames in 2014. The company sells both sunglasses and regular glasses, all of which are named after different cities or neighborhoods in Los Angeles – with a few exceptions that have New York names.
Number Five: His Wife Played Basketball As Well
Her name is Nina Earl and they met at UCLA, where they both played ball. Love & Basketball, anyone?
Number Four: His Parents Were Working-Class People in Los Angeles
His father worked at a bread factory and his mother worked in a school cafeteria. But they always supported him in his dream of playing professional basketball.
Number Three: He's Ambidextrous
Like some of the NBA greats – LeBron comes to mind – Russell is good with both hands. He writes and eats with his left hand but shoots with his right.
Number Two: He Has Some Very Specific Pre-Game Rituals
He has to take an hour nap – any more and he gets sluggish. He also eats a peanut butter and jelly sandwich – Skippy peanut butter, strawberry jelly.
Number One: Russell Westbrook is Motivated by the Music of Taylor Swift
He says it gets him pumped up – not that he ever seems to need any help with that. He explains that her music is just so catchy he can't help but listen to it. The world agrees with you, Russ. That's all the Russell Westbrook info we have for you. Thanks for reading!