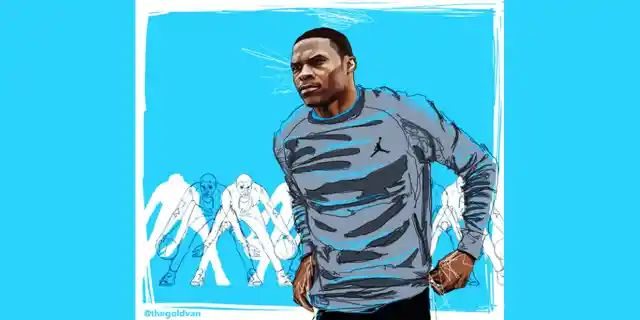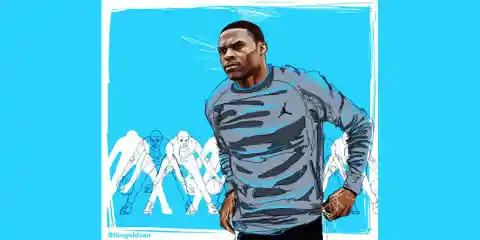 Russell Westbrook very well may be the most explosive player currently playing in the NBA. He's diminutive, but he has incredible quickness and an incomparable jumping ability. The fact that he's a point guard only adds to the impressiveness. Here is our list of 15 things you didn't know about the player – part one.
Number Fifteen: Russell Westbrook Was the Very Last Draft Pick of the Seattle Supersonics
For now, anyway. There is always hope in Seattle that the franchise will return, but as of now, Westbrook is the last player to be drafted by the franchise which has relocated to Oklahoma City and became the Thunder.
Number Fourteen: His Favorite Player Growing Up Was Magic Johnson
Not a bad pick, since Johnson is one of the best players to play the point of all time. But they've very different – Westbrook is maybe the most athletic guy in the league, and Magic was a lackluster jumper.
Number Thirteen: His Go-To Workout in College Was Running Over Sand Dunes
Anyone who's had a long walk to a beach knows how exhausting this can be. He used this exercise to get in shape with his brother while at UCLA.
Number Twelve: He Continued Going to School After Being Drafted
Westbrook left UCLA for the NBA before he got his degree. But he has since gone back during the offseasons to complete his education.
Number Eleven: Like Many NBA Stars, He Had a Growth Spurt in High School
He entered into high school at just 5'8". But similar to fellow point guard Chris Paul, Russell grew significantly and his dream of playing in the NBA became a reality by the time he graduated.
Number Ten: He Couldn't Dunk Until He Was 17 Years Old
When you watch him play, it seems effortless for him to leap to absurd heights. It's hard to imagine that he wasn't born with this ability, however – he didn't dunk until his senior year of high school, after significant weight training to improve his vertical.
Number Nine: He Recorded the Second Fastest Triple-Double in NBA History
He's known for his ability to rack up points, boards, and assists simultaneously. But you might not have known that he has the second fastest triple-double ever: he achieved this feat in only 20 minutes in 2014. That's all the Russell Westbrook we have for now but check back soon for part two.