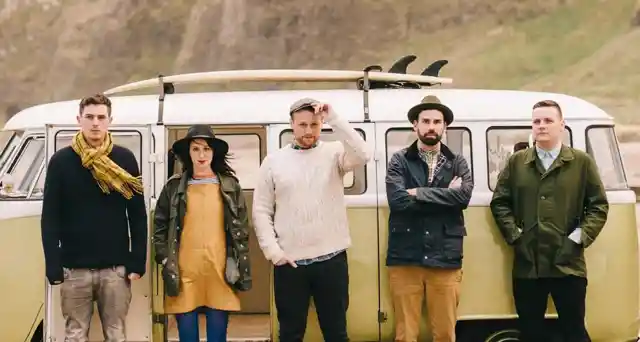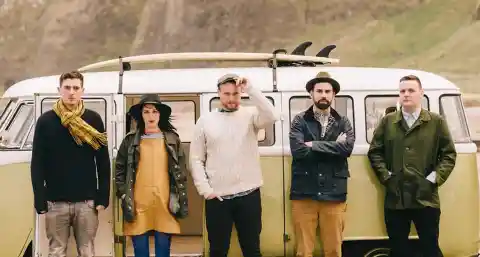 In a market full of worship music, Rend Collective continually steps out on a limb with their folk style take on classic and original songs. In their latest album As Family We Go dropping August 21, we are again given a plethora of songs styled for corporate worship or a feel-good soundtrack to your day.
Opening with "Celebrate," we are given clear direction on where the album is headed, as the Irish band pull together a guitar driven tune that is literally styled for celebration. Filled with clapping, brass, and an energy we all crave on Monday mornings, it is a refreshing and well-executed opener.
"Free As A Bird" continues in this tone, and we are taken to the Irish highlands with the banjo. Another song purely about worshipping God, it is filled with dynamics and builds in depth as the song continues, adding instruments and vocals as they sing, "Let our praise ring wild and free, your lion heart is alive in me." The finger picking is particularly a highlight.
The pure a Capella opening of "You Will Never Run," is a treasure for lovers of harmony. Again bridging the gap between classic and contemporary hymns, the personification of love in the lyrics shows just how creative this band is. We get our first glimpse of synth in this track, but it is used sparingly, giving the instrumentation the attention it deserves.
Acoustic guitar opens "Every Giant Will Fall," and we are ushered into an anthemic song that drives home the promise, "Nothing is impossible for you." Filled with courage, there is a sense of purpose in every facet of this song, which makes it all the more powerful. "One and Only" follows, and brings the pace down to a more reflective atmosphere, before it builds with electro beats at the end. The vocals command the song and really drive home the significance of the message.
"Joy of the Lord" is rich in percussion and has a powerhouse chorus, making scripture relevant and accessible in its lyrics. Emotive and powerful, "Never Walk Alone" initially builds before completely stripping down to vocals and simple backing. A heart felt song; the conviction and desperation in the lyrics match the depth of the music.
Following on with "Your Royal Blood," a moody bass line prompts a new take on the hymn "Nothing But The Blood." Very cool and quirky, this will have you grooving with its soulful interpretation. "Just A Glimpse," is evocative, and the notion that "just one glimpse of you," is enough cuts through the music with the command of the vocals.
The folksiness of "Coming Home," is beautiful, and banjo and well-placed harmonies allow it to paint a picture of what it looks like when we return to our first love. 'The Artist" rounds up the standard edition of the album, and it is a rock infused praise song made to be sung live.
Five bonus tracks are included in the deluxe edition of this album, and "Ireland's Call" opens them filled with the sounds of Ireland. Old school in its use of toms, drums and wind instruments, it is literally an anthem penned for a nation, as it speaks of various provinces.
The Neon Feather Remix of "You Will Never Run" provides us with a more electro-based version of the song. The chorus is particularly is a highlight as they bring in classic elements of the original with dance beats.
The Urban Rescue Remix of "One and Only" is synth filled and rich in intensity, before "Never Weigh Me Down" wraps up the last of the originals. Quintessentially Rend Collective in it's stripped back approach to worship, "Never Weigh Me Down" will move you and provide you with peace in the busyness of your day. Finishing up with the Ukulele Version of "Every Giant Will Fall," we are left with a taste of what makes Rend Collective so unique and appealing.
While the deluxe edition of As Family We Go is long at 16 tracks, there are no weak points. Each song provides you with a fresh, new take on worship music and what it truly means to live out the word of God. Musicians will love this album for it's attention to detail, and anyone looking for Christian music that sits just outside the box will adore this release because it sidesteps the synth infused sounds of the market, and instead relies on cutting edge vocals and musicianship.