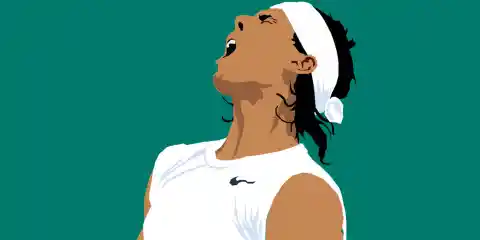 Rafael Nadal is one of the most talented tennis players in the history of the sport. The 29-year-old professional tennis player is known for both his skills and his personality on the court. However, despite the fact that Nadal has spent a considerable amount of time in the spotlight and under the scrutiny of the public eye, there are still some things that many people don't know. With that in mind, here we present our list of 15 things you probably didn't know about Rafael Nadal. Check out part one below, and stay tuned for part two, coming soon!
Number Fifteen: He Outlasted Bjorn Borg by More Than Two Years. Borg had been retired for three and a half years by the time he turned 29. However, Nadal is now 29 and is still going strong.
Number Fourteen: He Was in a Shakira Video. Nadal was featured in Shakira's music video for her 2009 song titled "Gypsy." He said that he thoroughly enjoyed working with her and that she was very nice to him.
Number Thirteen: He Is Afraid of Dogs. Nadal has mentioned that he is afraid of dogs and, specifically, he doubts their intentions. It's pretty amazing that one of the world's most famous and talented tennis players could be scared of something covered in fur.
Number Twelve: He Is Very Close With His Family. In fact, Nadal's uncle is also his coach, and he is very close with his parents. He is also very close with his sister, who he reportedly contacts at least 10 times every day.
Number Eleven: He Is an Angry Golfer. Nadal wrote in his autobiography that he is "decidedly unfriendly during a golf game, from the first hole to the last." He apparently barely speaks to the people he plays with and refuses to commend his opponents for any good shots they make.
Number Ten: He Celebrates His French Open Titles the Same Way Every Time. Nadal celebrates his French Open titles by laying down on the court. He does this every time he earns the title. The only time he didn't do this was in 2008 when he celebrated by simply raising his arms up.
Number Nine: He Always Bites His Trophies. Every single trophy Nadal has received since he began his professional career has come in contact with his teeth.