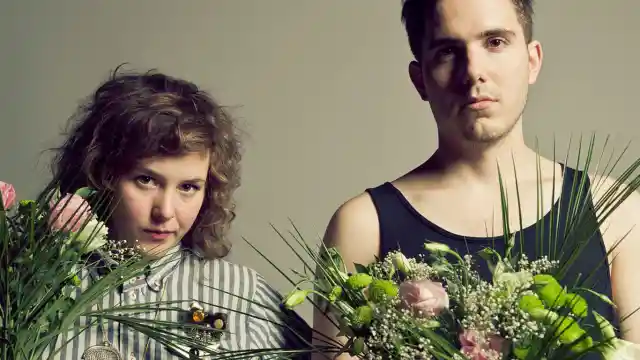 Purity Ring has added more dates to their worldwide tour in support of their sophomore album, Another Eternity. The project was released earlier this year, and it features the singles "Push Pull," "Begin Again," and "Bodyache." Another Eternity reached the top of the Dance/Electronic Albums chart. It also impacted the charts in the UK, Belgium, Canada, and Australia. The duo's debut project Shrines was dropped three years ago. It respectively peaked at Number 32 on the Billboard 200, and it also charted at Number 2 on the Dance/Electronic Albums, Number 3 on the Independent Albums, and Number 7 on the Top Tastemaker Albums chart. Five singles were dropped from the project including "Ungirthed," "Belispeak," "Obedear," "Fineshrine," and "Loftcries." Shrines was named to Sterogum's 2012 list of "Top 50 Albums."
The duo will perform in Las Vegas (NV) today at the Brooklyn Bowl. Their shows in June, July, and August include June 25th in Denver (CO); July 8th through the 19th in Ottawa (Ontario) at Royal Bank Ottawa Bluesfest; July 18th and 19th in Birmingham (AL) at the Sloss Music and Arts Festival; July 23rd and 24th in Melbourne (Australia); July 26thin Tenindewa (Australia) at the Splendour in the Grass; July 27th in Sydney (Australia); August 14th through the 16th in Somerset (WI) at the Somerset Music and Camping Festival; and August 22nd in Los Angeles (CA) at the FYF Fest.
Purity Ring's remaining dates include September 2nd in Tuscon (AZ); September 3rd in El Paso (TX); September 4th in Albuquerque (NM); September 5th in Austin (TX); September 7th in Memphis (TN); September 8th in Nashville (TN); September 10th in Tampa (FL); September 11th in Miami (FL); September 12th in Lake Buena Vista (FL);September 14th in Athens (GA); September 15th in Asheville (NC); September 16th in Raleigh (NC); September 18th in Sacramento (CA); September 20th in Richmond (VA); September 21st in Baltimore (MD); September 23rd in Clifton Park (NY); September 24th in Pittsburgh (PA); September 25th in Cincinnati (OH); September 26th in Champaign (IL); September 29th and the 30th in Boulder (CO); October 4th in Eugene (OR); and October 24th in Halifax (NS).