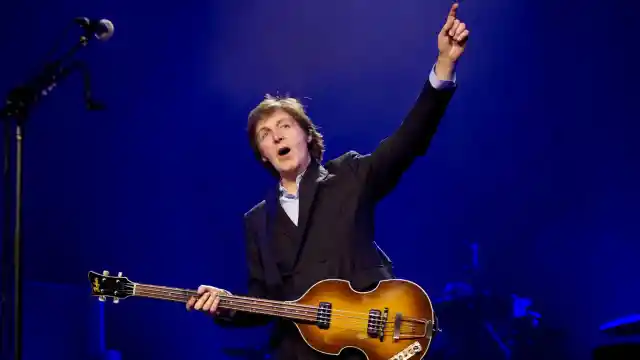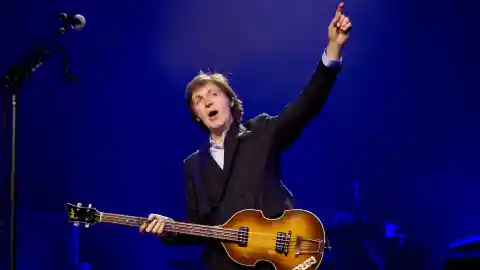 Paul McCartney delivered one of the most iconic performers at Firefly Music Festival. The crowd gathered early and was anticipating the show, as they watched a selection of McCartney's photographs projected on two large screens on the sides of the stage. His show was the last performance of the night, and McCartney's set began at approximately 10:00pm last night. With over 90,000 tickets sold at this year's festival, it's safe to say that the majority of the attendees on Friday witnessed McCartney's set. The rocker started the show with a guitar tribute to Jimmy Hendrix, using his Beatles' guitar from the 1960s. The show included songs dedicated to McCartney's wife Nancy Shevell and his late wife Linda McCartney. He also dedicated songs to his former bandmates, John Lennon ("Here Today") and George Harrison ("Something"), which McCartney played with an ukulele.
McCartney's set also included a few songs from his recent album and, of course, Beatles' classics. The legend performed "Ob-La-Di, Od-La-Da," "Band on the Run," and "Back in the U.S.S.R," which led McCartney to mention his infamous Red Square show in Moscow. The crowd sang along to "Hey Jude," and was surprised by an unexpected and impressive pyrotechnic show and fireworks during "Live and Let Die". The show overall included a number of light effects as well as a moving stage. The jewel of the performance was a happy fan who got an autograph from McCartney. The young woman was pulled out from the crowd after McCartney saw her holding a sign that read "I've got your face tattooed. Your signing is my dream!" The fan, overcome with emotion, hugged McCartney onstage and he signed his name on her right arm, which is where her McCartney face tattoo is located. McCartney closed his set with additional Beatles' classics, and the audience enjoyed every single minute of his legendary performance.
Firefly Music Festival in Dover, Delaware started on June 18th and the final day will on the 21st. Some of the artists on the lineup for today include Kid Cudi, Kings of Leon, Gary Clark Jr., The Chainsmokers, Dirty Heads, Steve Aiko, Foster the People, and Sublime with Rome. The lineup for the final day will include performances by The Killers, Empire of the Sun, Snoop Dogg, Hozier, Bastille, Cold War Kids, and Tove Lo.