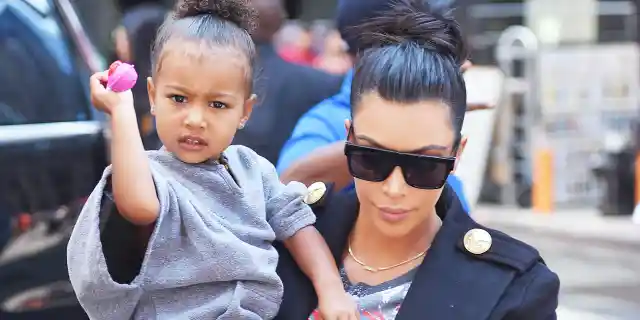 North West is arguably the most famous toddler in the world. With parents like Kim Kardashian and Kanye West, it comes as no surprise that everyone wants to know what this fashionable, little toddler is up to at all times. But here are 10 things you didn't know about the famous tot.
Number Ten: North West Was A Preemie
North West actually scared her parents at first due to the fact that she was born several weeks early. The adorable little preemie just couldn't wait to get out and start modeling her best couture looks. Like mother, like daughter.
Number Nine: The World First Saw Her Face On Grandma's Talk Show, Kris
Father, Kanye West, decided to unveil the first glimpse of his baby girl on North's grandmother's talk show, Kris. The unveil was all anyone talked about for weeks since everyone was dying to see Kanye and Kim's first child together.
Number Eight: Kanye Forbid Baby North From Appearing On KUWTK At First
When North West was first born, Kanye actually forbade Kim from allowing her to be filmed for the family's reality TV show, Keeping Up With The Kardashians. You'll note that the first few seasons after she's born, the show only captures glimpses of her stroller or carrier, but never North herself.
Number Seven: North West Became A Model While Still An Infant
The famous little tot made her modeling debut while she was still in diapers. Photographed by Karl Lagerfeld for the Fall issue of CR Fashion Book, North looked more stylish in Chanel than any of us could ever dream of becoming.
Number Six: North Sets Fashion Trends
It's pretty hard to believe that a child could set fashion trends, but that's exactly what North does. OK, so maybe her Mom and Dad are the ones picking out the outfits, but as soon as North gets photographed out and about in her day-to-day looks everyone is clamoring to get their kids in similar styles.
Number Five: She Appeared In Vogue At The Ripe Age Of 10 Months
You read that right, at only 10 months old little North made her debut in the mecca of fashion magazines, Vogue. She posed with Kim and Kanye and was photographed by Annie Leibovitz. Casual.
Number Four: She Gets Custom-Made Shoes, Clothing, And Accessories To Match Kim And Kanye
Been dying for a pair of Yeezy sneakers? Well, this two-year-old already has every single pair. Not only that, but Kanye gets them custom made just for her, so you know she's always rocking the best shoe game when she hits the toddler streets.
Number Three: She Doesn't Like To Be Photographed By Paparazzi
North West nearly broke the Internet herself when she was caught on camera politely telling the paparazzi, "No pictures," with just the right amount of sass. This little cutie is already turning into quite the diva.
Number Two: She Loves Ballet With Cousin Penelope
Penelope, Kim's niece, and North West are the best of friends, so naturally they signed up for ballet together. A quick Google search will show the pair getting ready for class and recitals in their teeny tiny leotards with some ultra cool leather jackets as their statement pieces.
Number One: She's Already Instagram Famous Without Having An Account
Leave it to North West to become Instagram famous without even having her own account. After being featured on Kim's page, the little darling became more famous than you'll ever be on Instagram. A depressing fact that is only consoled by the fact that you know she dresses better than you anyway. North West is definitely living the charmed life and shows no signs of slowing down. Can't wait to see what fashion trends she starts setting next.